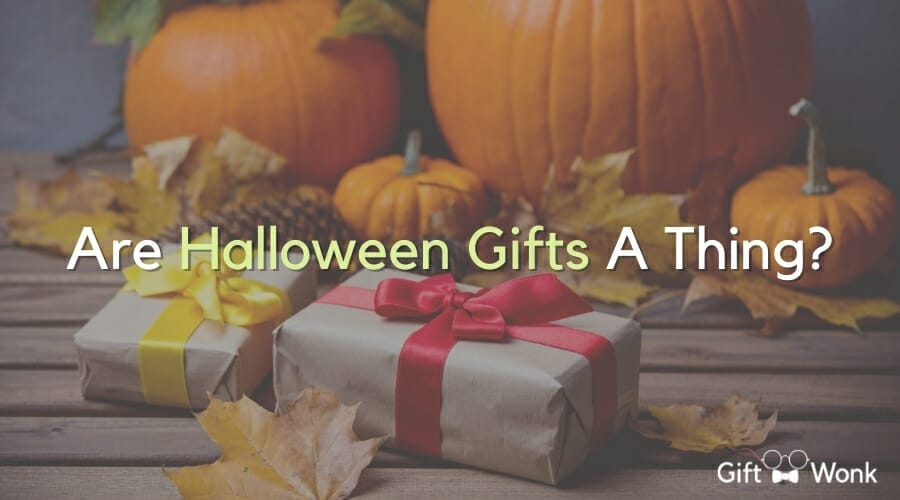 !! DISCLAIMER !! This site may contain Amazon & other affiliate links.
This means if you click on one of the product recommendation links, this site may receive a small commission. This is at no extra cost to you and may include exclusive discounts when possible. This helps support this site and allows us to keep making content like this. Thank you for your support!
Are Halloween Gifts A Thing?
Traditionally, the most popular items given on Halloween were candy. Nowadays, with so many new Halloween activities happening, like Halloween parties, Halloween gifts have become a thing!
Halloween is not just about the gory stuff and costumes. It's also an occasion for friends, family, and other loved ones to come together to enjoy some scary, fun gift-giving with each other.
As such, we thought it would only be appropriate to write an article about how Halloween gift-giving became so popular on Halloween and what types of gifts are best to give out to your loved ones this year.
You might want to take a look at our other Halloween gift options here:
What Is Halloween's True History, and Why Do We Celebrate It on October 31?
Halloween was a time of year when the spirits of the dead were said to return to our world, so sacrifices were offered to pagan gods and goddesses to pay homage to the deceased.
The tradition of giving small Halloween gifts began in later centuries. People began dressing as ghosts, demons, and other vicious creatures, performing antics in exchange for food and drink.
Now, people of all ages, primarily children, dress up in scary, funny, or cute costumes and knock on neighboring houses to ask for candy and treats.
Some also celebrate the holiday by throwing fun Halloween parties.
The ancient Gaelic festival of Samhain, which is the earliest known root of Halloween, took place on October 31.
It was a pivotal time of year when the seasons changed, but it was also a time when observers believed the veil between this world and the next thinned, allowing them to communicate with the dead.
Some other cultures share this belief; for example, during the Jewish holiday of Yom Kippur, which takes place in October and involves praying for the dead, a similar idea is mentioned. This is also where the "haunted" connotations of Halloween come from.
How Is Halloween Celebrated During the Pandemic?
There's one more monster lurking this Halloween: the Coronavirus.
This year traditional trick-or-treating is back, but people still recommend lower-risk activities such as Halloween-themed treasure hunts at home or leaving pre-filled Halloween treat bags at the end of your driveway for youngsters to pick up.
For Parents: What to consider before going out?
Families should ask each other if they've taken measures and worn masks if they're going out in groups. If parents are concerned about surface virus transmission, they can wipe down candy or leave it out for a few days.
You should avoid going out if COVID-19 is not well-controlled in your area. Public tracking of Coronavirus infections is usually available through health departments and government websites, or you can ask your doctor.
It is advised to avoid enclosed settings such as apartment buildings. Keep everything outside.
Have a serious discussion with your children about how the regulations must be observed and respected if you are going to take them trick-or-treating.
Even for older children, it is advised to have an adult chaperone there to verify that safety rules are followed.
Hand sanitizer should be used frequently by trick-or-treaters, and they should avoid touching their faces.
Masks: Make face masks more enjoyable for youngsters
Think again if you believe the mask that came with your child's Spider-Man or monster costume provides the same level of protection as a face mask.
Protective face masks are not interchangeable with costume Halloween masks.
You may want to consider using a protective mask under their Halloween mask, provided it does not make it more difficult to breathe. Or just forego the costume mask altogether.
Drive Through Trick-or-Treating or Trunk-or-Treating
An efficient Halloween alternative is drive-through trick-or-treating is a moderate-risk activity. People give out individually wrapped goodie bags for people to pick up while keeping a social distance (such as at the end of a driveway or at the edge of a yard).
If you want to do drive-through trick-or-treating, it is recommended to wash your hands for at least 20 seconds before and after preparing the bags.
Don't give out candy if you're unwell. Make sure you wear a mask if you're in good health.
Several contactless delivery concepts have been floating around the internet: a "candy chute" – a 6-foot-long cardboard tube through which trick-or-treaters can slide candy; a table 6 feet from the front door with individual candy bags for youngsters to collect; or a giant handcrafted spider web with candy glued to the strings.
Indoor Activities: Virtual costume parties and movies
If you don't want to go out on Halloween because you live in a high-risk region, there are a few things you may do at home to celebrate the day.
To make Halloween fun for you and your kids, why not host a candy scavenger hunt at your home or in your yard? You can make your own Halloween scavenger hunt or you can also download some from the internet.
Zoom parties with friends, which feature a costume contest, are also a Halloween activity norm this year. Netflix offers a free plugin that lets you and your friends view a movie online at the same time.
A pinata as the finale to a spooktacular Halloween is another entertaining option for kids to get their Halloween candy treats at home.
Boo-Licious Halloween Gifts & Ideas People of All Ages Would Love
Halloween is just around the corner, and if you've been a good boy or girl this year, then you deserve to indulge in some of these boo-licious Halloween party gifts. Whether it's for you or someone else, we've got you covered.
Chocolates for Toddlers That Are Both Scary and Delicious
Although toddlers are not fully aware of the holiday, this does not preclude them from receiving Halloween treats.
They may not know what Halloween is, but they certainly know what chocolates are, so you can treat them to some delicious and gourmet chocolates to enjoy on this special day.
Give them some delectable Halloween chocolate treats, which come in skulls, oozy eyes, and vampire shapes, which will undoubtedly make you their favorite.
You can make them in white chocolate, dark chocolate, and even milk chocolate varieties, so they can pick one that suits their tastes. 
These terrifying but delectable chocolates can also be given as cute Halloween gifts for kids to express wishes in the form of chocolates.
You can give a Halloween chocolate basket filled with a monster face shape and other spooky chocolates to the kids in your neighborhood as a treat.
Halloween-Themed T-shirts
Your loved ones are expecting a wonderful Halloween gift from you, and you should not disappoint them.
You can surprise them by giving them a cool Halloween t-shirt with sayings like "boo." 
Though the quote on the tee would be romantic, the designs on the tees would be Halloween-themed. You can even give them more relaxed T-shirts that glow in the dark.
If you don't want to go all out, wear these matching tees and go around your neighborhood flaunting your love in matching Halloween T-shirts.
Send Halloween gift baskets to friends and relatives who live far away and express your Halloween greetings.
Solid colors: 100% Cotton; Heather Grey: 90% Cotton, 10% Polyester; All Other Heathers: 50% Cotton, 50% Polyester


Boo with spiders and witch hat Halloween design


Lightweight, classic fit, double-needle sleeve, and bottom hem

Dress up in this Boo Halloween shirt for your next Halloween bash. For both kids and adults, this is the best and most convenient Halloween costume you could ever find. This humorous t-shirt has illustrations of pumpkins, sweets, spider webs, and the phrase "Boo!" that are all wonderfully executed. This is the ideal present for anybody who loves Halloween and can't get enough of the characters such as witches, bats, ghosts, skeletons, and pumpkins. They can wear it all year long!

"Fun shirt for fall and of course, Halloween! The good quality fabric is a nice weight and not thin. Received many compliments on it. The men's medium was the right size, comfortable and long enough for my 5'7" female self. As always, I wash these types of tees in cold water turned inside out to help protect the artwork which helps it last longer, dry on a low heat setting, and hang right away."


"I am looking forward to Halloween and wearing this shirt. I bought a larger size based on comments I read on this site - and I was not disappointed. Thank you!"


"Loved it. I brought it as a gift for my 16-year-old daughter, who is extremely picky. She loved it. It is adorable, comfortable, great fit, excellent quality for good pricing. My daughter was very pleased, so was I. Thank you."

Fun Halloween design


Comfortable and good quality fabric

Size runs a bit small
Halloween Gift Basket for Parents
Our parents used to go above and beyond for amazing Halloween treats and gifts for us when we were kids, and now it's our turn to surprise them with the best Halloween goodies and surprises. 
Halloween gift baskets are ideal because they include a variety of sweet treats that are both spooky and frightening, as well as a cute and terrifying Halloween plush toy that they can keep in their room.
When you surprise your parents with such a gift basket, they will feel exceptional, and it will also transport them back to their childhood. 
As a result, surprise your parents with Halloween gift baskets and make Halloween a thrilling and loving experience for them.
1, 2, or 3 dozen options


Bright and festive, closed buds are 2 inches tall and 1.25 inches in diameter. On a 13 inch flexible wire stem.


Each bouquet will feature an even mix of spooky Halloween colors black, purple, and orange.


The original wooden roses are maintenance free. They never need to be watered, and will never wilt or die.


Be a gift hero! Make that special someone in your life smile and feel loved, by giving them beautiful wooden roses.

Unlike other flowers, the Original Wooden Rose requires no watering, and will never wilt or die. Give a present that demonstrates your thoughtfulness. Make the special goblins and witches in your life grin and feel appreciated by sending them this creepy but beautiful arrangement. Adorned with a combination of frightening Halloween colors- Black, Purple, and Orange, send this Halloween bouquet to make someone's day a bit more exciting on the spookiest night of the year.

"I have wasted money on fresh roses only to throw them away after a week. These beautiful yet lifelike roses fits the bill far better than the real thing. I've even gone so far as purchasing 2 sets of 3 dozen roses just so I can use a larger vase. I have not had the problem other commentators have complained about with broken flowers or the count being short. All my roses arrived in perfect condition and very, very quickly. I also picked up a dozen in red for my in laws."


"I love these roses! I prefer roses that aren't real because they don't die, and these are vibrant colors! I had a dozen and they are added in with the new ones, can't tell which are which can you? The older ones are the ones without much color because they have been around a long time. Will definitely recommend these to anyone and everyone who prefers non real roses."


"These are perfect for a bud vase. Absolutely lovely with vivid colors. I senT a bouquet to my sister for Easter and she was delighted. They are about the size of sweetheart roses and came packaged with faux baby's breath, cellophane and ribbons. It looks like a real bouquet coming out of the box. I plan on sending more of these as gifts in the future."

Vibrant colors: Orange, purple and black




Comes in 1, 2, or 3 dozen options


Maintenance free


They won't die or wilt

Pedals can fall off if not taken care of properly
DIY Halloween Cookies for Kids
Finding fantastic Halloween treats for little kids is not difficult; they are always in awe of delicious cookies. As a result, for Halloween, you can give them cookies with a twist.
These cookies are not only freshly baked, but they are also giant ghost cookies, Oreo cookies with a darker spooky color and texture that make fantastic Halloween gifts for kids.
These Halloween cookies are perfect for spreading the Halloween spirit and theme. When the kids eat the cookies after Halloween, they will still feel like it's Halloween.
People become more pragmatic as they get older, making it difficult to find a suitable Halloween gift. Even on Halloween, they would gladly accept practical skills to make their lives easier, safer, and healthier.
So, in general, you can give them personal care items and other gifts that will keep their hygiene in check.
These gifts can be in popular Halloween figures like pumpkins, witches, ghosts, spider webs, black, spooky eyeballs, and so on, fulfilling the purpose of the spooky Halloween gift.
Halloween Boo-Kay
Sending flowers is a simple and common gifting technique, but flowers on Halloween? Sounds like an intriguing and unusual Halloween gift idea.
Halloween Boo-Kay is a lovely and a little frightening-looking bouquet of orange-colored flowers. 
Small black bat figures are then placed in these bouquets to give them a more frightening yet fantastic appearance.
It is possible to say that it is the most elegant and sophisticated gift you could ever give to someone.
Let your recipient know that they're on your mind: They'll get a beautiful Halloween card that comes inside the box. get them the best gift full of Halloween snacks, drinks, and candy.


A mouth-watering gift idea for a variety of occasions: Out of this world gift idea for men & women, college students, military, get well, friends & family, thank you, sympathy, holidays, birthdays, and more!


High-quality gift baskets deliver you the best brands and top quality so you can be sure they're super fresh and nicely presented! All snacks are carefully hand-picked and shipped loose in an elegant high-quality gift basket box.

Nothing beats a delicious snack to lift your or your loved one's spooky spirits. This HUGE Halloween gift basket is filled with snacks that are known name brands you're already familiar with and like.

From nutrition bars to chips, sweets to nuts and beverages, there's something in this care package for you, your friend, or a family member! Anyone would love to receive this as a Halloween gift. We know we would!

"I bought this for my husband for Valentine's Day (he really loves jack-o-lanterns) it came quickly and had so much candy and snacks! I love that this was available even though it isn't Halloween!"


"I bought this for my 4yr old grandson as a gift and he loved it. His mom also said the items inside were perfect for his age. And she said the basket was thick and sturdy. Thank you."


"It was very convenient to purchase these. The grandkids liked them."

Wide variety of candies and snacks


Worth the money since it's overloaded with an assortment of treats!


Great as a gift or care package

Wish it came in a reusable container since the box design is so cute.
Final Thoughts
On this particular day, we hope your loved ones appreciate these thoughtful and unique Halloween gift ideas and help you express your love to them.
Frequently Asked Questions
1. What are some Halloween gifts to buy for adults?
How about a candle holder, tea light, or votive holder? These are easy to make with the kids! Or why not make a yummy Halloween treat?
Using large cookie cutters, create some candy-shaped treats that look like spiders, sausages (sausage hot dogs), or pumpkins.
2. What are some Halloween gifts to buy for kids?
How about a glow-in-the-dark pumpkin or ghost? Grab a roll of glow-in-the-dark stars, put them on a cardboard pumpkin, and stick the nightlight inside it.
Or how about a glow-mache Halloween mask? It will make a great Halloween decoration or Halloween treat at your house!
3. What are some fun Halloween party ideas to have?
In the spirit of Halloween, have a ghostly night! Make a rick-rack and wrap it around pumpkins to look like ghosts. Have some fun with one of the kids and play ouija board!
Or why not do a photo booth? Take pictures of the parents looking spooktacular. There are so many fun Halloween alternative ideas for having a spooky night. Just remember, no ghostly pranks!
4. What are some fun Halloween costumes to promote?
If you're shopping for the kids, how about a skeleton costume? You can make it yourself and wear old t-shirts for the body and clothes.
You can buy a rubber skull or head if you don't want to sew one together. Have the kids pick out their favorite witch or monster onesie.
5. Can I make a Halloween gift basket for my family?
Yes, you can make a Halloween gift basket for your family. Your thoughtfulness will surely overjoy them.
If you're looking for some ideas on what to put inside a gift basket for your family, here are some possible ideas:
A pumpkin cookie mix can be baked together in the oven and then put on top of the gift basket.
Roasted pumpkin seeds, make a great snack and also smell nice
A pretzel rod dipped in chocolate to resemble a witch's broom.
a Halloween candle
Halloween colored M&Ms
Handmade Halloween cards
Pumpkin candy.
6. Can I make a Halloween gift basket for my friends?
Yes, you can help your friends out with their birthday or another occasion by gifting them personalized Halloween baskets.
You can create any Halloween bouquet and send it along with an adorable card to express your sentiments on this day to them.
You can always go for traditional Halloween gift ideas like Halloween cards, candies, and other goodies.
You can even put some handmade decorations inside the basket to give it a personal touch. But you should also include a card with your personalized message inside it.