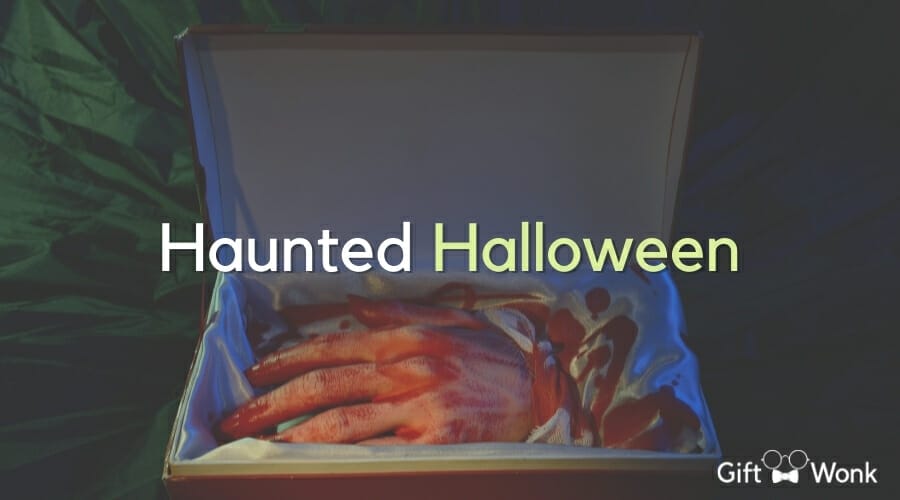 !! DISCLAIMER !! This site may contain Amazon & other affiliate links.
This means if you click on one of the product recommendation links, this site may receive a small commission. This is at no extra cost to you and may include exclusive discounts when possible. This helps support this site and allows us to keep making content like this. Thank you for your support!
Top Spooky Gifts For A
Terrifyingly Haunted Halloween
Spooky gifts are not your typical presents. They're more of a Halloween-time kind of gift. They can include anything from bone and skull decorations to bloody slasher films or props that look like dead bodies.
Are you ready for Halloween? The time of year is fast approaching! That means it's time to start planning for your spooky Halloween gifts! Take a look at some other Halloween gift ideas!
These horrifyingly unique presents are just too cute and cute to be scary. This list will help you find the perfect gifts to give to your friends and family this Halloween.
Creepy but Cute Halloween Gifts for Babies
Halloween is the perfect time to spoil your baby with cute and creepy Halloween gifts. No matter how old they are, they will love these Halloween-themed gifts. If you are worried about your baby getting scared, we have some recommendations that will keep them calm and a few that will scare them.
Rainbow Stackers
Montessori-inspired rainbow stacker toys are one of the most popular toys of the decade, thanks to their bright colors and open-ended playability. It was love at first sight when Halloween-themed stackers were discovered. These are the best Halloween toys money can buy!
Rainbow stacker made of silicone with fall colors. Those specific contrasting colors give it away. This stacker is only for use during the Halloween season.
Consider how imaginatively toddlers can stack and sort the rainbow stripes, such as by color or to match with other Halloween decorations for your home.
Kids and adults shouldn't be the only ones enjoying the spooky holiday! Let the babies get in on the fun!
Halloween Peg Dolls
Painting peg dolls is a personal art form, and the level of creativity that professional peg doll makers brought to the table for Halloween is astounding. There are so many different artistic styles and Halloween inspirations. Here are some friendly, and some frightening, but all excellent examples of the Halloween spirit.
Halloween Monster
A set of wooden peg dolls with Halloween monsters. With its smiley Halloween characters, this type of set is on the not-too-scary side.
A mummy, a ghost, a skeleton, a pumpkin head, a Count Dracula — and one costume-less party-pooper (but at least is wearing a Halloween striped sweater).
A set like this is your best and most adorable Halloween gift for a friendly bunch of wooden Halloween play pals!
A Set of Zombies
Wooden peg dolls of zombies. Because of some scary blood smears on their clothing and mouths, this type of set of peg dolls is rated PG-13.
After all, it is Halloween, and zombies do eat brains! It isn't suitable for young children, but it is ideal for older teens and adults during this spooky holiday.
Do not be afraid. Be frightened. They're on their way to get you!
Frankenstein Peg Dolls
Peg dolls in the style of Frankenstein. A one-of-a-kind wooden Halloween play figurine based on a horror film classic. The incredible level of detail painted into Frankenstein's facial expression truly brings him to life — or, to put it another way, "It's alive!"
Pumpkin Clowns
Peg dolls with pumpkin clowns. Monsters with pumpkin heads are already terrifying. When you dress them up in a creepy clown costume for Halloween, they're downright frightening. Clowns are scary to some people. (Coulrophobia is an actual condition.)
These figurines' menacing grins are enough to give anyone nightmares. Do you have a fear of the dark? After playing with these creepy wooden peg dolls, you will be.
Coloring and decorating these engraved wooden peg dolls to transform them into your favorite Halloween monsters will be a hit with both kids and adults alike!
Beaded Wooden & Silicone Toys
Halloween-themed beaded wooden baby toys. Soft silicone beads and natural wooden rings are used to make these beaded teethers and rattlers. Choose from the Halloween-themed "candy corn" or "witch, please" color schemes to match your baby's style. You can add a pacifier clip to your order as a bonus for parents so that dropping the toy is one less thing to worry about during all the other Halloween chaos.
Looking for a unique, natural, and safe teething solution that still has that spooky Halloween flare to it? Keep on reading!
Ghost-themed Nesting Dolls
Ghost nesting dolls made of wood. Do you believe in the existence of ghosts? You will, after playing with a set of friendly ghosts.
Nesting dolls are not only a fun toy, but it's also a parent-approved feature for decoration. These ghosts will conveniently vanish after Halloween is over, taking up very little storage space (until next year's haunting return).
Pumpkin Family Nesting Dolls
Pumpkin family nesting dolls made of wood. If you come from a family of pumpkins, Halloween is almost certainly your favorite holiday.
A father in a business suit, a mother in a formal black gown, and three small children — each with a friendly smile on their pumpkin faces — make up this type of set.
Black Cat Mummies Nesting Dolls
Wooden nesting dolls of black cat mummies. We all know black cats are unlucky, but these cats are so unfortunate that they've become mummified, just like an Egyptian pharaoh's prized pet!
These mummy cat nesting dolls could very well become a cat lover's most cherished Halloween keepsake, given that it's just a toy and the cats have adorable facial expressions.
There are so many Halloween-themed nesting dolls to choose from but if you are a skeleton lover, this set of nesting dolls might interest you. 
All-Time Scary and Spooky Halloween Gifts for Kids
It can be easy to get kids excited about a holiday with the right gift. Halloween is an enjoyable time for children, and they love being scared, so hunting for the perfect Halloween gift that scares them is not as difficult as you might think. We've compiled a list of spooky gifts that will undoubtedly get your kids begging for more this Halloween!
Halloween Cut-Outs Crafts
What could be more fun than Halloween? A Halloween filled with family-friendly crafting activities. When the clock strikes midnight on October 31st, crafty parents and kids know it's time to get crafty.
Why not start with wooden cutouts if you're new to wood-painting crafts? They're kid-friendly (with adult supervision) and a great place to start for new wood-painting parents.
You can make your wooden toys and decorations with some simple acrylic paints. There are a wide variety of Halloween-themed wooden cutouts available. Here are a few ideas to get your creative juices flowing.
Wooden cutout of a Jack-o-lantern. The most common color for pumpkins is orange, but you can choose any color you want with a paintbrush in hand. Take a look at how powerful hand-painted wooden crafts can be!
Wooden cutouts of trick-or-treat letters. Because Halloween is the holiday when candy reigns supreme, make sure you're well-stocked with delectable sweets and treats.
Wooden cutout of a skull. Fill in the blanks with your version of this unfortunate soul's demise. He's missing his crossbones, so if you're so kind, you could make him a pair.
Wooden cutouts of the letters "Boo." For you, a slimy font emitted a chilling ghostly murmur! Have you heard that noise? It was most likely the wind.
Wooden cutouts of spider webs. Make your creepy crawlies with paint. The teeny-tiny spider scaled the water spout.
This next Halloween gift item will get you and your friend's creative brain juices flowing this Halloween season.
Halloween-themed Memory Game
Halloween memory game made of wood. A matching game with 24 pieces of wooden cards featuring caricatures of cute, friendly monsters on each card — and a matching pair for each monster.
It's a fun Halloween activity for preschool, kindergarten, or homeschool where your child can meet fun Halloween monsters while practicing cognitive skills like focus and concentration.
Get the little monsters away from their gadgets and show them how we had fun back in the day!
Wooden Pumpkin Puzzle
Wooden puzzle of a pumpkin A fun six-piece wooden puzzle in the shape of a pumpkin for children aged two and up. It's a fun way to practice shape recognition and motor skills, and it'll go great with any Halloween toy collection.
Are the kids getting restless at home? Keep their hands and brains busy during the spooky holiday with this creepy pumpkin puzzle set.
Personalized Name Puzzles for Halloween
What could be a more memorable gift for kids with October birthdays than a personalized Halloween-themed wooden puzzle that spells out their name?
It's a considerable accomplishment when a child learns to read and write their name. Learning letters is a lot of fun with this toy. I can't think of anything more motivating than that.
One thing to keep in mind: if you need it by Halloween, double-check the time it takes to be custom-made and shipped.
Personalized wooden name puzzle with a Halloween theme. This is a fantastic Halloween gift for kids that provides both a rewarding learning experience and the thrill of the season. 
You'll find that these personalized wooden puzzles for kids are the perfect solution whether you're searching for Halloween gifts for your kids or a charming Halloween decoration to put in their room.
Haunted House Popup Card
This delightful 3D popup card is sure to make the recipient's day. The intricately detailed haunted house is both adorable and terrifying.
It would be an excellent Halloween gift idea for your girlfriend or boyfriend if they like unusual popup cards or are into horror movies. This card is the perfect way to let people know you're thinking about them! For more great popup cards, check out the poster above. 
Are your friends and family located in a different state and won't be able to spend the spooky holiday with you? Well, like psychics, we know exactly what you're thinking!
Horrible Halloween Mug
This mug is an excellent gift for someone who enjoys a fun "how awful!" pun on the holidays. It would be perfect for that friend or family member who loves cracking jokes and making people laugh! This funny Halloween gift is ideal for the office, a holiday party, or hanging on your door for Halloween. 
Don't forget to add some gummy candy for a fun garnish! It'll also make the drink extra delicious.
Depending on your mood, this mug will either attract other like-minded goths or frighten the weak.
Horror Picture Frame
A picture is worth a thousand words, but if you choose the right one, you could make someone faint with fright! A horror picture frame is a perfect gift for the unrealistically fearful person in your family. 
It has a glass front for a close-up of the gory scene and a sturdy back for standing. It's perfect for someone who loves suspenseful horror flicks and pictures of bloodthirsty creatures. You can even purchase additional gruesome images to fill this frame with more fright!
Looking for goth gifts? This unique piece is designed to look creepy yet stylish!
Skull Head Decanter
A spooky and well-made decanter that will turn heads and elevate your parties to a new level. You can even include four skull-shaped shot glasses to make it extra special.
A skull-shaped decanter is an excellent gift to give your boyfriend on Halloween. The great thing about the skull decanter is that you can use it for years and still receive compliments.
You'll shiver to the bone with this Creepy Skull Decanter set!
Chocolate Tower Halloween Gift Basket
From fudge to chocolate-covered popcorn, this Day of the Dead-themed gift basket has it all.
The brightly colored and elegantly designed boxes are a sophisticated adult alternative to traditional children's fare.
A chocolate tower Halloween gift basket is a great gift to give an adult when it comes to Halloween. This chocolate tower gift basket will help celebrate this holiday, and the person you're giving it to will enjoy all of its chocolatey goodness.
You can add fudge, chocolate-covered popcorn, and other sorts of goodies.
Make sure you use brightly colored boxes to make them more attractive and contemporary while still elegant so that they are appropriate for adults.
You even have the option to add a personalized message to them if you would like! If you're looking for a gift that will delight any chocolate-loving monster, this is one of the best options around.
Skull Ashtray
This spooky stylish skull ashtray will add a gothic touch to your home. Perfect for a focal point at your Halloween party or as a unique gift. The hand-crafted skull will appeal to smokers, as it is a practical item that can be used long after Halloween.
A skull ashtray is a unique gift to give an adult on Halloween. They make for great decoration and are practical as well. You can use them long after Halloween, in your home or office.
It would be a nightmare not to have one of these displayed in their home, smoker or not!
Pumpkin Spice Natural Soap
For the past few years, it has been popular to give people Halloween gifts. One idea for a Halloween gift is a pumpkin spice natural soap.
The delicious aromas of pumpkin spice soap will be challenging to resist. A delightful vegan soap, made with fresh spices, pure essential oils, and plant oils, would make an ideal
Halloween-themed gift or added fragrance to your bathroom would make an excellent addition if you want to spruce up your bathroom or give someone a delicious-smelling Halloween gift! Try this set from Michel Design Works Scented Gift Set.
Frequently Asked Questions
1. Is it possible to put Halloween makeup on a baby?
Finally, it is possible to do Halloween makeup with your children safely. If you're going to put makeup on your baby for Halloween, make sure it won't irritate their skin first. As KidsHealth suggests, test the makeup on your child's arm before applying it to their face.
2. What is the minimum age for trick-or-treating?
Many people believe that the trick-or-treat age should be limited to children aged 12 and under. Some cities and towns even have a trick-or-treat law in place, limiting trick-or-treating to children under thirteen.
3. What characteristics distinguish an excellent spooky basket?
Spooky baskets are Easter baskets with a Halloween twist. So, instead of bunnies and eggs, you put pumpkins and ghosts inside while keeping the candy.
4. On Halloween, what do you do with a newborn?
My baby's first Halloween bucket list includes the following items:
Arrange for a photoshoot.
Distribute candy with the baby.
Pay a visit to a pumpkin patch.
Make a monster mash with a baby monster.