!! DISCLAIMER !! This site may contain Amazon & other affiliate links.
This means if you click on one of the product recommendation links, this site may receive a small commission. This is at no extra cost to you and may include exclusive discounts when possible. This helps support this site and allows us to keep making content like this. Thank you for your support!
How To Make Valentine's Day Gifts That Will Surely Make An Impression
Valentine's Day is just around the corner. Are you thinking of how to make Valentine's Day gifts that will make an impression? We've got some ideas that will have everyone talking about how thoughtful you are! From making chocolate-covered strawberries to creating your own bath bombs. We've got it all here in this article.
Do you want to get your loved ones something special this Valentine's day? If yes then you definitely want to spend much time or energy doing so.
Well, we've got some unique and unusual DIY ideas that are sure to impress them. We hope these ideas will inspire you to make something unique for your loved ones.
You can also check out our other posts below:
Valentine's Day Gifts You'll Actually Enjoy Making!
These Valentine's Day gifts, which range from baked goods to a spa kit, don't necessitate extensive handiwork. All skill levels are guaranteed to be able to construct a special gift for a loved one and you'll actually enjoy making them.
Whatever the case may be, these homemade Valentine's Day gifts are perfect for your significant other, a close friend, or family. 
Most of them only require a few simple ingredients and basic cooking skills. So go ahead and surprise your valentine with something truly unique.
The best part about these DIY gifts? They're relatively inexpensive. And even though some require more time than others, most take less than 30 minutes to create. So grab your crafting supplies, start making, and enjoy spending time with those you love.
Homemade Candy Hearts
If you're short on time but still want to give your sweetheart a heartwarming gift, consider making candy hearts.
This is a great and easy project because it requires no baking. Just melt white chocolate, pour it into a piping bag, and pipe it onto a parchment paper-lined baking sheet. Once the chocolate has cooled, sprinkle it with colored sugar. Allow the candies to harden before serving.
Chocolate-Covered Strawberries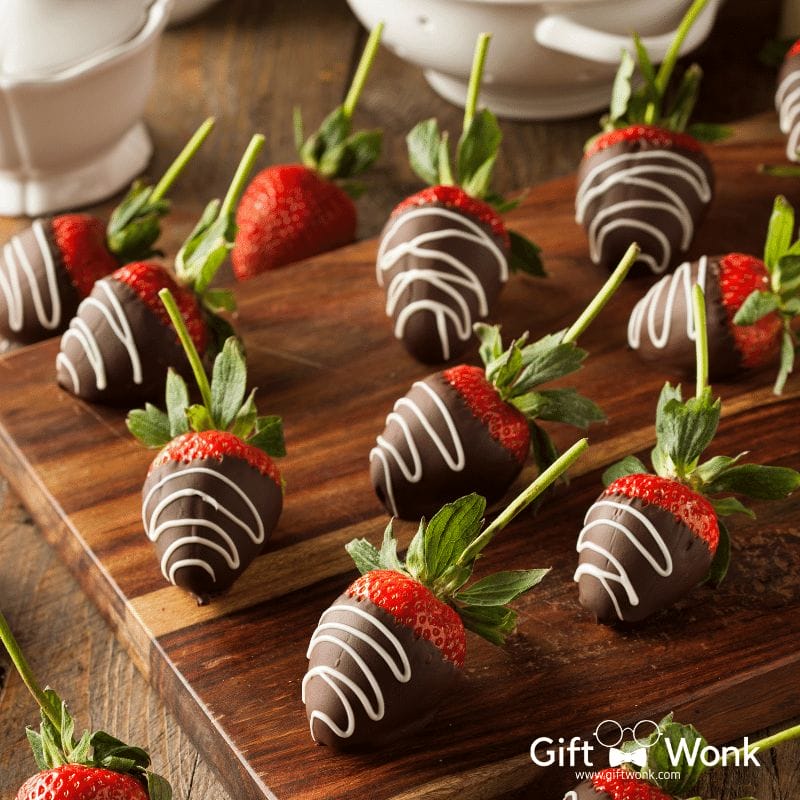 Chocolate-covered strawberries are a classic treat. But if you're in need of a quick and easy DIY Valentine's Day gift idea, try making chocolate-covered strawberries instead.
Simply buy strawberries at the grocery store, dip them in melted dark chocolate, let them dry, and place them in an airtight container until ready to serve.
DIY Bath Tea
Making your own bath tea is a great way to unwind in the tub, and the materials are easy to get. Lavender and Calendula, both known for their anti-inflammatory and relaxation-inducing characteristics, are great additions to any salt bath.
To make your own bath salts, simply combine 1 cup of Epsom Salt with 2 tablespoons each of dried lavender buds and dried calendula flowers.
Let the mixture sit overnight, then strain out the herbs and discard them. This recipe makes about 2 cups of bath salts, so you should have plenty left over for future baths! Enjoy!
Valentine's Day Mason Jar Kit
You can make this gift as basic or as elaborate as you like. Fill a wide-mouth mason jar with goodies that she can use to pamper herself.
The best part about this DIY project is that it's easy to customize. You can fill the jars with anything from bath salts to chocolate truffles!
If you want to keep your gifts simple, you can skip the step where you add the candy and just put the mason jar inside a box filled with her favorite treats.
Spa In A Box
If you want to give her something special but don't have much time to spend crafting one, consider making your own spa kit.
This includes everything she needs to enjoy a relaxing bath, including luxurious soaps, candles, lotions, and more.
Make her a spa day gift box so she can have a spa day without ever having to leave the comfort of her own home. 
Fill a lovely box with her favorite relaxing items like face masks, bath salts, and even a handful of her favorite chocolates.
DIY Gifts for Valentine's Day on a Budget
It's never too early to start thinking about Valentine's Day. While buying gifts for loved ones is always fun, why not try giving them DIY gifts instead especially if you are on a budget? 
You should consider creating your own homemade gifts instead of spending money on store-bought items.
This can save you money and time. Whether it's homemade cookies, cupcakes, or even chocolate truffles, these homemade gift ideas are sure to impress. Below are some great ideas for inexpensive gifts that you can make.
Date Night Jar
With this ingenious date night jar, you can ensure that your dates are never dull. Just pick an activity you would want to do together and add the materials and tools inside the jar for your next date night.
A chalkboard label, explains what it is and what to do. She will love this idea for sure. It's also perfect for a first date.
Candy Bar Bouquet
Want to give her something special that isn't a box of chocolates? Candy bouquets make great gifts for your partner. 
If you're looking for a unique gift idea, consider making your own candy bar bouquet. It's fun to create something sweet that she'll enjoy.
Try your hand at making this adorable candy bouquet. All of her favorite brands should be included, with a red ribbon adorning the top of each one.
Valentine Planter
Cacti and succulents may be dressed up for Valentine's Day this year with a little help from this sweet DIY project.
All you need to get started are pink or white metal buckets, then fill the containers with dirt and your selected plant and top it with some pink-colored gravel. You can finish off with a Valentine's day themed gift tag.
The Sweetest Valentine's Day Gifts You'll Ever Make!
It's as much joy to make them as it is to receive the sweetest Valentine's Day gifts. Gifts from the heart are the greatest, and Valentine's Day is the best day to show some love. 
There are plenty of fantastic V-Day projects but if you want to make meaningful gifts for your loved ones, you don't have to limit yourself to children's crafts for Valentine's Day.
Adults will love these simple Valentine's Day crafts, whether you pick to keep them or are given them as Valentine's Day presents from the heart.
Secret Pocket Pillow
This is an improved version of the traditional practice of leaving love letters under the pillow for your significant other. 
You can make a personalized work pillow with a beautiful tiny heart pocket out of some leftover fabric and some basic sewing abilities.
Materials you will need:
One square of fabric for your backing (size depends on you)
One square of fabric for your front 
A scrap of felt, cut into a heart shape
Matching thread for your heart
Pillow Stuffing
Instructions:
To begin, sew a heart in the center of your pillow front cloth. In order to create a pocket, keep your stitching near the edge and stop stitching a little higher than halfway up the heart on both sides.
The pillow's back and front pieces should be placed right sides together and stitched along all four edges, allowing an inch or two wide gaps between each stitching. Place a seam allowance of half an inch. Your corners should be trimmed as well.
Press the seams open and then turn the cushion out. This will make sewing the opening closed much easier. Your corners will be more attractive if you use a chopstick or point turner.
Now stuff the cushion! Make sure to fill in the corners and around the edges where the opening will be sewn shut with enough stuffing.
Stitch the opening shut with a needle and thread of the same color. It's best if you can keep your stitches under wraps.
You're all set to write a sweet note, slip it into the pillow's pocket, and surprise your sweetheart! See how easy that was?
Etched Valentines Day Glass
This Valentine's Day, make her an etched glass in the shape of her initials painted. All you need to get started are etching cream, a heart-shaped vinyl window sticker, and clear glass. It's excellent for last-minute gifts because it only takes a few minutes to finish.
To create your own custom design, simply write the name of your loved one on the window sticker, cut out the name and then apply the etching cream to the glass.
Use a wet cloth to remove any excess etching cream. Let dry completely before removing the sticker.
Homemade Bath Bombs
Make them some homemade bath bombs that contain jojoba oil, they will leave her skin feeling silky smooth while the Epsom salts help to relax her muscles. These little heart-shaped bombs, colored pink with a drop of food coloring, make an easy but thoughtful gift.
How to make bath bombs from scratch:
These heart-shaped bath bombs are perfumed with a blend of jasmine and sandalwood essential oils and may be made using this recipe.
Creating the bath bombs only takes around 20 minutes of actual time, but they must be allowed to dry and solidify for many hours before they are ready to use.
Combine the dry ingredients in a bowl and whisk to combine.
Add baking soda, citric acid, and fine Epsom salts to a mesh strainer over a large bowl and mix thoroughly. Remove any lumps or clumps using a sifter. 
Sift the Epsom salt into the remaining ingredients if you can't get fine Epsom salt in a food processor or blender. Baking soda, citric acid, and Epsom salts should be thoroughly mixed to prevent any lumps from forming.
Add the fragrance, colorant, and carrier oil. After that, softly incorporate 12 teaspoons of jojoba oil into the dry ingredients. Use the essential oil of your choice such as lavender and 1-2 drops of food coloring should be added. Jasmine and sandalwood essential oils can also be used in this recipe.
Mix wet and dry components together. Mix the oils and food coloring of your choice into the dry mixture while using plastic gloves. Continue mixing until the mixture is a pale color tint. Do your best to avoid any clumping.
Add witch hazel to it. Add witch hazel one fine spritz at a time until the bath bomb mixture stays together when squeezed after the ingredients have been thoroughly combined. In order to acquire the proper consistency, you will need between 8 and 10 spritzes of witch hazel, but this will depend on the humidity. 
You don't want a crumbly combination. As long as you don't let it get too moist, it should hold together when squeezed. Place in the molds you've prepared. The ingredients should be slightly moistened before being packed into the molds in a tight heart shape. Pack the mixture tightly into each mold, squeezing out any air bubbles or gaps that may appear. 
Remove from molds after drying for a few hours. Allow the bath bombs to dry in the mold for several hours or ideally overnight after they have been packed in. Before attempting to take the bath bombs from the molds, they should be rock hard.
To keep bath bombs fresh, keep them wrapped in plastic wrap and out of the reach of moisture.
Final Thoughts
So there you have it – our list of awesome DIY Valentine's Day presents. These handmade gifts are sure to please.
No matter what kind of person you're shopping for, you can find a project here that will delight them. Check back often because new projects are added all the time. Happy crafting!
Frequently Asked Questions
Why are DIY Valentine's gifts better than store-bought gifts?
It's not just about price. You also get the satisfaction of knowing you made something yourself.
A homemade gift shows you care about someone's well-being instead of just buying them something they might not need or won't use. Plus, making your own Valentine's gift is a lot cheaper than store-bought gifts. 
Do people prefer receiving homemade Valentine's Day presents?
Many people express this preference on social media, saying they would rather spend time with their loved ones than get tangible gifts. People, in general, believe that the holidays are about spending time with loved ones and reminiscing about the past year.
In a romantic gift basket, what should you include?
A romantic gift basket should contain items that are meaningful. It may be helpful if one person knows what the other likes or dislikes so they can choose appropriate items for them. 
Some people like to give gifts with a theme, such as a cooking gift basket or a spa gift basket.
You can even make a date night basket with a cozy blanket, a bottle of bubbly, chocolates, a romantic movie, candles, and maybe board games.