!! DISCLAIMER !! This site may contain Amazon & other affiliate links.
This means if you click on one of the product recommendation links, this site may receive a small commission. This is at no extra cost to you and may include exclusive discounts when possible. This helps support this site and allows us to keep making content like this. Thank you for your support!
The Best Christmas Gift Box Ideas
One idea that many people are using this Christmas season is giving a Christmas gift box as a present. A gift box gives you an option of selecting from multiple items, and it enables you as well as your recipient to create a personalized present by buying what they want.
The best Christmas gift box ideas are ones that match the recipient's personality and interests.
In the holiday season, it is almost always the thought that counts. This leaves people to wonder what they should be giving to their loved ones.
In today's modern world, Christmas gift shopping has become increasingly difficult due to the wide variety of products that can be purchased.
There are so many options that it might be hard for people to decide on the right gift.
These gift ideas may help find the right Christmas gift that is the right kind of special:
One way to avoid this dilemma is to give a Christmas gift box. This is an excellent idea because it provides you with more than one option and offers you an opportunity to create a personalized present.
Here are some of the best Christmas gift box ideas to provide you with some inspiration on what to give out this year.
Christmas Gift Box for A Coworker
You know how stressful it can get in the office. With all the deadlines you need to meet before year-end.
So this Christmas gift box is something a coworker or boss can actually look forward to using. You can fill it up with goodies that would brighten up their day.
Office Table Gift Box
A chic set of desk accessories with a marbled or sophisticated look design, including a pen cup, stapler, and hole punch, is a great Christmas gift for coworkers and friends.
If you have any friends who need to upgrade their work or office table at work, this gift box is perfect for them.
This is a classic gift because it will go with everything, effortlessly blending into any office setting. Your coworker will significantly appreciate this Christmas gift list because they'll know how much they mean to you.
The marble white rose gold office supplies desk organizer set can spice up your work desk and make it more interesting. This will surely motivate you to work.
The set includes one stapler, one pen holder, one heavy-duty tape dispenser (with one roll of adhesive tape), one memo pad holder, 100 metal paper clips, one magnetic paper clips holder, 25 binder clips, and one mini staple remover.


Made of marble texture durable, superior acrylic and rose gold/copper stainless steel, designed for long-term durability and consistent performance.


All desk items have non-slip rubber mats on their bottom base and are heavy-duty and very stable on the desktop.


Packed in an exquisite, strong gift box, ideal gift for your coworker, friends, business partner, men, and women.

This desk set with marble print and rose gold finish is ingeniously designed as a gift.

You can organize your workspace with this 9-piece professional desk organizer kit. These desk accessories elevate your workstation's aesthetic appeal with coordinated color and superior material quality. Those that are in your immediate vicinity will heap praise on you! To make things even easier, the stapler can be used horizontally or vertically. Staples 24/6 and 26/6 are compatible with this product. The pencil container cup is not simply a pen holder; it's multifunctional as well. To store tiny desk supplies like rulers, scissors, razors, make-up brushes, and toothbrushes, as well as a small vase for home decor. Lastly, keep your memo pads, to-do lists, little paper or cards, binder clips, tacks, pins, sticky note post-it pads, and other office supplies organized with this handy sticky notes tray.

"Very sturdy stationery products! I love them!"


"It's so pretty and empowering!! It brightens my room up."


"Looks amazing! They are exactly like the pictures and the quality is great. Even has plastic bumps on the bottom to stop scratching your desk."

Made of durable, superior acrylic and rose gold/copper stainless steel


All items are non-slip


Comes in an exquisite gift box


A great gift for your loved ones and coworkers

The stapler is not stable
Adults & Crafts Gift Box
A gift box that is bursting at the seams with crafty possibilities. On Christmas Day, your friend or coworker will enjoy using the materials and instructions to make handmade items.
This type of gift box provides both practical and sentimental value. That wood-burning craft, as well as other DIY projects, will appeal to crafty people.
This type of gift box is perfect for those who love to get their hands dirty and love arts and crafts. Aside from their busy work life, they can unwind by creating unique and fun skills with you or their loved ones.
Who said adults couldn't do crafts? Give something different by unleashing your loved one's creative and artistic side. You'll never know. They might even love it more than you expected.
Two different types of tips can be fitted onto the two different pens for different scopes of work.


The temperature is adjustable from 250~750°C. Pen 2 can heat up fast and provides reliable heating throughout your wood-burning project.


The two pyrography pens both come with our soft-touch ergonomic-grip design to improve handling when drawing.


For your convenience, we designed a holder (100% Heat-Resistant) for storing the two pyrography pens, the nibs, pens, accessories, and cleaning sponge.

This station includes two distinct types of pens that can be used separately or together.

Pen 1 comes with 50 denser-mass tip-type pen tips for burning and shading on larger areas. With the Pen 2, you get a total of 20 nib-type pen tips so that you can get really specific with your artwork.


Using the digital temperature readout on Pen 1, you may shade, burn, hot stamp, and use other methods with Pen 1 from 392 to 896°F (200 to 480°C).


Pen 2, on the other hand, has an adjustable temperature range of 482-1382°F (250-750°C as shown) for various techniques such as highlighting, light-shading, detailing, and light-carving.


Both pens each have their own control knobs and power switches. The two pens can be operated independently, allowing you to control their temperatures and turn them on or off as desired. Instead of an integrated design, the station's safety receptacle connects both Pen 1 and 2.

"I love this and wish I had bought it years ago. Very easy to use and the more you practice the better it'll get.

I only wish there was a book that showed what each tip does and is used for. I've never used the wire tip, very interesting, but it would be nice to know what it's for."


"Got this for my hubby as a birthday present and he loves it. He loves the fact that it has all the attachments he wants and so on. He's very happy with it."

Wider temperature range for both pens


This station kit is great for pyrography artworks on wood, leather, cork, pumpkin, gourd, plastic, or use the hot-knife tip to carve styrofoam, soft plastics, paper, synthetic fabrics, and more


Comfortable pen grips


Comes with a safety holder

The leads are not long as expected


It would be better if there was a book indicating what each tip does
Microbrew Beer Gift Box
This gift box can contain a variety of local beers. Most of the beers you should consider including in your gift box are from smaller breweries known for producing fine beer in smaller batches than the mainstream selection.
This way, you get to support a lot of small businesses. You can also gather a variety of snacks that will go well with the beer.
Everyone has that friend who enjoys beer a little too much and wishes for his own brew kit to make at home. This beer brewing gift box is a perfect Christmas gift for friends who love beer and want to try new things. Your co-workers and loved ones will appreciate this gift on Christmas.
Unlike those expensive 1-gallon grain kits, our 2-gallon recipes take just minutes to prepare, and the results are scary-good!


BrewDemon's beer recipes taste amazing and are handcrafted in New Zealand's famous Speight's brewery.


Brewing kits make you focus on the brewing process, but our beer can be brewed in 15 minutes on the stove - leaving you plenty of time to add that extra apple, honey, or whatever your secret ingredient may be.


The only 2-gallon kit to include 1-quart bottles and a bottle filling valve. No need to siphon from your fermenter to the bottles.

This is revolutionary! The only 2-gallon conical fermentation apparatus can only be described as unique. Using this cutting-edge kit, you can produce craft-brewed beer in smaller batches just like the professionals do.


Incredibly tasty beer is produced with a method that's simple to use and clean, and the results are frightfully wonderful.


It is also completely reusable. Now is the perfect moment to begin brewing high-quality beer on your own.

"The kit has everything you need to get started brewing your own beer. There was no need to purchase additional supplies like some other kits. The instructions are well laid out and easy to understand. This is a great kit for someone like me who is just getting started brewing their own beer. I will see how it turns out in another week and a half."


"This was really easy to do and the beer was far better than I thought. I let some of it sit in the fridge for a couple of weeks longer and oh my goodness the flavor was really full and amazing. I fully enjoyed the making of this beer. It was easy and fun. I am planning on brewing more. Great product."

Patented pro-style conical fermenter and easy-to-use recipes


Beer can be brewed in as little as 15 minutes


No need to siphon from your fermenter to the bottles


Best tasting homemade beer

Quite expensive but worth getting because you get everything you need to make your own beer at home
Relaxation Spa Gift Box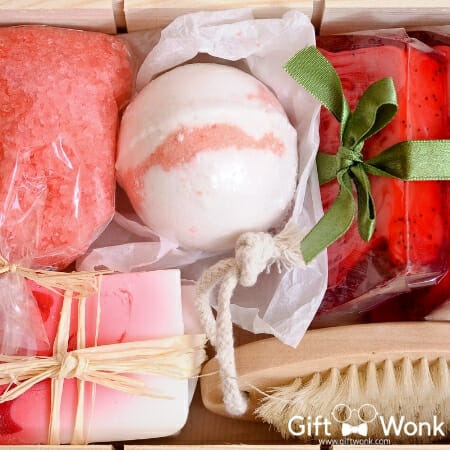 It can be challenging to find time for yourself in these fast-paced times, but by giving your coworker a relaxation spa gift box, you can give them the priceless gift of "me time". Give the person who gave you life. This is definitely a great Christmas gift for all moms as well.
Get them a lavender theme gift box which can come in a lovely box, and you can even add a personal touch with their name and is filled with fabulously relaxing products for pampering.
Spoil your loved ones with the Spa Gift Box by Lizush. This gift box will bring joy and a massive smile to your friend's face. Plus, everyone deserves to be pampered once in a while, especially after a long hard day at work.
Gift box includes 15 natural products: shea butter, scrub, bath salts, body oil, bath bomb, two soaps, lip balm, clay mask, luffa, face towel, 4 oz candle, and shower steamer.


At Lizush we believe that you deserve the best. Working hard all week and taking care of your family and loved ones, it's now time for someone to take care of you.


We use only high-quality essential oils for scent and only natural colorants made from spices and herbs.

Essential oils and natural colorants derived from spices are used exclusively in Lizush


At Lizush, they firmly think that you are entitled to nothing less than the very best.

The time has come when you've worked hard all week, taking care of your family and loved ones while also looking after yourself.

Their all-natural soap bars were made with you in mind. They only utilize spices and herbs as colorants and essential oils for aroma. Thus their products are manufactured with only the highest quality natural components.


Their mission is to help you feel and look your best.


No synthetic chemicals, parabens, or other preservatives are used in their products, all 100 percent natural. The products are free of sulfates, artificial fragrances, synthetic colors, alcohol, phthalates, petroleum-based chemicals, propylene glycol, and PEGs.

"Purchased this gift for an amazing friend and it was exactly what she needed. Well worth the purchase for someone special."


"Excellent product. Came as advertised. I am very satisfied with this product."


"So relaxing and everything smells so nice."

Made from all-natural and high-quality ingredients


The gift box is complete for a day of relaxation


It smells wonderful

Gift box packaging could be better and more sturdy
If you can't get away for a relaxing spa vacation, here's what you can do for your co-worker. Bring the pampering and beautifying power of roses into their sweet homes.
The scent of roses is so luxurious, which is why you should make this gift box memorable.
This gift box can include pampering products like a rose and crystal bath bomb for an at-home spa experience, and make sure to buy items made with nourishing ingredients like kaolin clay, shea butter, and rose scents.
This gift box will be your coworker's favorite thing to receive on Christmas day. 
Christmas Gift Box for The Foodie
For all the foodie and coffee lovers out there, here's a gift box that they will surely appreciate. Please give them a gift box filled with snacks and unique coffee flavors.
This type of box of energizing feel-good snacks and an exclusive premium coffee blend from your favorite coffee shop will make your friend delighted that they have a thoughtful friend like you.
This gift box is energizing, delicious, and exactly what any food and coffee lover needs on Christmas. 
Coffee Talk Gift Box
This gift box is brimming with different types of coffee flavors – everything you need for a perfect catch-up.
When a text doesn't suffice, this type of gift box is a simple way to bring friends and co-workers together. Snack on sweet chocolate-dipped pretzels with a hot cup of coffee.
This is a great gift idea for Christmas for friends who love their coffee fix every morning.
This Christmas, give the gift of big flavor with Black Rifle Coffee Company's Just Black Roasted Coffee Rounds. Not only is the company kickass, but its coffee is as well.
This box contains a variety pack of BRCC Coffee Rounds in varying flavor profiles. It includes Silencer Smooth (light roast), AK-47 (medium roast), Just Black (medium roast), and Beyond Black (dark roast)


It doesn't matter if you are looking for variety packs or French roast coffee in bulk, BRCC Coffee Rounds offer assorted roasts that are compatible with all K Cup Variety Brewers to meet all of your coffee-loving needs.


You need the freshest and strongest (or smoothest) coffee around. We personally blend Brazilian & Colombian beans to create a smooth taste of java, no matter the roast.


Black Rifle Coffee Rounds are the perfect way to conveniently get your single-serve coffee fix. Our bold flavors include dark roast cups, light roast cups, and everything in-between. Made with top-quality Brazilian and Columbian coffee beans, you can expect a fresh and bold flavor with every cup.

Take advantage of the Supply Drop to prepare for the cold holiday season. This ammunition crate is filled with 96 single-serve pods of four different types of coffee.


The company is owned and run by U.S. military veterans. In addition to importing top-notch Colombian and Brazilian coffee beans, they donate a part of the revenue from their coffee sales to U.S. military veterans, local police enforcement, and first responders. What a wonderful way to give over the holidays!


You receive 24 Keurig 2.0 and 1.0 compatible pods for each:


- Silencer Smooth (light roast)
- AK-47 Espresso (medium roast)
- Just Black (dark roast)
- Beyond Black (extra dark roast)





Coffee lovers on your Christmas list will like the cocoa and vanilla aromas in this medium roast AK-47 Espresso coffee, which also has a buttery smooth finish. It's also a favorite of ours here at Gift Wonk.

"Starbucks was my go-to brand. I switched to BRCC CAF coffee and my life changed. My ED dissipated overnight! In fact, my erections are so thick and powerful that I was hired by Union Pacific to drive railroad spikes. My beard grows so thick and lushly that several endangered species of birds nest safely therein. My wife left all 3 of her other lovers and came back to me. I grudgingly took her back only because she still looks great in a bacon bikini. After 3 cups of this in the morning and 6 eggs for breakfast, 30 minutes later I go to the bathroom and s*** 2 yards of Kevlar. My 1000 yard groupings are tighter than ever. My deadlifts increased 50 lbs. I no longer wear hipster glasses (my eyesight is now 20/20) and I donated all of my scarves and knit hats to a local homeless shelter. I pull Police cruisers over and question them on their coffee and life choices. I instantly memorized Shakespeare's "Henry V" and quote it often to inspire my rugby team to dizzying heights of performance."

It comes with a variety of coffee flavors


Great gift for coffee lovers


These coffee pods are Keruig 1.0 and 2.0 compatible.


Proudly American made

It would be better if they labeled the coffee pods nicer
Christmas Gift Box Classic
Just imagine a festive feast presented in a charming wooden crate with seasonal details and includes a variety of Christmas treats such as handcrafted popcorn and Belgian chocolates.
It's really starting to feel a lot like Christmas around here! Your recipient will find this artful arrangement of classic holiday treats and delectable gourmet snacks very thoughtful and unique.
You can even add some popcorn, butter toffee peanuts, premium savory cheese, and flatbread crackers, making this gift box extra special and delicious. The best way to share the joy of the season is with a Christmas gift box classic.
When we think of Christmas, what usually comes to mind? A gift box filled with yummy treats and goodies. The best way to share the joy of the season is with a Christmas gift box classic from Gift Basket Village. It'll leave a great first impression.
With its' unique flavor pairings and holiday cheese & sausage gift basket, this holiday cheese & sausage gift basket is the perfect way to wrap up those warm holiday memories.


Save time and money - when you need to send a gift but don't have time to go out and shop for one, this is the easy answer.


With mouthwatering cranberry-infused summer sausage, Wisconsin cheeses, gourmet crackers, and a special sweet treat, this holiday basket is sure to please.

With Wisconsin cheeses, sausage, crackers, and nuts, this festive meat and cheese gift basket is sure to please anybody on your list. Year after year, this cheese and sausage gift box is a top seller.


If you want to give the same gift basket to the same people year after year, this is it.

A number of their seasonal favorites are included, all of which have been selected to complement one another and leave you drooling for more. Order in advance if you're thinking about giving this as a Christmas gift basket. It'll create a great first impression.




To put it mildly, their Best-Selling Holiday Basket is a sight to behold.

They've stuffed this stunning hardwood basket to the brim with these goodies:


- Gourmet Focaccia Crisp Crackers
- Assorted Creamy Cheese Spreads
- Assorted Fine Wisconsin Cheddar Cheese
- Salted Mixed Nuts
- Gourmet Snack Mix
- Assorted Dipping Mustard
- All Beef Salami
- All Beef Summer Sausage
- Chocolate Cream Filled Wafer Cookies
- Chocolate Chip Shortbread Cookies
- Butter Shortbread Cookies





Then they carefully wrap it in a basket bag with a big bow and add some seasonal pine to it.

"Was a nice gift to send for Xmas. Arrived on time. Would order again"


"Good variety of food and packaged well."


"Nice gift. Full of all kinds of goodies."

A great gift to give if you don't have time to shop


It is loaded with great flavors and treats


The gift basket is professionally packed by talented designers

The products are smaller than expected
Snacks are one of the most enjoyable aspects of going to the movies. If they are more of a homebody, treat them to a movie night at home with this great gift box. You may include gummy bears, Skittles, chips, Reese's, M&Ms, Starburst, and more.
You can even make it more personal by adding their favorite movie snacks and drinks. You can enjoy and share this gift box on Christmas morning with your lover. Spending time together is a nice Christmas gift for a couple.
If you are an expert or amateur cocktail mixologist, you should consider giving your friends and family a hand selection of premium cocktail ingredients inside their cocktail gift box.
This is the perfect gift for those who enjoy drinking cocktails because It's a delectable toasty-worthy treat that comes in a box and doesn't require a trip to the bar.
Your friend can even make themselves a fine cocktail on Christmas day and enjoy the day away with their family.
A Little Luxury Christmas Gift Box
A gift box dedicated solely to unwinding and recharging. This gift box can Include an extra-warm blanket made of insulating wool-blend twill fabric, as well as a set of cedar and lavender incense and essential oils.
This gift box will give your friends and family in settling in for a night filled with some of life's luxuries. They can curl up on a cold night to recharge and end the week on a positive note.
This is an excellent Christmas gift for girlfriends, moms, and wives who love to unwind and relax after a long day. Besides, everyone deserves a little pampering. 
For this type of gift box, you can package your wine tasters in glass bottles for a unique presentation in a wine-tasting gift box, which is curated with the best wines you've chosen for your recipient. If your boyfriend is a wine enthusiast, this might be a thoughtful gift idea for Christmas for him.
This simplifies wine education and eliminates the waste of opening full bottles to try a new wine. You can present this in a lovely box with a variety of white, rosé, and red wines.
This type of Christmas gift box includes everything you need for a complete wine-tasting experience. Your favorite or new wine flavors can be included in the package.
The Royal Treatment Wine Gift Box
Give them the Royal Treatment wine gift box, and they'll get a box full of red and white wine, as well as plenty of tasty snacks.
You can include crackers, peanuts, and popcorn of the highest quality fit for a king and queen that they'll enjoy for sure. Let them know that you care about them and only want the best for them.
Why not elevate your ordinary wine gift box to the Corsica Wine and Cheese Picnic Basket by Picnic Time? This is the perfect gift for the friend you think deserves the very best on Christmas day.
The Corsica Wine and Cheese Picnic Basket by Picnic Time is a 2-bottle wine carrier picnic set with wine and cheese board accessories.


This wine and cheese basket tote features a durable woven wicker and polyester canvas exterior with an insulated interior.


Great for travel, this wine and cheese picnic wine bag set includes a 6" cutting board, cheese knife, and stainless steel corkscrew in an exterior pocket for a romantic picnic for two.

Its thin shape and adjustable canvas shoulder strap make the Corsica Wine and Cheese Picnic Basket by Picnic Time the perfect wine and cheese basket for you and your special someone.


Just bring two bottles of wine, cheese, and some snacks, and you're ready to go on a picnic at your favorite drinking hole or scenic location.


It has a romantic and adventurous feel to it because of the woven wicker and rustic canvas. The stainless steel corkscrew, cutting board, and cheese knives are all included in the gift for you and your sweetheart.


Their products must stand up to the test of time and perform as expected.

The built-to-last lifetime replacement promise is a testament to their commitment to quality. As long as you own a Picnic Time Family of Brands product,