!! DISCLAIMER !! This site may contain Amazon & other affiliate links.
This means if you click on one of the product recommendation links, this site may receive a small commission. This is at no extra cost to you and may include exclusive discounts when possible. This helps support this site and allows us to keep making content like this. Thank you for your support!
Perfect Christmas Gift For Mom
Finding that perfect Christmas gift for moms can be quite tricky. Depending on their age and what their interests are, there is always something they'll like.
But one thing's for sure; your mom would definitely love and appreciate it. Whatever it may be.
The best thoughtful gift for mom this Christmas is something that is personalized or handmade.
That way, she knows how much she means to you because of the time and effort you put into getting her that present.
Christmas gift-giving can be tough but take a look at some of our suggestions to help you find the perfect gift for the special people in your life; check out:
You can also give her something that you know she will appreciate and enjoy using. There should be something to suit your budget and mom's taste.
Aside from Mother's Day, Christmas is also the time of year when everyone tries to find that perfect gift for their moms.
Do you want to know what the perfect Christmas presents for her are this year? If so, then keep reading!
Moms Who Love Anything Comfy
Is your mom all about comfort? If she's the laid-back kinda gal who just loves anything that would make her and her loved ones feel like there's no place like home, then check out these Christmas gifts for mom that will surely bring her much comfort.
Warming Slippers
Warming slippers are for relaxing and putting her feet up at the end of the day. This type of slipper is luxuriously soft and fluffy and can be warmed in the microwave before slipping them on.
Your feet have an estimated 100,000 to 200,000 touch-sensing nerves on the soles, and each one will be flooded with joy when you kick off your shoes and relax with your feet swaddled in a pair of these slippers.
They're not only super soft and comfy but ideal for a pampered rest rather than walking. Heat the insoles in the microwave in the winter and snuggle your toes into their soothing warmth.
These Microwavable Heated Slippers by Snook-Ease will keep your feet toasty whether you are relaxing at home or brewing your daily cup of coffee.
Tired of freezing cold feet? With Snook-Ease slippers & Heated insoles, cold feet are a thing of the past! Simply place the Snook-Ease shoe insoles inside their heating bag and heat in the microwave for 60 seconds.


Keeping your core body temperature balanced is essential to good health. Applying heat helps expand blood vessels, which allows oxygen to flow through our bodies more effectively.


Use our warm booties to get instant relief from chronic cold feet, Achilles heel, inflammation, sore feet, arthritic feet, Raynaud's, Night Cramps, inflamed feet, tired feet, plantar fasciitis, and more.


Our slippers and insoles are safe, hygienic, lightweight, discreet, reusable, reheatable, washable, odor-free, and squeak-free. They provide you with relaxing warmth and comfort.

The slippers are designed from plush and soft polyester with a fuzzy inside. They are even comfortable enough to be worn on their own without socks. These warm fuzzy slippers also come with a pair of inserts that can be warmed in the microwave using the bag that comes with the pair of slippers. Only one minute is required to produce gradually enough released warmth to endure for 30 minutes, after which they may be reheated to their specified temperature. Warm booties and insoles not only keep your feet warm and comfortable but also provide a number of health advantages. They dilate blood vessels and increase circulation, which helps to relax weary muscles and alleviate aches and pains associated with everyday activities and arthritis and plantar fasciitis, among other conditions. Trim the insoles if necessary to ensure that they fit comfortably inside the sleeping boots or other footwear. They are composed of sanitary and odor-free silicone, which provides gentle support and comfort.

"Awesome slippers!!! I love the warm cozy feeling on a cold morning. My feet get cold easily and these are just what I needed to help warm them up. So tired of putting on socks and my slippers and still having cold feet. Follow the directions exactly, and they work great. It feels like they are not warm enough when you take them out of the microwave but, after you put them on, the heat comes out better and warms up your feet. I would love a heater in my slippers, but since this is not possible, these are the next best things. The fit is just as expected too."

It only takes 60 seconds to heat up


It promotes foot health


Microwavable insoles will keep your feet warm and cozy


It relieves pain instantly


They are safe, hygienic, lightweight, and washable

It would be better if the bottom had more cushion


Sizes run small, so make sure to check the measurements of the slipper before purchasing
Nap Anywhere Pillow
Your mom can nap anywhere with a kind of pillow that's so soft and firm, and she can literally just doze off anywhere.
A quick snooze is always the right call, no matter where you are. With a type of pillow cushion, it provides something dreamy for everyone, with fabric and filling made entirely of soft and elegant material.
Does your mom love to travel? This type of pillow is the perfect Xmas gift for her because she deserves the softest and very best when she travels.
The revolutionary media sensation Ostrich Pillow Original is the ultimate immersive pillow! Use it for a power nap at your desk, lounging at home, or wherever you may be, without moving an inch.


It's designed to provide the feeling of being enclosed in a cocoon, allowing you to disconnect from your environment and reduce ambient light and noise.


Handcrafted with a combination of viscose and elastomer that creates a dreamily soft, high-quality feel and the next-generation coated microbeads that create a perfect relaxation partner.

It's the ultimate immersive pillow, the media sensation Ostrich Pillow Original.

Use it to take a power nap at your desk, while relaxing at home, or anywhere you happen to be.


A cocoon-like experience is created with the travel head pillow to help you detach from your surroundings. It does this by lowering the amount of light and noise in your travel space.


The next-generation coated micro bead filling works perfectly with the dreamily soft, high-quality viscose and elastomer filling to help you fall into relaxation mode.




It's portable and may be used anywhere, plus frequent fliers will appreciate it.

"I wasn't sure if I would like this "pillow", but I do. It looks really strange (I fully understand the humor in many of the reviews). I also don't care how strange it looks. I have what some would call a mild (others would say "mild" is an understatement) obsession with pillows. Although my obsession is mostly with down pillows, the material of the Ostrich Pillow is soft and comfy.

I'm someone who likes to sleep on my side with a pillow over my head. This stems from years of sleeping with a snoring husband, but now it has become just a habit. This weirdly shaped pillow makes that super easy without constantly waking up to look for my "ear pillow". So far I'm very pleased."

You can use it anywhere


It reduces the light and sound of your environment


It is made from soft, high-quality material


It is great for frequent flyers

Only hand wash and air dry


It is hard to fold or pack easily
If Mom enjoys picnics, this blanket will provide her with a comfortable place to sit, even on wet grass or sand. This type of extra-large blanket, with a waterproof backing, can also roll up into a small tote for easy storage in the trunk of the car.
This type of outdoor picnic blanket is also suitable for use at the beach or in the park. This beach mat can be used for lounging in any setting that has casual seating, such as the beach, park, or outdoor concerts.
Get your mom some adorable and comfortable boots. It can be heated to keep Mom's cold feet warm! These are boots that are microwavable.
The booties are made of fuzzy and soft material and, unlike other warm packs, the sacks are built right in. This makes it easier to heat, and you can even add some of your favorite essential oil scents to them.
Cotton Spa Robe Dress
Mom will adore the soft fabrics of a cotton robe dress for Christmas. Plus, this is also a unique Christmas gift to give dads so they can match.
It's a luxurious towel plus a swingy dress. It's the most irresistibly comfortable thing you'll ever make your mom wear. This type of cover-up is a shower and bath essential and lush attire for an indulgent at-home spa day.
The soft, wide straps liberate you from the old wrap-and-tuck towel (the one that never stays put), while the hidden snaps and elasticized back prevent unintended peep shows.
Does your mom like spending the whole day in her plush robe? Well, we couldn't blame her. Why not give her this authentic Turkish bathrobe for Christmas? It's just to die for.
Made in Turkey from 100% pure combed Turkish cotton, this exquisite terry cloth bathrobe is a super comfy way to relax and dry off. Join thousands of happy customers and treat yourself to the real thing!


The bathrobe includes 5-needle stitching on the belt, 5-inch double-sided cuffs, a thick shawl collar, luxury stitch-free tailoring, a handy hanger loop, handy front pockets, and a strong, reusable zipper bag.

This luxurious Turkish cotton terry bathrobe, made in Turkey, is the most luxurious way to relax and dry off after a bath or shower.

Treat yourself to the real thing and join the tens of thousands of others who have done so.


For almost two decades, they've worked to perfect their Turkish bathrobes.

Among the features are the 5-needle belt stitching, the 5-inch double-sided cuffs, the wide shawl collar, luxury stitch-free tailoring, the sewn-in hanger loop, the convenient front pockets, and the durable, reusable zipper bag that can be used to store other clothes. It is very absorbent, and it's the coziest robe you'll ever wear.

"This is exactly what my husband wanted. A true Turkish Cotton Bathrobe that he could use for drying off when coming out of the shower. Most of the robes he's tried - even one by Robert Graham have been more of a velour, soft robe to cuddle up in on a cold day or AFTER drying off after a shower. This robe is exactly as described - a perfect fit for someone shorter or taller. Highly absorbent like a great towel, two pockets, double loops for the belt depending upon your height - an attached hoop to hang to dry, and not and thick. You can feel the quality. We followed the instructions and washed before first use. Not a single pulled string. This was a Father's Day gift and my husband made me wash it that night so he could use it the next morning. I must have read reviews for at least 12-16 robes and clicked to the most recent reviews to see what people were saying. Although this robe was a little more than some others available it was worth it. He loves the new robe and I highly recommend this product"

It is super absorbent


Authentic Turkish cotton


Each bathrobe is designed and made to deliver the very best of Turkish craftsmanship


Feels very comfortable and luxurious

The robe is heavy and kind of bulky


The rope to tie around is shorter than expected
For The Best Homemaker
Does your mom love to spruce up the house even when there's no special occasion? If she's anything like Martha Stewart, then she'll love these Christmas gifts for mom that can help her transform her house into her dream home.
Personalized Song Wall Sculpture
With a one-of-a-kind sound wave sculpture, you can turn Mom's favorite song into a stunning work of art. This type of wall art can be handcrafted from reclaimed wood and can come with the hardware needed to hang it on the wall. You can pick from the chorus or the entire song.
What is your mom's favorite song? Maybe she heard it at a concert? Maybe it's something she heard on her first date. Is it the one that she can't stop dancing to after all these years?
By cutting wooden pieces into the exact shape of the soundwave of her chosen song, the artist can transform that catchy melody into a one-of-a-kind work of art.
Just imagine giving your mom an elegant wall sculpture that will be a conversation starter and an amazing Christmas gift she'll never forget.
Closed Aquatic Ecosystem
An ecosphere is a glass ecosystem that is completely closed and balanced. Shrimp, algae, and microorganisms in saltwater can live inside an ecosphere.
Your mom never has to feed the life within the ecosphere or change the water because it contains everything it needs to thrive. All that is required is a comfortable room temperature and a light source.
A pretty pod containing shrimp, algae, and microorganisms that are completely self-sustaining and require no maintenance other than a quick clean every now and then is the perfect gift to enhance any home.
Aquariums are lovely, but they do necessitate a lot of upkeep. If Mom wants some aquatic 'pets' but doesn't have the time, an ecosphere is an ideal gift.
No maintenance aquarium, a complete miniature world.


World's first totally enclosed ecosystem utilizing NASA technology.


Unique gift item, the perfect blend of science and art.

The EcoSphere Closed Aquatic Ecosystem is a small universe that doesn't require any upkeep that you can display anywhere. It incorporated NASA technologies to create the world's first fully contained ecosystem. Science and art come together in this unusual gift. It is definitely a one-of-a-kind present to give for Christmas.

"We have had our EcoSphere since November, so 5 months now. The shrimp have grown a little and they even had babies! There are about a dozen (almost microscopic) shrimp babies in there. The only thing you really have to worry about is too much or too little light for algae growth. And, keep it out of direct sunlight or direct heat too of course. Otherwise, it's great to check in on these little guys. This was a gift for my wife for Christmas. She loves it."

There is no maintenance required


It is a unique gift


Uses NASA technology

The rotating base only lights up
Showers aren't as luxurious as baths, but giving your mom a set of shower steamers will transform your mom's shower into a spa experience.
These types of steamers melt slowly on the floor where the water will hit, releasing soothing, refreshing natural scents to work on the senses.
All you do is simply place one of the shower fizzies in the shower's corner. Allow the aromas to transport her to a state of bliss and savor her small but meaningful moment of self-care.
Himalayan Salt Lamps are a great way to add a warm glow to your home plus it's also a great Christmas gift to give her for Christmas, but this one is particularly special.
This type of lamp, carved in the shape of a heart, rotates slowly and gently through a rainbow of colors while also purifying the air by releasing negative ions into the space.
It's a wonderful option for your moms to brighten her mood and create a more romantic atmosphere in her room.
Bathtub Caddy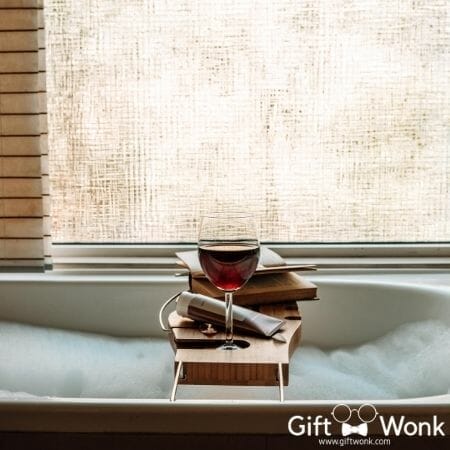 A bathtub caddy allows every hard-working mom to unwind in the tub without worrying about spilling anything.
It has enough room to hold a glass of wine, a bar of soap, and even a book holder so she can read without getting her pages wet. It allows her to have her own personal spa experience without having to leave the house.
If your mom likes to enjoy a relaxing Saturday night every now and then, she'll enjoy soaking in a warm bath with all of her favorite amenities.
You can keep all of her favorite bathtime items and accessories in a safe, convenient bathtub caddy without worrying about dropping them in the water.
Taking a soothing bath with all of her favorite amenities on a bathtub caddy will be perfect for your mom if she likes to relax. Get her this wonderfully designed bathtub caddy from ToiletTree.
Besides allowing you to keep your phone, tablet, and e-reader close at hand, this portable bathroom rack will also allow you to store your favorite beverage.


Designed to last, you'll appreciate the generous size of this sturdy caddy with room to set your grooming supplies, such as razors, shaving cream, tweezers, a mirror, fingernail clippers, and more.


High-quality stainless steel and rust-proof handles add an elegant design accent while also being functional; the clear acrylic design is perfect for any décor because it seamlessly blends into any bathroom style.


This caddy is 33 inches long and 9 inches deep and fits most bathtubs; convenient handles make it easy to place the caddy across your tub.

Keeping your e-reader and mobile phone within easy reach in a luxurious bath is made easier with the ToiletTree Clear Acrylic Bathtub Caddy's clever design. It also has space for your favorite beverage.


This durable caddy is built to last and has plenty of storage for all of your grooming essentials, including razors, shaving cream, tweezers, a mirror, and fingernail clippers.


Its clear acrylic is great for any décor since it fits effortlessly into any bathroom style, while high-quality stainless steel and rust-proof handles give a beautiful aesthetic.


It is designed to accommodate most bathtubs and has convenient handles to help you move it across your tub with ease.

"I've had a couple of metal bath trays, the kind that has an open construction and expands to fit your tub. The little grills are hard to clean and they inevitably rust, plus I'm always afraid that they'll give out eventually where the parts move. I bought this for something that would last and be easier to clean, though I figured it would be a step down in every other way. I thought its design was blah and utilitarian, I thought I would miss having separate compartments, I figured I'd have to be more careful with it in general.


I couldn't have been more wrong. The minimalist design really does blend seamlessly with the tub. It feels much more like a part of it than the metal ones ever did. The handles give me clear "zones" where I can put a drink on the left and my phone on the right and then have the middle section for whatever I'm doing. The tray does *not* slide around and the things I put on it do not slide around very easily, either.


Everything about this feels like an upgrade. Those bamboo ones might be fancier but I bet this one lasts longer."

Steel handles are rust-proof and stainless


It fits most bathtub sizes


The size is big enough for your stuff


It is sturdy and durable

It would be better if the non-slip padded strips on the bottom were on all sides.


There are no drain holes
Mom The Masterchef
Christmas is a time of giving and receiving. It's also the perfect opportunity to show your mom how much she means to you by gifting her something that will make her smile, laugh or even cry!
We have compiled some great gift ideas from our favorite things for the kitchen in one gift list so you can find exactly what she wants this holiday season.
Breakfast Sandwich Maker
If you've ever cooked breakfast, you're well aware of the mess it creates, as well as the time and space it consumes.
So give Mom this breakfast sandwich maker as a thoughtful Christmas gift to appreciate her for the many times she cooked for you. All she has to do now is layer the ingredients at the appropriate levels, close it up, and she'll have a perfect one.
Does your mom love breakfast? In the comfort of her own home, she can make the most delectable breakfast sandwiches for her and her family with the Cuisinart Electric Griddler. Besides, breakfast is said to be the most important meal of the day.
User-friendly digital controls.


Adjustable temperatures from 175-450 degrees.


Removable and reversible dishwasher-safe nonstick cooking plates for easy storage.


Dishwasher-safe scraping tool for easy cleanup.