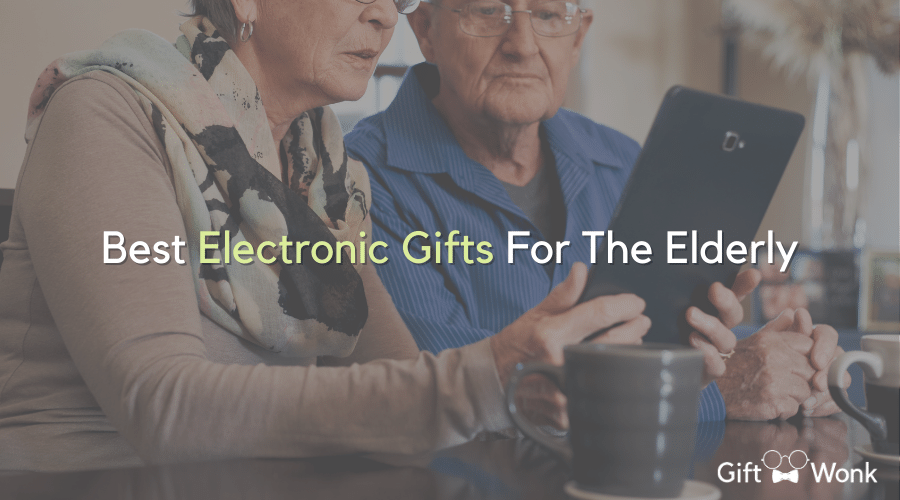 !! DISCLAIMER !! This site may contain Amazon & other affiliate links.
This means if you click on one of the product recommendation links, this site may receive a small commission. This is at no extra cost to you and may include exclusive discounts when possible. This helps support this site and allows us to keep making content like this. Thank you for your support!
Best Electonic Gifts Your Elderly Loved Ones Will Actually Use
Shopping for elderly loved ones can be tricky. What do you get them? How will they use it? Will they know how to use it?
Gift-giving should be a fun and meaningful experience. That's why giving the right electronic gift — something that your elderly family member or friend can actually use — is important.
Maybe it's not traditional, but if used in the right way, an electronic gadget could turn into one of their favorite gifts!
In this article, we'll provide some advice on the best electronic gifts for the elderly that are most suitable for them and give you some specific product suggestions along the way.
Tech Gifts for Seniors To Stay Connected, Independent & Secure
Staying connected is essential to healthy aging, but many seniors don't have access to the technology they need to stay in touch with friends and family. It's understandable too — keeping up with the latest "smart" gadgets can be a little intimidating.
Fortunately, there are now plenty of tech gifts on the market perfect for the needs of seniors. From tablets that make video calling intuitive and secure doorbells that help reduce anxiety when staying home alone, these days technology exists specifically to keep elderly loved ones independent and safe.
If you're looking for the perfect gift for an older person in your life, look no further! In this article, we will cover the best tech-enabled gifts available to make sure your senior know how much you care about their safety and well-being.
Emergency Response Systems
Emergency response systems are a great tech gift for seniors who want to stay connected, independent, and safe. These systems provide 24-hour monitoring for emergency situations such as falls and other medical emergencies.
They typically include a wearable device that can call for help when activated and provide location data to emergency responders. Emergency response systems can be incredibly helpful in giving seniors the peace of mind they need while allowing them to live a more worry-free lifestyle.
Seniors can rest assured knowing an emergency services operator will always be available with the press of a button.
Emergency response systems can often track an elderly person's location if they wander off or become lost.
Some emergency response systems even offer additional features like two-way communication, so they are able to chat with loved ones over the phone or video chat.
Voice-Activated Devices
Voice-activated devices make great tech gifts for seniors to stay connected and independent. With voice-activated devices like Alexa, Google Home, and Siri plugged into your home's speakers, a senior can use voice commands to easily access information such as the day's weather forecast or sports scores.
They can also set reminders for important tasks like taking medications. By linking up third party services, seniors will be able to do many other helpful things such as adjusting lighting or security settings in their homes with just a few words.
Additionally, some models are designed specifically with seniors in mind to simplify device operation with elder-friendly interfaces.
Automated Pill Dispensers
An automated pill dispenser is an excellent tech gift for seniors looking to stay independent and secure. Automated pill dispensers provide an easy way for seniors to accurately measure their medication dosages, which can help them stay on top of their health.
The device also features a reminder system so the user will never forget to take the right dosage of medications at the right time each day.
Automated pill dispensers can be monitored remotely by family members or caregivers who want to make sure that their loved one has taken their medications correctly.
Automated pill dispensers also come with clear displays and audio reminders so that seniors are aware of when and what medication needs to be taken.
These devices provide a sense of independence for seniors as they do not need assistance from another person in order to take their daily dosages correctly.
Monitoring Technology
Monitoring technology is an excellent gift for seniors looking to stay connected, independent and secure. For example, devices like motion sensors and fall detectors can alert family members when a senior has fallen down or there is abnormal activity.
These devices are typically easy to install and can provide peace of mind for families knowing that their loved one is being monitored.
Additionally, some monitoring technologies such as GPS systems on smart devices, can be used to keep track of a senior's whereabouts in case they wander off accidentally.
Emergency buttons are another great monitoring technology that can be given to seniors as gifts, allowing them to easily contact the authorities in case of an emergency.
Home surveillance systems with two-way audio allow seniors to communicate easily with visitors even when they're not home, providing an extra layer of security and convenience.
Some providers offer services that provide daily check ins with sensors and smart home technology which alerts caretakers if something is awry in the home of the elderly person being monitored.
Big Button Remote
Big button remotes are great tech gifts for seniors to stay independent. These remotes are designed with larger buttons and a simplified layout, making them ideal for those with limited sight, and fine motor skills and/or who have trouble understanding instructions.
They can be used to control all sorts of electronic devices, such as TVs, Blu-Ray players, or sound systems. They allow seniors to continue independent living at home independently, enjoy their favorite shows and music on their own terms.
With big button remotes, seniors can easily answer calls or check their front door camera live – giving them greater peace of mind and the ability to stay connected.
Practical Tech Gift Ideas for An Aging Adult To Make Life Easier & Convenient
We all have an aging adult in our lives whom we love. But sometimes, it's hard to think of practical gift ideas that will make their lives easier and more convenient.
Have you been scouring the internet trying to find something that is both practical and cool, but having no luck? If so, this article is for you!
In specific, we are going to discuss practical tech gift items that make life more manageable—from screen magnifiers for struggling eyesight to virtual assistants for organizing tasks, streaming services for great entertainment, and even a nightlight with motion sensors. Read on to learn about these gifts that'll help your beloved senior maintain independence and live life more comfortably.
Robot Vacuum
A robot vacuum can be a great tech gift idea for an aging adult to make their life more convenient and hassle-free! Robot vacuums are easy to use and can help an older adult keep their home clean without having to strain themselves.
In addition, they come with features like voice control and smart sensors that allow them to react quickly to different environments.
They are self-activated, making it easy to maintain the level of cleanliness required. Definitely, one of the most helpful technology gifts you could give an elderly adult as they age.
Different models come in different shapes, sizes, and colors; choose one your senior likes so that operating it becomes easier.
E-Reader
An e-reader is a great gift idea for an aging adult. With an e-reader they can read their favorite books at the press of a button, store their entire library in one device and keep up with the latest book releases.
An e-reader also has customizable font sizes, which makes it easier to read for those with low vision. They are lightweight and portable, so they can take them with them on trips or when visiting friends and family. On top of being convenient, an e-reader is usually cheaper than buying physical books.
Ring Video Doorbell
The ring video doorbell is an excellent tech gift for an aging adult as it can make their life much easier and convenient.
This device will let them see who's at the door without having to get up. They can also use their mobile phone to talk to visitors before opening the door, which eliminates the need for home visits.
The video doorbell also has motion sensors that alert them when someone is approaching, so that they can take the necessary precautions. Additionally, Ring Video Doorbells come with a range of security features such as two-way audio, night vision, and more.
Tile Mate Essentials
The Tile Mate Essentials is an excellent tech gift for aging adults to make life easier and more convenient. This product comes with two Tile Mate trackers and one Tile Slim, which can be attached to items like keys and wallets.
This allows aging adults to easily find their things with just the click of a button. In addition, the Tile Mate app works as a community detector, alerting users when their items are found by other people in the Tile community.
This can provide peace of mind that their belongings will not be lost forever. Furthermore, the app also serves as a remote control for household electronics, making it easy to switch them on or off from anywhere in the world!
Home Assistive Device
Home assistive devices are a practical tech gift idea for an aging adult to make life easier and more convenient. These devices can range from voice-activated remote controls to task-specific gadgets such as pill dispensers and even smart home systems like Alexa and Google Home.
Not only are these tools helpful for activities of daily living, but they also add an extra layer of safety for seniors.
Motion sensor lights or cameras give seniors a chance to keep up with activity in their homes from a long distance away.
Personal emergency response systems provide elderly adults with immediate access to help and support should they need it.
Smart thermostats allow them to easily control the temperature in their home without having to move around too much.
Fun & Clever Electronic Gifts For The Elderly People
We all know those elderly people who, despite their age, still stay up to date on everything technology. From the latest gadgets and apps to their favorite websites, these grandmas and grandpas are not to be trifled with.
But for all those elderly individuals out there who don't quite have the knack for technology but desire to learn, buying them a special gift can give them just the little push they need into the tech world!
Here are some fun and clever gift ideas that any senior citizen would love. These gifts are sure to ignite their inner nerd and bring a smile to their face!
Digital Photo Frame
A digital picture frame is a fun and clever technology gift for elderly people. This tech-savvy device offers grandparents and seniors an easy way to keep updated with family photos.
Devices such as the Nixplay Wi-Fi Digital Picture Frame are simple to set up and come preloaded with popular apps like Facebook, Instagram, Dropbox, and Google Photos so users can view all the photos they want, right on their frames.
Digital photo frames are great tools for those suffering from memory loss because they can be filled with photos of family members that provide comfort and recognition of loved ones.
You can also program the frame to show multiple pictures so your aging relative won't have to scroll through photo albums or continuously upload pictures.
These frames come with convenient features such as motion detection sensors once plugged in, so it will turn on and off when needed without having to manually switch it on or off.
Media Streaming Device
A great technology gift for elderly people is a media streaming device. these devices are compact, affordable, and easy to use, making them perfect for seniors who want to stay current with the latest shows and movies.
These devices also allow users to access popular streaming services like Netflix, Hulu, Amazon Prime Video and more. Seniors can use the device to watch their favorite shows or new releases in the comfort of their homes.
It's also a good way to stay connected with family as they can video call while binge-watching their favorite programs.
Pick out a streaming device that is compatible with your elderly relative's TV. Consider setting up the device before giving it as a gift so that your relative doesn't have too much trouble setting it up on their own.
Make sure you give instructions on how to use the device so that your relative can make full use of its features.
Noise Canceling Headphones
If you're looking for a fun and clever technology gift for elderly people, consider noise-canceling headphones! They'll help block out undesirable sounds like traffic noise, loud neighbors, and more. Noise-canceling headphones can also be great for listening to music or audiobooks in peace.
Look for headphones that are made specifically with elderly people in mind. This means they should be comfortable and adjustable, as well as lightweight.
Choose a pair of headphones with good sound quality so that the recipient can enjoy their audio experience even more. Look out for features like Bluetooth connectivity and active noise cancellation, if needed.
Pocket Bluetooth Speakers
Pocket Bluetooth speakers are one of the best tech gifts for elderly people. Not only will they be able to listen and enjoy their favorite music anytime, but they also have the convenience of a portable Bluetooth speaker.
With this device, they can take their songs with them wherever they go, whether it's a picnic in the park or an outing with friends. Plus, these devices are designed to be easy to use and set up so even an elderly person with limited knowledge on technology can get started without any hassle.
Instant Film Camera
An instant film camera can make a great and clever technology gift for elderly people. It offers all the nostalgia of using an old-fashioned camera with the convenience of modern technology.
Instant cameras require no computer or digital knowledge, and produce immediately accessible photos that can be enjoyed right away.
Instant Film Cameras are relatively inexpensive and easy to use. They are not only a fun way to take pictures but also create lasting memories and help capture special moments that can be treasured forever.
An instant film camera makes a great group activity where friends, family members, grandkids, or caregivers can join in on taking pictures together.
Best Gadgets for Seniors to Support Mental and Physical Wellness
As we age, staying physically and mentally healthy is more important than ever. The average person over 60 should be more mindful of their physical activity, diet, and mental health since these are all closely linked to overall wellness.
Fortunately, there are a lot of gadgets on the market designed to help seniors stay physically and mentally healthy. From fitness trackers to subscription services focused on maintaining brain sharpness – there's plenty of technology available you can take advantage of.
Here are some of our favorite gadgets for seniors looking to improve their overall health and wellness. Each is designed with elderly users in mind and dedicated to different aspects of well-being for maximum impact.
Smart and Fitness Watch
Smart and fitness watches are great thoughtful gifts for seniors to support mental and physical wellness. These devices track heart rate, steps taken, exercise activities, calorie burn, and more while reminding seniors to stay active.
Smartwatches can also show calls, messages, calendar reminders, and helpful notifications from important contacts.
Smartwatches can help seniors easily check their vital signs like blood pressure or heart rate. Fitness watches come with GPS tracking for enhanced movement so seniors can safely walk without losing their way.
Smart and fitness watches also provide a level of social engagement through audio chat messaging or video calling so seniors can connect with their loved ones even when far away.
Sports Home Console
An excellent choice to support the mental and physical wellness of seniors is a sport home console. Using this device, seniors can enjoy activities like bowling and basketball from the comfort of home.
Playing video games or board games helps seniors stay engaged with their surroundings and relieves boredom. This type of interactive gaming can help to exercise cognitive skills, hand-eye coordination, and motor control in an enjoyable way.
A good home sports console has various options for different gaming experiences. It has wireless controllers that are easy to use and support a variety of activities such as golfing, baseball pitching, sky diving, football passing and more!
Even if you don't have the physical ability to play outdoors, these consoles can offer fun activities suitable for all fitness levels.
Apps for Mindfulness and Yoga Practice
Mindfulness and yoga can help seniors maintain mental and physical wellness. There are many apps available that make it easy to practice mindfulness and yoga, even with limited mobility or vision. As a senior, you can choose an app with clear instructions, simple movements, and adjustable settings.
Most mindfulness apps have tools for tracking your progress, such as guided meditations and tailored exercise plans.
Look for an app that offers multiple levels of difficulty so you can adjust the intensity of your workout as you get stronger.
Some apps also offer video tutorials so you can practice each pose at home without the need for in-person instruction.
Air Filters and Air Quality Monitors
Air filters and air quality monitors are two gadgets that can help seniors maintain physical and mental well-being.
Poor air quality can lead to fatigue, asthma or respiratory issues, so having an air filter will help clean the air in your home and reduce allergens. Air quality monitors provide real-time alerts about changes in your indoor air, helping seniors better manage their respiratory health.
Air purifiers remove harmful chemicals and dust particles from the air. Air quality monitors detect particulate matter in the air, such as pollen or smoke.
Some devices can also sense carbon dioxide levels, humidity, volatile organic compounds, and temperature.
Blood Pressure Home Monitoring Systems
One of the best gadgets for seniors to support their mental and physical wellness is a blood pressure home monitoring system.
This system enables seniors to easily track their blood pressure levels at home rather than having to go somewhere every time they need to check it. With this piece of technology, seniors can keep an eye on their vitals in real-time and get instant readings.
This device is especially helpful if seniors require frequent treatment for hypertension or cardiac conditions since they can monitor their progress over time on the device itself.
The home monitoring systems are also ideal for people who don't have access to medical facilities or are unable to leave the house due to mobility issues. It also eliminates any potential complications from traditional methods such as old-fashioned stethoscopes and manual recordings of blood pressure levels.
Virtual Reality Headset
A virtual reality (VR) headset is one of the best gadgets a senior can have to support mental and physical wellness. This technology can be used for relaxation exercises and physical therapy.
It also helps seniors with cognitive challenges to stay engaged in activities that encourage stimulation and prevent boredom. With a VR headset, seniors can explore different parts of the world right from the comfort of their own home.
The headset will provide an immersive experience that encourages sensory, motor and cognitive engagement while providing an entertaining and educational resource. The possibilities with virtual reality are endless!
Final Thoughts
When you're looking for the best electronic gifts to give your elderly loved ones, keep in mind that they want something that's easy-to-use and offers plenty of features.
Consider their existing tech skills and lifestyle habits when choosing an item. No matter what you choose, make sure it's something useful and fun for them!
Once the gift is chosen and wrapped, don't forget to give them some extra time and guidance to learn how to use it properly. Good luck with your search for the perfect electronic device!
Frequently Asked Questions
What do I need to consider before buying an electronic gift for the elderly?
Consider your elderly loved one's experience level with technology and read reviews for any extra features or complexity that may add difficulty in using an electronic gift.
Look for gifts with user-friendly interfaces and intuitive designs so that your elderly family members can easily understand and operate them.
Ensure that any setup or installation process is straightforward, quick, and easy so that they don't get frustrated while trying to learn how to use their new electronic device.
What are the necessary features the electronic gift should have?
To make sure that the electronic gift suits well for your recipient consider the following questions:
Does the electronic device have easy-to-use instructions so your elderly relatives can get comfortable navigating it?
Was the product designed with older users in mind? If not, what adaptations can you make to simplify its use?
Is the manufacturer offering tech support in case of difficulties, either online or through customer service?
What type of technology should I look for?
Look for products that are user-friendly and easy to understand, like voice-activated assistant devices. Consider giving useful home gadgets such as a talking thermometer or a stairlift.
You could buy them a robotic vacuum cleaner, cell phone or a smartwatch with features like heart rate monitoring and fall detection capabilities.