!! DISCLAIMER !! This site may contain Amazon & other affiliate links.
This means if you click on one of the product recommendation links, this site may receive a small commission. This is at no extra cost to you and may include exclusive discounts when possible. This helps support this site and allows us to keep making content like this. Thank you for your support!
Valentine's Day Gift Ideas NOT To Give Someone
Valentine's Day Gift Ideas NOT To Give Someone
There are many ways that Valentine's Day may either go great or disastrous. Some people have unreasonable expectations of their partners or are simply horrible gift-givers; either way, these lousy Valentine's gift ideas will make you contemplate a no-gift policy on February 14 to save you both the trouble. The following are some Valentine's Day gift ideas not to give someone.
Here are more best Valentine's Day gifts for your loved ones of all ages and personalities:
1. A Gift Basket
Because everyone knows they make terrible presents, all those pre-arranged baskets of hand soaps, candy, lotions, and other various trinkets are usually the first items to go on sale following Valentine's Day.
Instead consider this: If you truly can't pick just one gift for your date, at the very least buy them a subscription box that they will really use and look forward to month after month.
Personalized items, such as mugs and pillows with your names and anniversary dates on them, canvases with a photo of you both together on them, or a puzzle with both of your names on it, are all good alternatives for valentines' day gifts.
If you want to do anything with photographs, be sure to quietly confirm with your partner that the photograph is OK before using it. They may not want to use or show off your present if they think they don't look okay in the photo.
Nothing is worse than picking up Valentine's Day greeting cards at the grocery store checkout line.
Instead consider this: Surprise your sweetheart with a personalized or handwritten Valentine's Day card, which may be tailored to their specific tastes rather than settling for a common hallmark greeting card.
Create a handcrafted card or get a gorgeous card from a shop and then customize it with your own message. Write down your fondest moments you've had as a couple, your favorite attributes about them as a person, or reasons why you adore them as part of this personalizing process.
If you are purchasing a card, make an effort to choose one that you would like, one that is related to them or your relationship in some kind.
3. A Bottle Of Red Wine And Chocolates
Unless it's a $1000 bottle!
Everything about Valentine's Day box of chocolates and a bottle of wine from the local grocery shop suggests, "I put very little work into this." Many people like eating chocolate while drinking wine, but other people do not care for sweets at all, and even if they do enjoy a box of chocolates, they will quickly devour it and forget about it. it's certainly not something you gift to your one and only on Valentine's Day.
Instead consider this: Take it to the next level, If your sweetie is a chocolate aficionado and you want to spoil them, go for high-quality chocolate. Consider a wine subscription service that will bring a selection of wines to their home on a bimonthly basis.
With 26 years of expertise and 1,000s of wines tasted, we deliver a great tasting wine, every time!


Quality assurance is our top priority, we want you or the recipient of your gift to be delighted!


100% "No Bad Bottle" Guarantee. We stand behind every bottle of wine we sell.


Enjoy wines of all varieties from all wine regions of the world.

Cellars Wine Club ($49 and above per month) has four separate wine clubs that you may swap between depending on your tastes. Every month, a wine specialist sommelier team tastes and selects the handpicked wines for the clubs. Ultimately, these sommelier professionals draw from the same pool of wines, but each sub-club caters to different preferences and classifications.


The majority of these sub-clubs mail a wine box including two wine bottles per month. Themes such as 90+ point wines, sparkling wines, and even a sweet wine club are used to create clubs. Unlike other services, particularly those centered on palate, Cellars allows the wine lover to be experimental from wine shipment to wine shipment without sacrificing quality.

"We just renewed. This had originally been a birthday present for my husband, but now it will be a gift for me too! The service has been wonderful and I love the variety of wines we are getting to enjoy – we have loved them all."

Customizable wine subscription


Offers four different wine clubs that you can switch between


Varieties from all wine regions of the world

Quite pricey
4. Home Appliances
Sure, they could be in desperate need of a new vacuum or a new coffee maker. February 14th, on the other hand, is Valentine's Day, not a housewarming celebration.
Instead consider this: If you insist on giving a more practical Valentine's Day present, at the very least choose something that the two of you can use and enjoy together, such as a DIY meal kit delivery service.
If you're feeling extra daring, you may try your hand at preparing a special dinner for your sweetheart.
Prepare or bake their favorite food, a new dish that they have never tried before, or a unique dessert for them. To improve the romantic mood, add candles, tablecloths, beautiful porcelain dinnerware, and elegant glasses to your table setting.
Elevate your Valentine's Day dinners at home with this portable outdoor pizza oven by Gozney is the best one on the market that every household should have.
A premium, portable fire, and stone pizza oven - Reaching high temperatures of over 932ºf to give you the ideal balance of thin base and perfectly puffed up, charred artisan crust - in just 60 seconds.


With an inbuilt thermometer, retractable legs, and detachable dual-fuel burners, Roccbox is easy to transport and set up; just click the switch and start cooking!


Offering the convenience of gas and the tradition of a wood fire, Gozney Roccbox comes complete with a gas burner as standard and the option to buy a detachable wood burner as an additional accessory.


Body insulation and the outer silicone skin make Roccbox the family-friendly option, reducing the danger of skin burns.

This premium portable pizza oven gives you the perfect balance of thin base and nicely scorched artisan crust in just 60 seconds.


The transportation and setup are a breeze. Roccbox includes an integrated thermometer as well as detachable legs and dual-fuel burners. Just flip the switch and go!


The Gozney Roccbox includes a standard gas burner and a removable wood burner to provide the best of both worlds.


Roccbox is a safe solution for families because of the body insulation and the silicone skin on the outside.

"Got this for my husband (and myself) for Christmas, and we're now basically rearranging our home to accommodate this fantastic oven (think, outdoor kitchen as we've never had before). "The Pig" needs a place of honor.


It's dead simple to set up. It's portable. It's stable. It's dual-fuel (but gas is cleaner, and the heat is easier to maintain). It actually reaches 932F. And it's completely adorable.


If it only produced great pizza, that would be good enough. But the rib eyes were a perfect medium rare in four minutes of not guessing or fussing. We are really impressed."

It is rated No. 1 Outdoor Stand-Alone Pizza Oven by Forbes, GQ, and The Times


It can be fueled with gas or wood


It is safe to touch. Its interior reduces the danger of skin burns.


It is easy to transport and set-up

It would be great if the heat knob would control the flame and heat
5. A Date To The Cinema
Despite the fact that there is an exception to this rule (parents who need a short break away from the kids), spending upwards of $50 on mediocre movie tickets only to eat mediocre popcorn, which by the way will cost you another $20 easily and sit in mediocre seats isn't exactly the most romantic of evenings.
Instead consider this: Everything that money might have been spent on would have been better spent on a streaming app like Disney+. You and your family may relax on the sofa and enjoy all of your favorite movies in the comfort of your own home.
If you want to spend some quality time with just the two of you, preparing for a romantic weekend vacation, a memorable day trip to a neighboring city, or an exciting date night packed with new restaurants, shopping opportunities, and coffee shops, are all excellent options.
Planned events demonstrate to your partner that you want to spend quality time with them, but that you are also prepared to put out the effort and invest money and time to make them feel special.
Furthermore, you are creating an atmosphere in which you and your partner may enjoy making great memories together as a pair.
BEST STREAMING DEVICE TO BINGE MOVIES WITH YOUR PARTNER: Roku Ultra


New! Disney+ and Apple TV are now streaming on all Roku devices


Roku Ultra is perfect for heavy streaming in HD, 4K, and HDR


No matter what you're streaming, enjoy a strong connection with dual-band wireless or use the Ethernet port for wired streaming


Includes Premium JBL headphones and TV controls


Perfect for HD, HDR, and 4K streaming, enjoy the picture that's optimized for your TV with sharp resolution and vivid color

The key to a good session for binge-watching? Of course, a speedy, high-quality streaming system. We considered the Roku Ultra to be the best of all the ones we have reviewed so far. It provided all of the popular streaming platforms (like Netflix, Hulu, and Disney+) with 4K compatibility and an easy-to-use remote and took us less than 20 minutes to set up.

"I upgraded the really old Roku that wasn't working with the app and the remote kept getting lost. The Ultra has a remote finder which is awesome when your 6-year-old thinks they are being clever... It also works well with the app when you want to pause a show when you are in need of finding the remote. It occasionally has to be reset (unplug and plug back in), but that is normal with all electronics that are constantly on. We use Netflix, Hulu, and Amazon, those most with occasional YouTube and Roku channels."

Fast performance


AirPlay and Dolby Vision support


The remote has a headphone jack for private listening

Remote could be improved
6. Intimates She Will Never Wear
However, we understand and respect where your mind is at in this situation, but we also recognize that no woman will understand or appreciate it if she is wearing itchy, too-tight, or poorly-made underwear.
Unless you're shopping for a long-term mate and are familiar with their size and preferences, this may be a difficult issue to broach.
Purchasing an item that is of the incorrect size or style may have unanticipated repercussions.
Instead consider this: Your best choice in that regard is to go with anything like La Perla or Calvin Klein. You can't go wrong with any of these top-tier brands.
PSA: Tossing her a bag out of laziness or fear of rejection is never a good idea. It's not like you have to cover everything with rose petals (cringe).
Wrap the Valentine's Day gift for her with beautiful crepe paper and maybe tuck a passionate message in there, too.
7. Flowers
That bouquet of red roses is a beautiful gesture, but after a week or even less, all that will be left of it will be dried petals and wilted stems, and your date will forget all about it.
Instead, consider this: If you truly want flowers, try a trendy house plant or something that will stay for a long time.
Give her a live potted plant instead of fresh flowers to make it more long-lasting and more beautiful like your relationship (fingers crossed).
Sunflower garden kits are perfect for beginners as well as seasoned gardeners. This kit comes complete with everything needed to grow beautiful sunflowers right out of the box! All you need to do is plant them, water them regularly, and enjoy the beautiful flowers throughout the entire growing season.
Easily grow three types of sunflowers from seeds: Giant Grey sunflowers, Autumn Beauty sunflowers & Teddy Bear sunflowers


Beginners garden kit with everything you need to get growing: three packets of sunflower seeds, four compressed potting soil pellets, four biodegradable planting pots, four plant labels, a spray water mister, and a comprehensive gardening guide with step-by-step instructions


High germination rates: our seeds are non-GMO, chemical-free, and grown in the USA; Each seed goes through multiple tests, and we've placed more seeds than you actually need to make sure you will successfully grow multiple plants

Nature's Blossom's sunflowers growing kit is an excellent present for men or women and serves as an excellent introduction to the wonderful world of home gardening.


Sunflowers grow swiftly and provide a dazzling splash of color in an astonishingly short period of time. This incredibly fun Grow Kit includes everything you need to grow a whole patch of very large, stunning sunflowers, as well as imaginative planting suggestions and even a recipe for roasting the tasty seeds they produce (if you can get to them before the birds do).


This all-in-one windowsill garden has everything you need to enjoy beautiful vegetation with ease! These very fast-growing seeds will be fully blossomed in only 60 days, delivering lots of smiles along the way, with a windowsill-sized growing pot with a drip tray, sunflower seeds, soil, a wooden label, and even chalk to keep track of what's sprouting.

"My wife loves sunflowers, so when I saw this kit, I couldn't resist. The price is a little steep, that's about my only complaint, though sales help with that. Plants take time to grow, so I waited to give this review until I saw some results. After planting them in mid-July, I just yesterday mentioned that some of my wife's plants were getting huge, and when she told me the biggest was the giant sunflowers, I was satisfied with my purchase. The flowers haven't bloomed yet, but the seeds took easy, started growing quickly, and became beautiful, healthy plants. I'm looking forward to seeing the sunflowers in full bloom, and I would recommend this to anyone starting a garden that loves sunflowers."


"I was really impressed with Nature's Blossom's herb garden kit. The kit arrived with everything a beginner gardener needs.


The instruction manual is very detailed and easy to understand. They used a lot of graphics to make it fun and not threatening.


They also added a "pot stand"- this beautiful bamboo stand - which, from what I understand, helps germination in order to allow for airflow to reach the bottom of the pot. It's so beautiful and looks great in my living room.


I'll keep updating the review as the seeds grow 🙂 so excited!!"

Can be grown indoor or outdoor


Perfect kit for beginner gardeners


Easy to grow

Sunflowers only thrive in certain types of weather
8. Scented Candles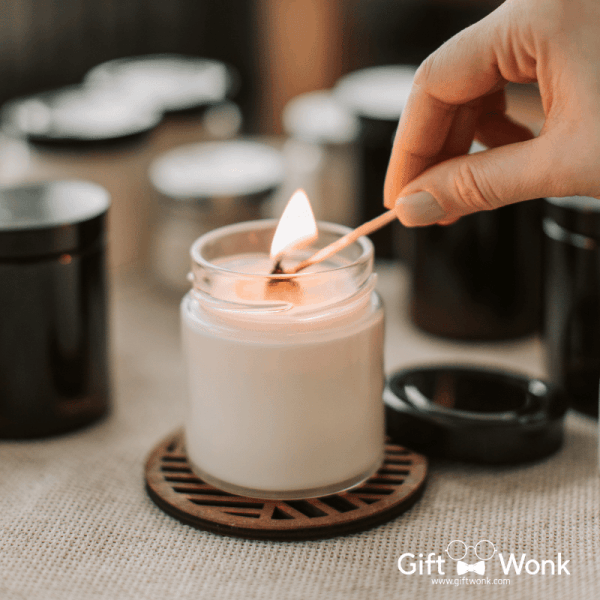 Are you looking for thoughtful Valentine's Day gifts or get-well-soon gifts for your Nana? Naturally, there is nothing wrong with candles, but they are not particularly long-lasting or personal.
Instead consider this: Alternative but superior options include an essential oil diffuser, which your date may personalize with their favorite aromas and which has enough capacity to operate for many hours before needing to be replenished.
A great addition to your smart home that is powered intelligently and wifi compatible. Use it like a normal diffuser or download the companion app to control features like LED color, mist intensity, timer settings, scheduling, and more directly from your phone.


Our smart diffuser is also Alexa and Google Home compatible and can be used with echo/tap/dot to control simply by using your voice.


Our smart diffuser works by creating 360° ultrasonic frequencies that instantly atomize water and oil molecules into the air.


Our smart diffuser allows you to create regular schedules in the app so you can get your diffuser to work at your scheduled times each day or on certain days that you choose.


Use our included quickstart guides to connect to the app and then either to your existing Alexa or Google Home accounts

The Sierra Modern Home Smart Ultrasonic Diffuser is a Wi-Fi-enabled essential oil diffuser that is compatible with smart home technologies such as Amazon Alexa and Google Assistant. As a result, you may operate the gadget remotely via voice control. It also communicates with a smartphone app for time management, scheduling, RGB lighting, and mist mode selection.


It includes a water tank with a capacity of 400 milliliters. As a result, you can effortlessly fill your house or business with scent mists for up to 12 hours. Its lightweight and durable construction make it an excellent choice for bedside tables, workplaces, and kitchen counters. In contrast to outmoded heat diffusers, its ultrasonic diffuser provides healthful mists.


The ultrasonic technique rapidly vaporizes water and essential oils into nano molecules, which disperse equally around the space. It adds style to your interior decor by using soothing RGB lights. Choose from seven different lighting settings or build your own with the eWeLink - Smart Home app. With so many functions, purchasing this gadget will undoubtedly increase the value of your investment.

"I went through no less than three diffusers prior to finally getting this one...I'm hopeful this review might save those looking to enjoy the benefits of aromatherapy the pitfalls. Nebulizers are more expensive, but possibly have better-achieving benefits, might want to look there to start. I like the humidifier aspect of these, for now, works great for me. Turns out at least 80% of the essential oil diffuser/small humidifier market at the common price point of around 30 dollars...is garbage. Tiny little hard-to-read function buttons on the side, small reservoirs that leak into these buttons causing them to fail, delicate yet pretty (sort of garish) glass or thin cheap plastic covers that make filling an overly delicate or annoying procedure, little plastic remote controls that randomly beep/respond to your TV or other media/appliance remote commands, questionable moisture and condensation isolation from electronics that may result in a short circuit, the list goes on. It's pathetic bridging on manufacturer scam really. Previous units to this one either failed entirely or partially within 4-6 months due to cheap, lazy, thoughtless mass production.


Skip to something good, just start with this one! It's thoughtfully well designed and has everything you'll likely ever need from this type of product, here are the details to support that...


The Goods:

>Wifi all good, up in a minute or three with free TUYA app (generic appliance platform app that does a ton of different device controls, look for "Small Humidifier BLE" device in the list, thumbnail looks like this diffuser), log in, enter wifi password info, good to go. Once you've done this for appliances, it's all the same.

>Confirmed Google assistant syncs (although I rarely use this for appliance control, don't need to chat with this stuff, prefer the apps).

>Functionally great, effortless lift on/off the cover, large flat reservoir makes it easy to fill, measure oil, and clean (you need to clean them periodically, they clog and work poorly if you don't, nature of water added diffuser technology, a bit of isopropyl alcohol tends to make short work of this).

>Simple physical design with large buttons. Robust plastic looks to last many years and survive those woops over tile floor moments (unlike pretty glass light shows), but they are way less likely to happen with this unit.

>App has scheduled for light and mist/strength individually (surprised by this dual functionality actually), with an easy-to-grasp graphical interface.

>Lighting is discrete but visible for status, not only in LED band around the base, but also lights up where the mist is emitted."

Covers up to a 430-square foot area for aromatherapy


Suits well to all kinds of interior design because of its elegant look


Uniform diffusion of essential oil by 360 degrees ultrasonic vibration

It offers only two mist modes, strong or weak.
9. Heart Jewelry
Jewelry is a popular Valentine's Day gift because it has the ability to communicate sincere sentiments. Nonetheless, while selecting a piece of jewelry, it is essential to be as comprehensive as possible.
It is not necessary to get someone a heart-shaped necklace or bracelet, in order to express your affection for them. In reality, not only is it not necessary, but it is also probably not a good idea.
Choose a piece that is both elegant and durable, one that will last a lifetime. In order to ensure that your gesture will be well-received, speak with a friend or family member who is well-acquainted with your loved one.
Make your selection based on an item that has significance for both you and your Valentine. It is not necessary to spend a lot of money; there are hundreds of possibilities on Amazon for around $20.
Instead consider this: When it comes to jewelry, go for something sophisticated over cheezy with something along the lines of an initial pendant necklace.
The romantic gesture should be intimate while yet being subtle and classy. This is precisely what you get with this gift.
Choose from 18K gold plated silver/ 10kt (41.7% gold purity)/14kt (58.5% gold purity)/18kt (75.0% gold purity) available metal types


Good quality and hypoallergenic allows for comfortable wear, especially for those with sensitive skin.


Customize your unique piece to remember some special moments


Adjustable solid gold chain length: varies from 14+2-22+2 inch with 1mm/1.2mm/1.35/1.6mm thickness and 1.5mm gold plated silver chain available.

Time passes, and age sets in, yet the love never fades. It is lovely to keep someone's image with you at all times. This sunflower heart design locket necklace is suitable for expressing your affection to someone.



This necklace can be a romantic surprise for the important woman in your life. A meaningful gift idea to show your love to her. A little romance for the woman who loves you so much

It is made from high-quality material that will not turn the skin green, red, or itchy. It is professionally manufactured, which eliminates the need to worry about bad quality. Lastly, it comes with a delicate jewelry box that is neatly sealed and wrapped

"I absolutely love this necklace. I came back to find my order after two years to write a review.

My husband bought this for me. I originally told him I wanted a Brighton locket, but he got me this. But there was a reason behind it—the sunflower. My daughter and I tried planting seeds and a garden (from seeds) in Vegas heat, yet we yielded not a thing. But one day, one thing started growing. We watched it and watered it daily. We turned it into a little science experiment, and we had a lot of fun with this growing plant. I swore up and down it was a hollyhock. It was growing strange for a hollyhock, but we continued to nurture it. One day it bloomed into a beautiful sunflower. SURPRISE!!! It was from us feeding the birds. A rogue bird food seed sprouted into something so beautiful.

Since then, we grew our family with two more children. Our youngest is six months old. This necklace is their favorite to pull, sick on, bite, etc. That's what babies do, lol.

It should definitely be broken by now, but it is not. It's still beautiful as ever, strong and meaningful.


It's one of my most prized possessions.

Thank you makers for this beautiful piece and thank you to my husband as well"

Hypoallergenic material, great for sensitive skin


Made from high-quality materials


Personalized 10k 14k 18k solid gold or plated gold locket

Hard to open for those who have bigger hands
10. Stuffed Toys
Leave those with the children, please… For adults, stuffed animals aren't necessarily the most attractive.
You may want to consider some more sophisticated options.
Instead consider this: After all, your date is far more likely to love snuggling up with this nice weighted blanket than he or she is to like cuddling with a terrifying giant teddy bear.
If your objective is to provide a memorable Valentine's Day gift, consider giving the gift of an experience rather than a physical object.
Elevate your sleep experience by getting the Gravity Blanket. A weighted blanket promotes relaxation and a good night's sleep, making the perfect Valentine's Day gift for your loved ones.
It is made from microfiber


Gravity is a premium-grade weighted blanket that uses lightweight on the body to improve sleep quality.


Available in 15, 20, and 25lb options, we recommend selecting the one that's about 10% of your body weight. Do not simply choose the heaviest option as "heavier" does not equal "more effective"!


Gravity is sized 72" x 48", providing a grounding experience for ONE USER at a time.


The exterior duvet cover is made of super-soft micro-fleece. The interior weighted blanket is made of cotton and fine-grade glass beads and is held in place inside the duvet cover by our new, upgraded zipper system.

The users' anxiety is significantly reduced, and sleep length increased while using a weighted blanket, allowing the user to wake up feeling refreshed every morning. Even though we've reviewed the greatest duvet covers and sheets, the Gravity Blanket is still the clear winner in this category.





It has an inside layer of cotton fabric and an exterior layer of synthetic material that can be removed and washed to make it more like other weighted blankets. It's notable for the fact that you may use it as a night blanket or a throw blanket for naps, depending on your preferences. Styles, colors, and weights range from 15 to 25 pounds, so there's something for everyone.


Children, adults, light sleepers, and regular travelers may all benefit from the Gravity Blanket. This is why a weighted blanket is a wonderful Christmas present.

"These blankets were gifts for my daughter and granddaughter. They love them, use them on the couch, in the chair, as well as in the bed. Security, warmth, comfort are the words they use. Me, I'd have little use for them. If I needed more weight, I'd get another blanket and throw that on the bed. Why, then, did I give it such a high rating? When you have daughters and granddaughters, do you make them happy and feel warmth and safety? That deserves the highest rating of all, my friend."


"I was skeptical about this product to help with sleep, especially for the price, but I swallowed my pride and paid the $200 for a blanket and have come to the conclusion this was well worth the money and more because of how it has helped me sleep is priceless. To anyone skeptical and hesitant about paying the price for this, trust me, I was one of you, and having it now makes me regret not getting it sooner. I have had trouble sleeping for years, and this has been a godsend. I guarantee you would not regret it, even for those people who aren't happy about anything, including going to the happiest place on earth, Disneyland. WORTH IT!!!!!!!! 25 lbs or 35 lbs size only!"

It is very comfortable and cozy


It can improve your sleep quality


It comes in different sizes and weights


It comes with a duvet cover which is machine washable

The internal blanket is hand-wash only





The weight does not stay equally distributed through the blanket
Final Thoughts
Valentine's Day is supposed to be a joyful day in which you may express your affection for someone special.
Don't allow the stress of buying a Valentine's Day gift for that important someone in your life to get the better of you; nonetheless, be cautious about what you buy and the consequences that may follow.
Regardless of the presents, you offer, make a point of demonstrating your affection for your valentine through your words and deeds on February 14.