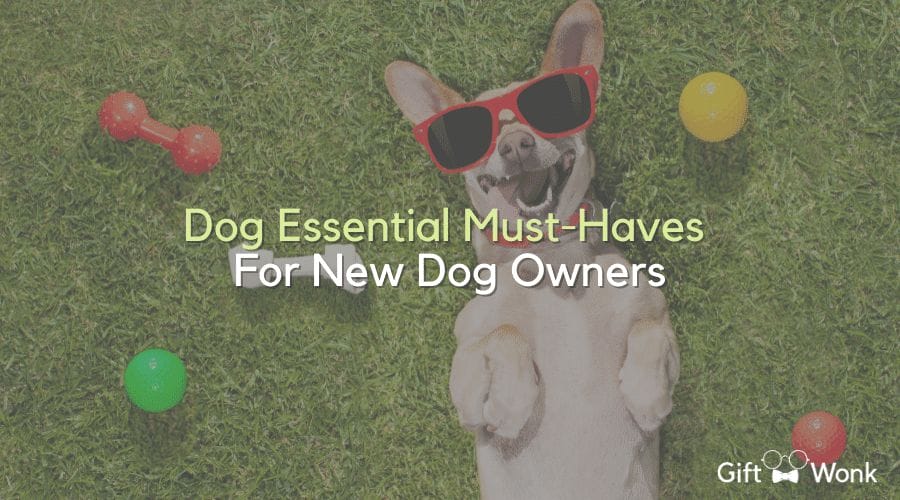 !! DISCLAIMER !! This site may contain Amazon & other affiliate links.
This means if you click on one of the product recommendation links, this site may receive a small commission. This is at no extra cost to you and may include exclusive discounts when possible. This helps support this site and allows us to keep making content like this. Thank you for your support!
Dog Essential Must Haves For New Dog Owners
When you bring home your new dog or puppy, you're bound to feel many emotions. First, you're thrilled about your adorable new pet, but you're probably more concerned about how they will fit into your family and whether you're prepared to care for them.
When bringing home your new puppy, both you and your pup will feel all these emotions and more!
We are sure you're better prepared than you think, but just in case, here's our list of dog essential must haves based on personal experiences.
With these items on hand, you'll be prepared for anything dog ownership has in store for you, allowing you to relax and enjoy every minute with your new pup.
Must-Have Dog Essentials for Bath Time
Dog baths are a great way of cleaning your furry friend, but they can be tricky if you don't know what type of soap to use or products that will keep them still and calm during the bath.
We have picked some of the top dog bath products on the market to find out which ones are the best and most practical items for bathtime. Here are the best dog bath products to ensure your pet is clean and comfortable during the bath.
This type of silicone mat sticks to the shower wall, perfect for keeping your dog still while giving them a bath.
Most dogs dislike bathing, but with a silicone mat for treats, you can persuade them that bathtime it's not that bad.
This type of silicone mat has a nubby surface, and you smear peanut butter on the bumps before sticking it to the wall. Your dog can lick the peanut butter and won't notice when you wash them. Getting one for your dog will be the only reason your dog enjoys bath time!
No dog has ever been so relaxed while having its ears cleaned, so that you know.
Every dog's ears become unclean, itchy, and stinky at some point in their lives, and you'll be glad you have an ear treatment for infections.
There are countless over-the-counter ear infection treatments for bacterial, fungal, and yeast infections that clean and treat your dog's ear troubles regularly. Some also contain hydrocortisone, which helps to reduce irritation and inflammation.
An undercoat de-shedding brush is highly recommended for new dog owners to remove loose undercoat fur.
A good dog brush will save you time and work when it comes to vacuuming pet hair from your carpets and furnishings, and many pet parents swear by getting an undercoat de-shedding brush.
This type of brush is available in different sizes to accommodate long- and short-haired dogs, and it is pretty successful at removing loose undercoat hair without cutting the skin or hurting the topcoat. So this is definitely worth your money if your dog sheds a lot.
You can keep your dog's nails at a safe length with nail clippers. A good rule of thumb is to trim the nails once every two weeks.
If your dog has long nails that grow quickly and need clipping more often than this, then it may be time to invest in a pair of nail clippers. Nail clippers are essential for keeping your dog's claws trimmed safely and comfortably. They come in various shapes and sizes and are made from plastic, metal, or wood.
If your dog's nails grow too long, it can be painful for them, so if you don't take your dogs to the groomers regularly, you should trim their nails at home.
Get a dog nail clipper that provides clean cuts every time, allowing you to do this grooming duty quickly, and some even have a built-in safety stop to keep you from cutting the nail too short.
After a bath with some great shampoo and conditioner, your dog will be oh-so-soft.
Your dog will most likely smell after a long day of playing in the dirt! When this occurs, it's time to get out of the licking mat and give them a nice bath. A lavender & mint dog shampoo and conditioner is a popular choice of scent among pet owners because it leaves their dog incredibly smelling great.
Bathing him regularly is the best way to keep your dog smelling fresh and clean. Regular brushing may be enough if he has a lot of hair. But a bath every week or two should be sufficient if he has a lot of shedding.
Must-have Dog Essentials For Their First Walk
A dog's first experience outside should be fun and exciting, but it's also important to ensure that your pet has all the essentials needed to enjoy this adventure with you.
The best way to get your new puppy used to the outdoors is by taking them on a short walk. If you're walking your pup, it's important that they are comfortable in their carrier or harness and that you have everything you need ready for them. Here are our top picks for walking your dogs.
First and foremost, your dog will need a collar! Get a collar that is robust and fashionable. If you adopt, they would probably provide you with a collar, but you might want one that matches your style.
When looking for a dog collar, pick one that is the correct size, has a quick-release clasp, and, lastly, a robust D-ring to which you can attach a leash. Furthermore, some collars have an extra loop for attaching dog tags so they don't get in the way of your leash.
Your first walk with your new pup should be a short one. It's important to introduce them to the world around them and let them explore at their own pace. They're still young, and it's best not to overwhelm them with too many sights and sounds. Keep things simple and stick to a few favorite places.
A Highly Durable Leash For Your Daily Walks
When walking your dog, a leash with a second handle comes in handy.
Another necessary item for fur parents is a leash, but not all leashes are made equal. Dog owners prefer leashes with multiple handles—along with the loop at the end, there's another loop halfway down for when you want to keep your dog near to you.
Your best leash choice is a double-handle leash that is fairly long, made of heavy-duty material, and has reflective stitching for strolling at night.
A good collar should fit snugly around your dog's neck so it doesn't slip off during playtime. If you're going to walk your dog on a lead, consider getting one with a retractable leash clip. If your dog gets tangled up in something, you won't have to spend precious minutes untangling them.
A Special Water Bottle For Dogs On Hot Days
Getting a water bottle and a doggy dish set is ideal for summer days.
If you have gone hiking with your dog, you know how crucial it is to have a good amount of water for you and your dog, and if you don't want to share your water bottle, this product is for you.
A portable water bottle and bowl are quite useful since you can easily squeeze water into the bowl for your dog. Then, when your dog has finished drinking, you can open the bottle and let the remaining water fall back into the bottle—no water wasted!
This is a great way to ensure your dog gets his daily dose of fresh water during daily walks without worrying about spilling any.
A Practical And Long-lasting Tick And Flea Collar
Tick and flea treatment comes in various forms, but you should consider getting a long-lasting flea and tick collar.
Unlike topical medications that must be given monthly, flea and tick collars can endure for many months! This is because they emit a low concentration of medication over several months and are also odorless and non-greasy.
The best way to keep ticks off your dog is by using a flea and tick collar. These collars contain a combination of anti-flea and tick ingredients that kill unwanted and harmful fleas on our precious dogs.
A Long Time Supply Of Poop Bags
Don't forget to bring poop bags!
While poop bags aren't the most beautiful purchases you'll make for your dog, they're a must and need, especially if you don't have your own yard. Fortunately, many merchants sell multi-packs of poop bags, ensuring you have enough for several months.
If you're looking for a long-term supply of poop bags, check out Amazon's selection. They offer a variety of sizes and colors, including some cute designs.
Must-have Dog Essentials For Playtime
The best dog toys are ones that you can use with your dog daily. They should be able to withstand the rigors of everyday life and still provide hours of fun.
A good way to keep your dog entertained during playtime is by giving them a toy they can chew on. This will help them burn off energy and stimulate their minds. Some dogs enjoy chewing on bones, but others may prefer softer materials like rope or rubber balls.
If you want to give your dog something extra special, the following list includes some of our favorite dog toys and other items we think every dog owner should consider purchasing.
Kong Toys (Or Two) To Keep Your Dog Entertained
Kongs are great for playing fetch, tugging, chewing, and more. They come in different shapes and sizes, each designed to fit a specific purpose. For example, some are made of rubber, while others can be filled with treats or peanut butter.
To make it through puppyhood, getting your pup a Kong toy is a must.
You can even stuff your Kong with peanut butter and fruit every night before bed which is a way to relax them into their crate without a fuss. A Kong toy is great for adult dogs to keep them entertained when working or when you will be gone all day.
We are a big fan of the Kong, which is just a rubber toy with a hollow interior. You can fill it with any type of treat or food, and your dog will be entertained for hours trying to get the goodies out. You may also freeze them to keep your dog entertained for a longer period of time.
Long-lasting Rubber Toy Balls
The best way to keep your dog happy during playtime is by providing him with plenty of toys. This will ensure he has something to chew on and will give him something to focus his attention on.
If you want to add a bit of fun to your dog's playtime, consider purchasing a ball launcher so you can launch the balls into the air for your dog to chase after. In addition, you should consider getting a long-lasting rubber toy ball that is extremely durable.
Toy shopping for your dog is usually enjoyable, and we strongly advise including some chuck-it balls on your list. These types of rubber balls are durable, especially for dogs who love to destroy and break toys, and the bright colors make them easy to detect in your yard.
You can even acquire a special chuck-it launcher to go with them, allowing you to send the balls flying for some very intense retrieve games.
Doggie Treats For Your Good Boy Or Girl
Milk-Bones are popular with dogs, and you'll appreciate their affordability.
Milk-Bone is one of the most popular treats for dogs, as it is both liked by dogs and can also be a chew toy/treat for them.
You can get goodies for a low price, and they will last you months! Milk-Bones include vitamins and minerals, and their crunchy texture aids in the removal of plaque and tartar, keeping your dog's teeth clean.
A Guide To Assist You In Training Your New Dog
Training your new dog can be a breeze by getting yourself a guidebook to training your dog. These guidebooks can teach your dogs fundamental commands, and you will have fantastic results using the positive reinforcement system.
Furthermore, it is not limited to pups; the technique can also be utilized with adult dogs, which is ideal if you are bringing home a rescue.
The best way to train your dog is through positive reinforcement, which means rewarding your dog when they do something right and punishing them when they do something wrong.
It is important to note that this method requires patience and consistency. If you want to see great results, then you must practice this method consistently.
Must-have Dog Essentials To Prep Your Home
Dog owners are always looking for ways to make their homes more comfortable and welcoming. From dog beds to doggie doorbells, there's a whole range of products on the market that can help you create the best space for your furry friend. Here are our top picks:
A Comfortable Bed Great For Your Dog
If you'd like to give your dog a comfortable place to rest, consider getting them a dog bed. They come in all shapes and sizes, from small travel beds to large, comfy ones that will keep your pup comfortable.
Many pet owners want to acquire their dogs luxurious, soft beds, but if you're unsure if your dog is a biter or chewer, you should err on the side of caution and get an elevated dog bed instead.
These types of beds include a steel frame covered in a durable, PVC-coated fabric, and their raised design keeps your dog cool on hot days. Dog owners claim their dogs adore this type of bed, and many mention that you can cover it with a blanket if you want to give your dog some extra cushion.
An Airtight Stackable Dog Food Storage Container
The best way to prevent contamination of your dog's food is to keep it stored in an airtight container. This will protect against rodents, insects, and other pests. If you want to avoid using plastic bags, consider buying a set of these airtight containers.
There have been thousands of favorable reviews for airtight, stackable dog food containers.
It is critical to keep dog food in an airtight container. These types of stackable pet food containers, which can carry up to heavy loads of kibble and have handy spin-off lids, are a popular choice for dog food.
They're composed of BPA-free food-grade plastic and have an airtight seal that keeps pests out and odors in.
A Crate For Doggie Naps
Crates keep your dog out of mischief while you're away.
It is up to you whether or not you crate train your dog, but many pet owners and expert trainers encourage it. Getting a crate is to make sure your dog doesn't wreck anything or have accidents throughout the night while you are gone.
If you do choose to crate train your dog, a good choice crate for your dog is one that has dividing panels for growing dogs and folds up for simple transport, and that has two doors and an easy-to-clean plastic base; because mishaps happen!
The best crates for dogs come from different pet stores and have various styles, including ones that fold up into a suitcase and others that fit inside a car. They can also come with a removable divider panel so you can easily separate your dog's sleeping area from his eating area.
A crate is a great place to keep your dog safe during travel. It's also a great way to give them exercise and mental stimulation. In addition, crate training is one of the best ways to socialize your dog and teach them basic obedience skills.
A Baby Gate To Keep Specific Places Off-limits
A baby gate will be your trustworthy best friend if you want to keep your dog from places like the kitchen, away from the cat litter box, or from going upstairs. Get a baby gate that has a convenient walk-through design that you can easily lock.
You can even get a gate with a smaller entrance at the bottom of the gate in case you have a small dog or cat that needs to pass through. You can use this gate to keep your dog out of rooms where he is not permitted.
Washable And Durable Dog Bowls
It would help if you considered getting stainless steel dishes that are dishwasher safe.
Your new dog will want food and water dishes, and getting inexpensive stainless steel bowls is an excellent choice.
Get one that is big enough for your dog, making them suitable for medium to large dogs, and a rubber base to prevent slipping and preserve your floors from messes. Plus, if the bowls become soiled, chuck them in the dishwasher for simple cleaning but make sure to rinse them first.
A Food Mat To Keep Dinnertime Messes To A Minimum
A food mat helps keep your dog from making a major mess when it is time to eat.
Having a food mat to protect your floor from your dog's food bowl is also a good idea. When your dog starts to play in their water dish, a food mat can keep the mess contained and keeps your hardwood floors from becoming wet. The silicone mat includes a raised lip to contain spillage and is stain-resistant, making it easy to clean.
This mat is great because it has a raised lip around its edge, so spills don't seep through and soak into the floor. They are also stain-resistant, which makes cleanup easier.
Final Thoughts
When choosing products for your new puppy, the most important thing to remember is that they should be made with quality materials and designed with safety in mind. You don't need to spend a lot of money on expensive toys or fancy crates, but you do need to choose items that will last.
Remember: Safety comes first.
Frequently Asked Questions
What do you need to consider before getting a dog?
You should know what kind of dog you're getting before you buy it. Some dogs need more exercise than others do.
You'll also want to know how much time you can spend training your new pet. And most importantly, you'll want to know whether or not you're willing to put up with any problems that may arise.
What's trendy in the pet industry right now?
Dog vitamins, catfish oil, and dog probiotics are examples of popular pet supplements. But on the other hand, CBD is one of the most rapidly increasing pet supplements. In fact, searches for "CBD for dogs" have increased by 2,500% in the previous decade.
What are pet owners most likely to spend their money on?
Pet food and treats are the most popular items in the pet sector, followed by veterinarian services and related pet products.
However, there are some common purchases that pet owners make that can help your furry companion. For example, pet parents often purchase toys for their animals because they know playtime is essential to keeping your dog healthy. Other common purchases include grooming supplies, flea treatments, and veterinary services.
Are there certain things I shouldn't get my dog?
There are many things that you shouldn't get your dog. These include unprescribed medications, toxic food for pets, and anything that could harm your dog.
Before buying any product for your dog, always check the label to ensure that it doesn't contain any harmful ingredients. And always ask your veterinarian before giving or treating your dogs.