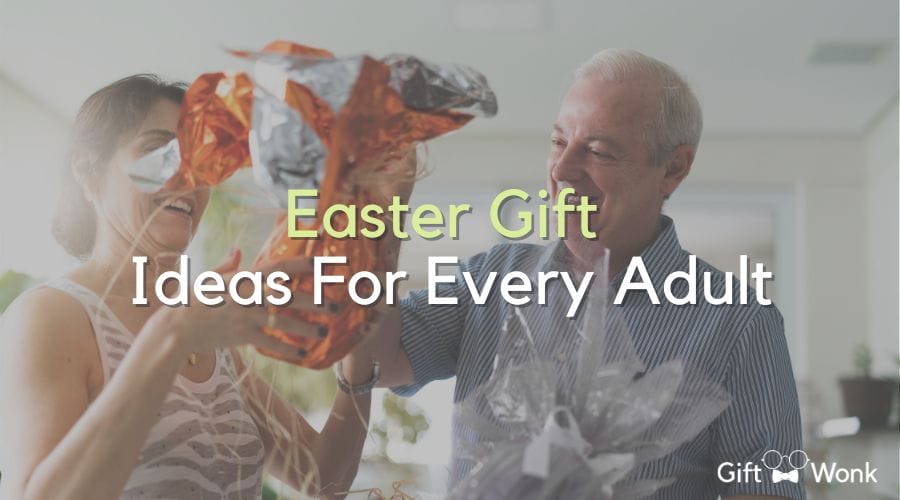 !! DISCLAIMER !! This site may contain Amazon & other affiliate links.
This means if you click on one of the product recommendation links, this site may receive a small commission. This is at no extra cost to you and may include exclusive discounts when possible. This helps support this site and allows us to keep making content like this. Thank you for your support!
Easter Gift Ideas For Every Type Of Adult
We have compiled a list of items that would make a great Easter gift for every type of adult.
While this list includes a variety of items, we recommend focusing on the things that will last for a long time or a personalized gift is often the best option when giving an adult an Easter gift.
Choose something that they will truly cherish and keep forever.
Gifts For Men
When you're thinking of an Easter gift for a gentleman, aim to be original with your selection of items.
Get them something useful or that can be used at their office or at home. Some Easter gift ideas for men that we think are appropriate include:
Bathrobe or slippers
An organizer
Sheepskin slippers, socks or robe
Men's shaving kit and shaving cream
A bottle of wine
Hair pomade
---
Gifts For Women
Women like to be felt appreciated and loved but giving women gifts on this holiday is a bit more challenging than other occasions.
Women don't usually like to receive personal items. But if you really want to give something personal, have a look at these ideas that we may help with:
Personalized Jewelry
Flower arrangement
Make up
Perfume
A spa treatment
A new purse
A planner or journal
---
For Your Friend
On Easter, why not give your friend a gift? There are many gift ideas to give your friend on Easter. One of the best things that you can do is to make it extra special.
One of the ways is by giving him or her something personalized. But if you can't find anything that is personalized, then don't worry, there are still many other options that you have.
The best thing about giving gifts to your friend is that they will be able to use them and treasure these gifts because it's genuine and from your heart. Here are some suggestions:
Pencil holder
A book related to their work
A framed picture of them or the two of you
A fun mouse pad for work
A bottle of wine you two can share together
Cookies or candy basket
Shower gel or lotion
Scarf, ties or silk boxers
---
Gifts For Everyone
If you've created a list of items that is a bit too long to keep track of, we recommend reducing it down and focusing on the items that last for years, can be personalized and are practical.
A Gift That Will Last for Years
Gifts that will last for years are presents and items you can keep on your desk or at home. For example, picture frames and photo albums have a long lifespan and make an excellent present.
Brooches, necklaces and earrings also have a long life span as they can be worn every day. You may also like to consider pens, stationary sets or jewelry boxes – things that the recipients can reuse over many years."
Personalized Gift
Receiving and giving personalized gifts are special and thoughtful. It's the feelings you get when you know someone has something that was made just for you.
Here are some suggestions: Personalized photo frames, a custom written poem and framed, engraved pen, custom leather key chain and custom family portrait.
Practical Gift
Great practical gifts are things that someone can use and reuse for years. One example is a multi-use pocket tool that can be used for many different purposes.
A toilet night light is also a great idea because people have to use the bathroom in the dark sometimes. Having a key chain that holds your keys is also a practical gift.
If this list is not enough, check out this video:
Let's Wrap It Up
There are so many gift options to give on Easter. One thing to remember when giving gifts on Easter is that it is always good to consider the type of person they are and what type of present they would prefer such as something practical, a gift that would last for a long time or something personalized.
But remember, Easter is not only about receiving and giving presents but most importantly, it is about making them feel special and appreciated.
Frequently Asked Questions
1. What if I can't figure out good Easter gift ideas for an adult?
If you are having a hard time coming up with items to fill up an Easter basket, you may want to start by creating a list of gift ideas.
While each person is unique and different in their likes or dislikes, they may share some common traits that make it easy to come up with a list of items that would fit as gifts.
For example, if your loved one loves to bake, then fill his basket with things such as baking supplies or cookbooks. If he loves sports, then consider team t-shirts or other related gear.
If she loves nail polish, then try giving her some new colors in the right shade of pink. Or you can give her a gift certificate for a therapeutic massage.
2. What if I don't know what to get someone for Easter?
If you're trying to figure out what to buy someone and have no idea, try asking yourself the following questions:
Do they love the outdoors? Try a gift related to camping, hiking or fishing.
Do they love reading? Try giving them a book related to something that you know about, such as sports or travel.
Do they love to work out? Try a gift related to running, hiking, or camping.
Do they love movies and television shows? Try gifting them with DVDs or blu-ray movies about something that interests them.
3. What do adults do on Easter?
Easter is a great time to reconnect with your inner child. There are lots of fun things to do for both adults and kids alike.
Here are plenty of things to do on Easter if you're an adult and a lot of these activities involve getting back in touch with your inner child.
Easter Egg Hunt
Make a chocolate candy bar
Egg decorating contest
Host an Easter brunch
You may also check this article for more activities to do on Easter.
4. What if I do not have a lot of money to spend on Easter gifts?
If you don't have a lot of money but still want to give a gift, you can do so by taking advantage of doing something hand-made like a gift card or a painting.
5. What if they already have all the stuff they need?
If your loved one already has everything that they need, then try focusing on giving them something new and fresh that will excite them.
For example, try giving them an activity or experience that is out of their element but will lead to an adventure that is sure to bring a smile to their face.