!! DISCLAIMER !! This site may contain Amazon & other affiliate links.
This means if you click on one of the product recommendation links, this site may receive a small commission. This is at no extra cost to you and may include exclusive discounts when possible. This helps support this site and allows us to keep making content like this. Thank you for your support!
!! DISCLAIMER !! This site may contain Amazon & other affiliate links.
This means if you click on one of the product recommendation links, this site may receive a small commission. This is at no extra cost to you and may include exclusive discounts when possible. This helps support this site and allows us to keep making content like this. Thank you for your support!
Best Outfits Based On Your Zodiac Sign
Modern astrology can tell you if you and your crush are a good match, when is the best time to dye your hair, and even which outfits based on your Zodiac sign are best for you. Seriously, there isn't much your star sign can't do right now!
If you've been looking through your closet and feeling a little down, don't worry, astrology has the answers!
Nowadays, we are beyond simply knowing our sun sign; in fact, chances are that any random stranger on the street is familiar with the majority of their astrology chart. With all of this collective zodiac sign knowledge, we can put it to good use: picking out an outfit.
You'll need to know your rising and Venus signs for this. Your rising sign governs your physical appearance and personal identity; think of it as who you see in the mirror. Your Venus sign tells you what you find beautiful; your personal style can be found in this area of your horoscope.
So, find your rising and Venus signs, read about your dream outfits, and then go shopping!
Capricorn
Simply sophisticated. Capricorns prefer relaxed clothing with a modern twist.
Capricorns crave cozy, cozy comfort, which makes sense, given that your sign is rocking out in the dead of winter. Update tried-and-true basics with a new twist in the new year, such as a new shoe style (mules anyone?) or even new jeans in a totally on-trend style.
Capricorns enjoy looking good. Yes, a Capricorn rising and Venus will look great in a turtleneck and a well-tailored blazer (who wouldn't?) However, it is more about creating beautiful, timeless ensembles. Quality is more important to them than quantity.
They'd rather spend the same amount on one expensive dress that will last a lifetime than ten dresses that will only last a few years each. Capricorn prefers classic accessories such as pearls, hoops, a statement watch, and a bold lips, to name a few.
You may be a handful for some, but for the true believers, you will be a roller coaster they will never want to get off of! Balance is everything to you, and you're concerned about how others perceive you. You're all about sophistication – with a twist – in the fashion department.
Style Qualities
Every year, their style evolves, but they always keep it cozy.
She enjoys both simple and sophisticated pieces.
Purchases essentials with a twist
The Ideal Outfit
A maxi dress paired with a jean jacket or work pants with a solid T-shirt tucked in the front.
What To Include In Your Wardrobe
Because peplum tops are both playful and polished, you must have at least one in your wardrobe. They look great with skinny jeans and a statement tote.
You'll never return to regular block heels once you've tried out chunky ones. For brunch, pair them with a blouse and ankle-length pants.
Invest in a sleek off-the-shoulder jumpsuit and pair it with a well-crafted choker for dressier or formal occasions!
Aquarius
You're a dedicated do-gooder who enjoys looking good.
Take a walk on the wild side with your style and experiment with bold prints and colors to show off the *intense* side of your personality. It's all about drawing attention to yourself, so use your personal style to get your due. Aquarius, shine on!
Aquarius is the sign of the trendsetter, as they dislike looking the same as everyone else. Aquarius is the type of zodiac sign that observes what is fashionable and then attempts to dress in the polar opposite.
If this is your rising or Venus sign, you may prefer old-school retro styles or something a little more futuristic. Aquarius is the type of person who will make a risky, out-of-the-box fashion choice only to have everyone copy them a few months later.
Your free-spiritedness and rebellious way of life is something that many people desire but few have. You don't mind trying new things, and you're well aware that you always stand out in a crowd! Stick to boho-chic for your wardrobe, in our opinion.
Style Qualities
Innovative and one-of-a-kind
Trendy, unusual, rebellious, or unique
Vibrant and experimental, with plenty of prints and bright colors.
The Ideal Outfit
A mesh shirt with baggy jeans or an oversized shirt so large that you can't see your shorts underneath, paired with platform crocs
What To Include In Your Wardrobe
Look for a bohemian maxi dress with a slit! Pair it with booties and oxidized jewelry to complete the look.
When going on vacation, try a long lace throw! Wear your regular shorts and tee underneath, and finish with a hat.
Get your hands on a printed boho playsuit and amp it up with a women's denim jacket. We also think a black hat will look great here!
Pisces
You're a free spirit at heart, and you enjoy adding a whimsical touch to your wardrobe.
Oh, you free-spirited, good-time gal. People are drawn to you not only for your good-natured humor, love of life, and warm personality but also for your serious style FOMO.
This year, it's all about adding flowing silhouettes and an easy-breezy vibe to your wardrobe, which is always eye-catching but never over-the-top.
Pisces' fashion tends to shift from day to day, so their wardrobe must be adaptable. There may be weeks when they only want to wear cozy clothes, sweats, sweaters, and no zippers. The following week, their personality is more punk rock, complete with black clothes and leather.
That's not to say they don't have a distinct personality; they just give themselves permission to express every aspect of it. So, if you're a Pisces rising or a Venus, make sure you've got an outfit for every mood of the week!
Your superpower is being subtly sexy! You're extremely charming and a natural people magnet, but you never go overboard.
You're aware of the impact you have on that boy who can't stop asking you out or that girl at work who understands that being your friend is a breath of fresh air in the middle of a long day. Sensual pieces that aren't revealing but exude confidence should be your goal.
Style Qualities
In comfortable favorites, she goes with the flow.
Can't get enough of jewel tones.
Looks great in the most recent and cutting-edge silhouettes.
The Ideal Outfit
Overalls with a hair bandana, or a soft jacket and ripped jeans
What To Include In Your Wardrobe
Is a camisole NOT appropriate for a date night? Affirmative! Pair it with flared trousers for a daytime look.
Nothing beats a sensual slip dress when it comes to date night attire! Finish with a polished pair of heels and a sleek bun in your hair.
If you find a wrap dress that flatters all of your curves, add it to your shopping cart. You can wear it to daytime events as well as nightclub plans.
Aries
You're a classics expert, but you can easily transition to street-style cool.
You can go from 0 to 100 in all the right ways (with your style). You're a master at transitioning from the office to a date and then to a weekend out with a friend. You're the fashion world's chameleon! This year, concentrate on your fundamentals so you can keep up the good work.
The planet Mars rules Aries, so they have a lot of energy! Aries people need to move their bodies, whether they're athletes or not, so athleisure is their signature look. It is critical that their outfits feel and look good because they require outfits that move with them.
In this day and age, athleisure can be worn and styled for almost any occasion, so whether going to the park or the club, Aries will be ready to race or dance all night.
Yours is the sign that is always ready to take over the world! You are fearless and ambitious in everything you do and have a strong desire to always be number one.
Your determination and outstanding leadership abilities set you apart from the crowd, and you exude power the moment you walk into the room! So, yes, you are a power-dresser.
Style Qualities
Inclines toward streamlined and sleek pieces
They are a sucker for understated accessories.
She prefers to dress in tones.
The Ideal Outfit
Trendy sneakers and leggings or a crop top and fitted jacket
What To Include In Your Wardrobe
Allow your well-fitted blazer or jacket for women to demonstrate to them that you're in it to win it in the boardroom. Combine with dress pants.
A great power suit will speak for you long before you do, and this is what will propel you to the ultimate #BossLady status. Wear pointed-toe heels to complete the look.
Your closet requires a business-casual white shirt. You could also go the androgynous route with this one!
Taurus
You're not afraid to stand out with bold pieces and accessories.
Do you already have a fashion blog? A Taurus is always fashion-forward and enjoys making a statement with their everyday attire. Look for eye-catching pieces that will stand the test of time this year. Own your style and reap the benefits of confidence, whether it's on the (pavement) runway or your next 9-to-5.
Venus rules the second sign of the zodiac, so appearance is extremely important to them. However, because Taurus is an earth sign, it is equally important to feel at ease.
Tauruses prefer clothes that are fabulous, soft, and perhaps even a little pricey. Their favorite fabrics are silk and velvet, which make any Taurus rising or Taurus Venus feel confident yet cozy.
Taureans are stubborn to some and practical to others; finding balance is essential to you! Yes, you enjoy materialistic pleasures, but you're not the type to sit back and let someone else introduce you to them.
You're tough and picky, fussy but also 'chill.' Trends, as well as comfort and luxury, are your best friends.
Style Qualities
Wears clothes that are both comfortable and fashionable.
Form and function are important to me.
Not afraid to express oneself
The Ideal Outfit
A slip dress and Doc Martens, or a flowy top and velvet bell bottoms
What To Include In Your Wardrobe
A dress with pockets. You could use them to walk in with a confident stride or simply to make room for your phone (we're guessing you don't like a lot of fuss).
White sneakers (not chunky ones) will definitely win you over! We know you'd never be caught dead in a baggy ensemble, so pair them with a blazer and sharp trousers.
Statement bags were designed with you in mind. Show off your arm candy with your favorite women's dresses and kitten heels.
Gemini
You're a daredevil who achieves major sartorial success with streamlined (but never simple) pieces.
A Gemini is never a wallflower and enjoys wearing pieces that draw attention and elicit questions. "What exactly are you wearing?" "And how did you get that?" This is your year to push the boundaries of proportion, volume, and silhouette experimentation.
Every Gemini requires a versatile wardrobe that includes bright and bold colors and timeless everyday fashions that can be worn with anything. Because Gemini is an air sign, their idea of the perfect outfit will change as frequently as the wind.
They may want to channel their inner baddie one day and then wear a Halloween costume in July for shock value the next. So every Gemini needs a wardrobe that is equal parts bold and classic, so they can indulge in their zodiac fashion whims on any given day.
Every day is a new day with you, both literally and metaphorically. You're friendly, upbeat, and approachable. You enjoy trends and enjoy following them, but you also make them your OWN. You're a fashion risk-taker, and non-OTT street-style may be just what you're looking for to step up your style game.
Style Qualities
She enjoys being trendy, but she changes it up frequently.
He never wears the same outfit twice.
Attempts to streamline staples
The Ideal Outfit
Tall socks with shorts, or a baby doll dress with a leather jacket
What To Include In Your Wardrobe
Why not wear metallic pants? Keep anything you pair with these in a matte tone to avoid too much shine. People will be won over by your lovely smile.
Be artistic with your color-blocking. Balance it out with a neutral color, such as black.
A bright floral dress will serve you well! With all that sunshine, you'll need a pair of sunglasses when you go outside.
Cancer
With a refined sense of style, you keep it poised, poised, and polished at all times.
A Cancer will always be the most overdressed person in the room! You're a sophisticated, classy dame with a penchant for clean lines and a timeless, classic look. This year, mix your sharpest essentials with more relaxed staples, such as a borrowed from the boys button-up or a bohemian-inspired blouse. Do you require assistance? Talk to your Pisces friend.
Cancer is a nostalgic and sentimental sign, so they have a difficult time donating clothes or even throwing out any worn-out items. Cancer is the type to keep their camp shirt from the summer they were 13 for the rest of their life.
Cancers, on the other hand, have a great sense of style: flowy sundresses, overalls, comfy leggings, elegant ball gowns, and long wavy hair. Cancer is the best at adding a romantic touch to their outfit.
You're a stay-at-home mom! Your friendly and welcoming demeanor is what fosters long-term relationships. You are not only endowed with MANY positive qualities, but you are also endowed with good looks. You owe it to yourself to wear clothing that makes you as happy as you are. Consider playful pieces that aren't too jovial, but are just right.
Style Qualities
Always refined, but never oppressive
relies on time-honored classics
No matter where they are, they are elevated and elegant.
The Ideal Outfit
Long flowing gown with a flower crown, or plaid skirt and Mary Jane shoes
What To Include In Your Wardrobe
Take our word for it: you need a frilled skirt in your closet. A simple tee tucked into it will be a visual treat.
What else do you require? Polka dots everywhere! They're playful, fun, and oh-so-retro, and can be worn with a skirt, top, or pants. Add a hat to the mix to take it to the next level!
Tiered maxi dresses for women will be extremely flattering on you, so get one for yourself if you haven't already.
Leo
You never back down from a visually appealing piece.
Leos are known for having fiery, headstrong personalities. They frequently bear grudges and are more bark than bite. But don't be afraid of the fearless, Leo—they are the most devoted of companions and someone you want on your #squad. Oh, Leo, channel your creativity, passion, and unrivaled zest for life, love, and attention into a daring new wardrobe.
Leos are known for their flashy fashion sense and out-of-the-box style, so if your rising sign or Venus is in this show-stopping sign, your wardrobe is top-notch. Because the sun rules this fire sign, Leo feels most at ease when the spotlight is on them.
Animal prints and bright colors like red look great on Leo. It's difficult to pull off a cheetah print dress, but Leo does! This zodiac sign will always be in style with bold looks, big accessories, and trendsetting outfits.
If you're a Leo, you know how to live life to the fullest! There is no adventure you can refuse, no path you cannot take. Your enthusiasm may not be contagious, but it is admirable.
You don't mind being the center of attention, and you don't have to work hard to stand out! Your experimental style is what your friends admire about you, and you're always up for a fashion challenge.
Style Qualities
Unafraid to try new things, especially bright colors
I'm not one to rush out to get the latest fashion.
When getting dressed, they rely on their instincts.
The Ideal Outfit
Wear a skintight red dress with pumps or a matching printed pant-top set.
What To Include In Your Wardrobe
Get an accessory that draws everyone's attention right away. You can tone down the rest of your outfit to make your chosen piece pop even more.
Wear a print-on-print outfit and make it your own by accessorizing with your favorite accessories, preferably ones that are just as trendy as you, such as oversized sunnies and colorful arm candy.
Don't forget to accessorize your bikini look with an oversized and color-splashed hat for a beach #OOTD.
Virgo
You know how to play your strengths like a lady!
Virgo, you have a strong affinity for classics and prefer tailored silhouettes. This year, use your two power colors (red and ivory!) to add a unique twist to your usual look.
You have a polished and mature demeanor that says "look at me" but is never overdone. This year, your subtle style restraint will result in your signature lady in red look.
Virgo fashion is all about understated beauty combined with functionality. This zodiac sign usually dresses in olive green, cream, terracotta, light grey, or any other color that reminds them of nature.
While Virgo fashion trends aren't as daring as those of the other signs, their perfectionism is evident in the way they dress. This sign is polished, sophisticated, and elegant. They adore pocketed dresses, classic sweaters, and jeans that fit perfectly and last forever.
You have an attitude that is always noticed but never overdone. You're the squad's go-to source of wisdom, whether it's for life or fashion. How do you stay so put-together when your world isn't always happy? So we'll never know. But what we do know is that we adore your ladylike style and love of classics.
Style Qualities
She prefers classic, tailored pieces.
Likes to have a color-coordinated closet
Is a chameleon of mature and casual style.
The Ideal Outfit
Skinny jeans and an oversized sweater, or a mini skirt and a headband that matches
What To Include In Your Wardrobe
White-on-white is a look you can pull off flawlessly! To finish the look, put on a midi skirt, a plain sweater, a pair of heels, and a headband.
Allow a graceful midi dress to be your most stylish companion, and wear it as if it were made just for you. To accessorize, choose nude shades.
Invest in a scarf that will go with almost everything! Wear it to work with a silk shirt and dress pants.
Libra
You like your classics with a twist.
Always living on the precipice! Libras, the wild child of the zodiac, are never afraid to explore the dark(er) side of their closet. Greys, blacks, and navys are wardrobe staples, and this year, keep edgy details like studs, metallic trims, and leather accents in your outfits. Then, soften those hard lines with something soft, like a lace or velvet blouse.
Libra loves a compliment, so anything trendy and fashionable will catch her attention. Libra is also ruled by Venus, so being the most beautiful person in the room is always their top priority.
However, because this is a sign of friendship, they don't mind sharing the spotlight with their bestie from time to time.
Soft fabrics and romantic colors like pink and red will appeal to their romantic side, while classic accessories like a statement headband, a hairbow, or a perfect pair of pumps will go with almost any outfit.
You are the most flirtatious of the signs, and your tastefulness comes naturally to you. You understand how to strike a balance, and your selflessness is admired by many.
You guard your relationships but are never possessive. That's why you collect timeless pieces – you appreciate long-lasting items.
Style Qualities
They can easily transition their look from day to night.
Likes classics with a modern twist.
Chooses luxurious fabrics such as silk and suede.
The Ideal Outfit
A glitzy evening gown or white pants paired with a soft off-the-shoulder top and a statement bracelet
What To Include In Your Wardrobe
Nothing says "classic" like a denim on denim look! Combine it with a 90s-inspired crop top, a sleek updo, and a pair of hoops for an instagram-worthy #OOTD.
Think again if you believe your wardrobe is complete without red heels. Wear them with confidence by teaming them with a bodycon dress and a bright lipstick.
Wear an all-black ensemble with a blazer, a tee, and mules. You can wear this to work or play; it's entirely up to you!
Scorpio
A master of uniforms who is always perfectly polished.
You, as one of the Zodiac's most mysterious signs, incorporate this quality into your style. Scorpios have an uncanny ability to look put-together all the time—how do you do it?
When it comes to getting dressed, you're a creature of habit, so keep your favorites close at hand this year. What is your style challenge? Don't be afraid to inject a little mystery (just like you) into your wardrobe this year.
Scorpio is ruled by Pluto, the king of the underworld, so if you ask a Scorpio what color they prefer, they will usually say black. This water sign is a little more punk, goth, and alternative than the others, preferring to appear mysterious and intimidating.
Because their wardrobe is mostly dark colors, you can always count on a Scorpio rising or Venus to have some eye-catching accessories like interesting sunglasses, metal necklaces, and a great pair of shoes.
Scorpions, it's that time of year again! Allow people to see beyond your fabricated cold demeanor and let someone in.
Allow them to see the wonderful person you are behind all of your strength and burden. Because your style is more restrained than free-flowing, you'll need polished looks and a distinguishing feature that people will recognize you by. Allow us to add our two cents.
Style Qualities
Relies on tried-and-true staples
Has a favorite item that she buys in every color.
Has a signature look
The Ideal Outfit
A little black dress and the perfect leather jacket; or short black boots, an oversized t-shirt, and a big hat.
What To Include In Your Wardrobe
A lavish coat! Yes, it will take you places and make people take notice of you. Wear it with a high-neck sweater some days and a turtleneck top on others, depending on your mood. Just make sure to always wear sharp and sassy trousers.
The ideal bag! Nothing says 'here to stay' like a great bag, and nothing gets people talking faster. Wear it to work with a pantsuit to stay in your boss's good graces.
The ideal sunglasses! No, not to subtly throw shade, but to always appear polished. They are certain to add the finishing touch to any look.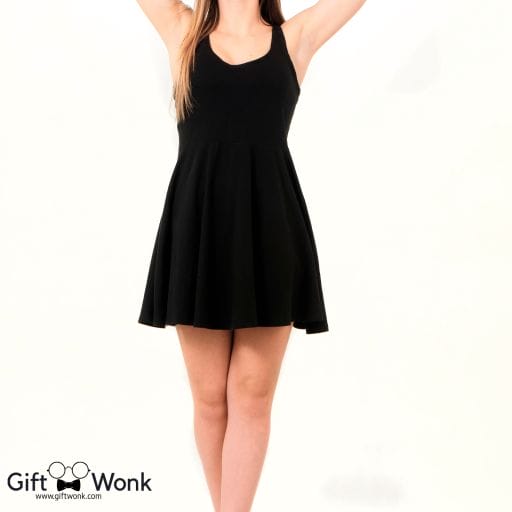 Sagittarius
A little feminine, a little classic. You're always dressed up in your best clothes.
You're a genuine goofball with an enviable sense of humour, and your style reflects this. In the new year, hone your sense of polished yet unfussy style and gravitate toward clean, feminine silhouettes.
Then, this year, push your style boundaries by incorporating brave (and bolder) silhouettes and statement accessories.
Sagittarius is known for telling the best stories, so any piece of clothing that can do the same is a winner. This sign is a world traveler, bookworm, and free spirit, and their style should reflect that.
Long flowing skirts with sneakers and a band T are only appropriate for a Sagittarius. Their wardrobe should be filled with one-of-a-kind pieces from their travels so that they can put together the coolest outfits that reflect their exciting lifestyle.
When you tell a joke, Sagittarians, there isn't a soul who doesn't laugh heartily! We love how hilarious you are while also being extremely compassionate towards everyone and everything.
Empathy is your strongest quality, so never lose it. We thought your wardrobe needed a little more color because you love the outdoors and are so full of life (even on the bad days), and you keep adding it to everyone's lives anyway.
Style Qualities
Polished but not prim
She prefers to dress in more feminine silhouettes.
Can combine bold colors with style
The Ideal Outfit
Boho pants and a fitted top from their most recent adventure, or boyfriend jeans and a shirt from their most recent adventure
What To Include In Your Wardrobe
Didn't you just know we were going to say "colorblock"? Now that you've guessed it, why not begin with a lovely purple and bright yellow hue?
Go for a monochromatic look by wearing the same color dress, knee-high boots, coat, and bag! We're always on the lookout for bright blues.
Do you want to be cute? Choose candy-colored, sun-ready dresses for women! Wear it with strappy flats and your hair down.
Final Thoughts
It's all in the stars: love, life, and career, as well as how you show up for each of these. You may not believe in Zodiacs, but astrology can be a huge deal in style and fashion.
Dressing and choosing outfits to match your traits can be extremely beneficial, as well as help you identify your distinct style.
We can't wait to see how you plan your wardrobe and align it with your zodiac now that we've pointed you in the right direction. You can change it up however you want or stick to our plan – you can't go wrong either way.
Frequently Asked Questions
Which zodiac is well dressed?
These are the Zodiac signs ranked from most to least stylish.
1. Leo
Leo is the most fashionable zodiac sign.
You are an unwavering supporter of fashion. You're always on the lookout for the latest trends and new products. Similarly, you are constantly on the lookout for new and exciting trends.
2. Libra
Libra views life as a catwalk.
You enjoy imitating the style of models from major luxury brands. During Fashion Week, people may mistake you for a celebrity.
3. Capricorn
Aquarius is drawn to avant-garde fashion.
All of your outfits are planned in advance, so pulling a random item of clothing from your closet is out of the question. You can even give fashion advice to your loved ones!
4. Taurus
Taurus is stylish but laid-back.
You like to appear to be on the cutting edge of fashion in public. In private, however, you grab the first piece of clothing that comes your way in order to be comfortable in your cocoon. Above all, comfort.
5. Sagittarius
Sagittarius prefers uncomplicated fashion.
You only put forth the effort to dress well if it is worthwhile. You like beautiful things and must wear expensive materials if you are a Sagittarius sun Leo rising.
6. Pisces
Pisces has a lavish fashion sense.
Your eccentric personality allows you to experiment with new looks with varying degrees of success. You are the most forward-thinking personality in the zodiac if you are a Pisces sun Aquarius rising.
7. Cancer
Cancer is a compulsive shopper.
You constantly buy new clothes, but your addiction drives you to seek out pieces that aren't always fashionable. Your wallet suffers as well as your appearance!
8. Scorpio
Scorpio is a mysterious dresser.
You enjoy standing out from the crowd. One day you'll be the most fashionable among your friends, and the next you'll be the most passé… If you are a Scorpio sun Libra rising, your artistic side drives you to dress in bright colors.
9. Aries
Aries has a distinct style.
Your surroundings and magazines have no effect on you. However, if you are an Aries sun Leo rising, you like to be in the spotlight, and you take your time choosing your clothes if you want to seduce.
10. Capricorn
Capricorn is a courageous dresser.
You enjoy mixing styles, which not everyone appreciates. Your clothing tests are worthy of Fashion Week if you have a Capricorn sun and an Aquarius rising, but beware, they can be confusing.
11. Gemini
Gemini dislikes fashion.
You are not a sign who is overly concerned with appearance. It makes no difference what you wear as long as you're not naked on the street! Your charismatic side pushes you to wear sumptuous dresses or suits dressed up for social events if you are Gemini sun Leo rising.
12. Virgo
Virgo is the least fashionable zodiac sign.
You're the type of person who chooses your clothes in the dark! You don't care about fashion, and it shows! Despite this lack of style, if you are a Virgo sun Leo rising, you can experiment with fashionable clothing.
What colors should you wear according to your astrological sign?
Discover which color has the most effective energy for you!
Colors carry energy, and certain colors can bring out something in you that will truly make you shine. They can boost confidence, calm restless energy, and empower strength, among other things. Continue reading to find out which color brings out the most powerful characteristics in YOUR zodiac sign!
Aries: Red
Aries' soul is stirred by the color red, which increases passion, energy, and initiative. It's the color of excitement and assertiveness, which complements Aries' active personality and zest for life.
Red commands attention and Aries is a sign that dislikes being ignored. It's no surprise that Mars, Aries' ruling planet, is known as "The Red Planet." The more red Aries is surrounded by, the stronger its natural powers will be.
Taurus: Green
Taurus' spirit is nurtured by fresh green, which strengthens its connection to nature and growth. Green represents growth, and Taurus is a sign of absolute progress, just like the Bull's lush pastures. The return of green in spring, Taurus' season, strengthens its connection to this sign.
Gemini: Yellow
Inspiring yellow uplifts Gemini's spirits and stimulates curiosity and brilliant ideas. Gemini's exciting, upbeat personality reflects this invigorating and life-giving color.
Yellow, like the warm Sun, lightens and brightens everything around it. Yellow, the color of the mind and intellect, strengthens Gemini's mental abilities and focus.
Cancer: White and silver
Bright white and silver help Cancer connects with its intuition and provide a fresh start. Silver and white, like the gleaming surface of water or the shining face of the Moon, are colors of intuition and purity. They heighten Cancer's sensitivity and understanding, allowing deep love to flow.
Leo: Gold
Glistening gold empowers and strengthens Leo's warm heart and positive spirit. Gold has always been a symbol of power and prestige, glistening with royalty and class.
So it's no surprise that Leo, the King of the Jungle, is moved by this expressive hue. Gold attracts Leo's attention while also supporting its generous nature and warm, optimistic outlook on life.
Virgo: Green and brown
Virgo is grounded and focused on continuous growth by wearing classic, natural brown and green.
Brown represents stability and supports the Virgin's careful and methodical approach to life. Green is the color of growth in nature, and it strengthens Virgo's lifelong quest for self-improvement.
Libra: Pink and blue
Libra's heart is opened and softened by airy pink and light blue. Libra's personality is calming and likable thanks to these pale hues. Light blue, representing a gentle breeze, promotes clarity and balance, while pink evokes Libra's sweet and loving nature.
Scorpio: black
Scorpio is intensely inquisitive and focused on transformation because of the dark and mysterious black.
Black represents the Scorpion's depths and strengthens its desire to look beneath the surface and question everything. The color black is associated with death and rebirth in Western culture, which strengthens Scorpio's ability to let go and transform itself.
Sagittarius: Purple
Sagittarius' philosophical mind is pushed toward enlightenment and openness by lush purple, the color of spirituality and awareness.
Purple, another color of abundance, encourages Sagittarius' natural luck and positive nature, as well as drives it to constantly broaden its horizons.
Capricorn: Brown and grey
Capricorn is helped by earthy grey and brown to find the strongest and most practical path in life. Capricorn's solidity, dependability, and traditionalism are enhanced by these strong but neutral colors.
Grey, as a combination of extremes (white and black), strengthens Capricorn's conservative nature and no-nonsense approach to life. Brown represents stability, which can help the Goat's tenacity as it strives to achieve its goals.
Aquarius: Blue
Calming blue encourages Aquarius' brilliant ideas while also balancing its restless energy. Blue, like the sky and the waters with which Aquarius is so inextricably linked, represents vastness and creates a smooth flow of ideas, conversation, and experimentation. Uranus, the ruling planet of Aquarius, is also blue!
Pisces: light green
Perfectly pale green promotes healing and renewal while connecting Pisces to its subconscious. Light green, the color of life, represents renewal and inspiration, encouraging the healing and rejuvenating energies associated with Pisces.