!! DISCLAIMER !! This site may contain Amazon & other affiliate links.
This means if you click on one of the product recommendation links, this site may receive a small commission. This is at no extra cost to you and may include exclusive discounts when possible. This helps support this site and allows us to keep making content like this. Thank you for your support!
Best Outfit Ideas For Children
Kids adore dressing up! Every kid, from toddlers to teenagers, wishes to have a wardrobe full of nice clothes that are stylish and trendy. As a result, the bar for outfit ideas for children is set high. With the fashion scene evolving on a daily basis, the market becomes even more competitive.
As a result of the abundance of options available, shopping for children's outfits can be a bit overwhelming. So, in this article, we will provide you with some lovely outfit ideas for your kiddos.
Best Travel Outfit Ideas for Children of All Ages
If you're like most parents, you want your child to look good at all times. For some parents, shopping for children's clothes is one of their favorite pastimes.
A family vacation is one of the best reasons to buy new clothes for your children. You want the best because you want them to look good in photos posing next to famous tourist attractions.
When shopping for children's clothing, keep in mind that your primary concern should be the safety and comfort of your children. They should be able to enjoy the holiday, which will be impossible if they are dressed inappropriately.
If you're stuck for ideas for the best travel outfit for kids, here are a few things to consider before shopping. Remember these travel costume ideas for your next shopping trip to the mall or online shopping.
Infants
Some parents swear that traveling with infants is easier than traveling with older children because there's no need to buy an extra plane seat, no chasing them around the departure lounge when it's time to board, and most of the time (if you're lucky! ), they'll sleep the entire flight.
Over-preparation for infant adventures (think spit-up and crying fits) makes sense. Dress your baby in adorable onesies and pull-on joggers that come in sets, and stash the extras in the diaper bag.
Keeping several burp cloths and bibs on hand is also a good idea. A cozy baby is a sleepy baby, so warm slippers and a wearable blanket work wonders to ease them into napping bliss (one has to hope, right?).
Toddlers
They aren't called the "terrible twos" for nothing. Your active toddler is unlikely to sit Zen-like the entire trip from your house to the resort. This includes outfitting your child with sturdy sneakers for endless runs up and down the airport gate.
Pull-on jeans can be a lifesaver when it comes to potty-training trips. Because the temperature inside an airplane can range from boiling hot to icy cold, wear the jeans with a long-sleeved T-shirt and a super-cute zippered hoodie.
And you should definitely pack a plush blanket in your toddler's carry-on—all that zipping around may result in some well-deserved quiet time snuggling with a picture book or cartoons on your tablet. We didn't think they'd sleep either.
School-Age Children
Whether your school-age child happily does crafts on travel days, bury their nose in a chapter book, or asks endless questions about your vacation destination, you can be sure they want to be comfortable.
Printed leggings or joggers that can be worn with a variety of tops are a versatile must-have that is ideal for chilly plane rides.
A lightweight sweatshirt can be easily layered with a denim jacket, making it an excellent choice for any trip.
Waterproof booties are ideal for trips during the rainy or cooler months, and they are sturdy enough for long walks at your destination. To complete the look, children of this age can carry a backpack containing their own snacks and toys.
Tweens
Tweens are beginning to develop their own sense of style. So give them the freedom to choose their travel look. It's likely to incorporate their interests, such as a long-sleeved shirt displaying a love of skateboarding or dance.
When paired with a padded vest to keep warm and zip-off pants that transform into shorts when you arrive at your sunny destination, your tween will be both comfortable and stylish.
Sneakers that are appropriate for any vacation activity are a good choice, and a roomy backpack (that can be monogrammed with their initials) is a fun way to transport all the electronics you wish they'd leave at home.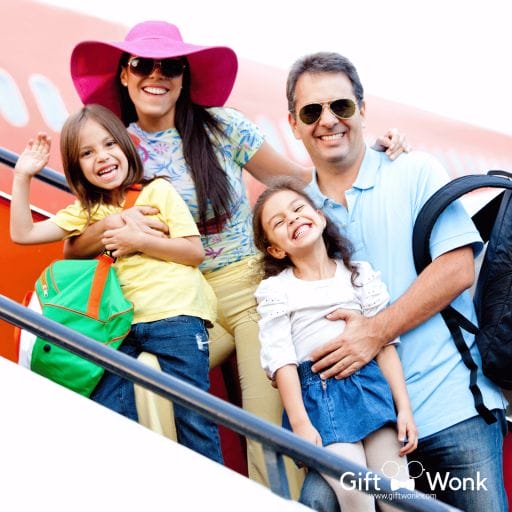 Teens
Although it may appear that your teen only wants smaller, more expensive versions of adult clothing, they are travel savvy enough to understand that long road trips or endless hours in an airport departure lounge require something more specific.
A pair of dark wash jeans should have enough give to allow you to sit comfortably for extended periods of time and can be dressed up or down. A scoop-neck sweater is comfortable, pretty, and functional for girls. A flannel shirt keeps boys cool and warm.
They'll be relieved to have an oversized scarf or hoodie for a catnap on the plane between Instagram posts since you probably dragged them out of bed for an early-morning flight.
Chic slides or patterned slip-on go with almost any outfit and are easy to put on and take off at TSA. Belt bags (also known as fanny packs) are a fashionable and hands-free travel companions for a teen on the go.
Other Travel Outfit Ideas for Children
Lightweight Jacket
You should always pack a light jacket for your child no matter where you are going. Even if you are going to a warm destination, temperatures can drop, especially in the evening.
Airports and planes can be cold, so the best way to keep your child warm is with a versatile light jacket that won't take up too much space or weight in your travel bag and that you can bring with you anywhere.
Make sure it's made of a soft material, like cotton, so your child can wear it all day and still feel comfortable.
Swimwear
Children adore the water. And when they see a body of water, they tend to dive in.
As a result, you must ensure they are always prepared for a swim session by packing a swimsuit or two.
You don't want to see your kids upset because they can't swim because you forgot to pack swimsuits for them. Of course, you could always buy new swimwear, but that would be inconvenient.
A nice board short and rash guard set will suffice for boys. You can get a cute one-piece for girls. Bring two sets of swimwear for your child to wear while the other set is drying. Inflatables should also be brought to keep your children safe. Of course, you should never leave them alone in the water.
You should also bring other soccer pool or beach gear and accessories along with swimwear. Bring rubber-soled sandals to keep your children from slipping on the wet floor.
You should also bring towels in case the hotel's resort does not provide them. If you still have a child who uses diapers, bring a pack of swim diapers with you.
These are the toddler travel necessities that you should remember to bring. Sunglasses and a sun hat should round out your child's beach ensemble.
Waterproofs
Nowadays, the weather can be unpredictable. It can be sunny one minute and rainy the next. This is why you should bring waterproofs like raincoats, boots, or waterproof shoes. You don't want your child to get wet while you're out and about.
Let a little rain not ruin your vacation. You should always be ready for whatever Mother Nature throws at you. Quality wind and waterproof clothing for children is widely available. You can even get an all-in-one splash suit for toddlers.
The best waterproof outfits are made of a breathable material that keeps children warm while also protecting them from the elements. One of the travel costume ideas that you should not overlook is bringing waterproofs.
If you are going somewhere cold, you should bring mittens or gloves. Particularly if you are bringing a baby or toddler. Mittens and gloves can keep small hands dry and warm in cold and wet weather. Mittens are essential toddler travel items that should not be overlooked.
Socks
Traveling in bare feet is unpleasant, especially for small children. A good pair of socks can protect your children's feet from the germ-infested airport and airplane floors.
Other passengers dislike being in contact with bare feet, even if they belong to a cute child. So, putting socks on your child's feet is a travel courtesy that many people will appreciate.
Socks can also keep your child warm, particularly on long flights.
Socks made of non-irritating fabric that wicks away moisture and resists odor are the best. To ensure a perfect fit, choose one that stretches nicely. If you intend to use socks as your child's primary footwear, choose ones with a reinforced heel and abrasion-resistant areas.
Outfits For Special Occasions
When traveling, there are times when you want to eat at a fine dining establishment. There are times when you need to meet someone special. You must ensure that your child is appropriately dressed for such occasions.
Some cruise lines, for example, prohibit children from wearing shorts and tank tops to dinner. Pack a pair of black or khaki pants and some collared shirts for the boys. To be sure, bring a suit jacket.
Pack some sundresses or co-ord sets with a matching cardigan sweater for the girls. If you are unsure about the appropriate level of dressiness, consider how you would want your child to appear if he or she were to meet someone very important, such as President Pope.
Inners
Make sure to bring underwear for your children. There's a lot of it. Laundry can be difficult to do while traveling. As a result, bringing extra innerwear is a good idea. You know how kids are. It's not uncommon for them to have "accidents."
As a result, it is preferable to arrive prepared. It would be ideal if you could bring two sets of innerwear for each day of your trip.
Parents are sometimes so excited to pack cute outerwear for their children that they forget to pack innerwear. Don't. That would be the worst-case scenario. Underwear should be the first set of outfits you pack, so you don't forget them.
Second, choose dresses that are not too tight on you. If you must choose between a loose and a tight outfit, go with the former. When you travel, your child will be on the move a lot. You want him/her to be as relaxed as possible.
Last but not least, choose tops or dresses that are simple, practical, and appropriate for your destination. Before you go shopping for clothes, do some research on your destination. Examine the weather, humidity, and local customs.
Shoes
Slip-on shoes are ideal for children to wear while traveling. These shoes are simple to put on and remove. Although children are not required to remove their shoes while passing through airport security, they may wish to do so at some point during the flight.
This is why you need shoes that are easy to put on and take off for both you and your child. If your child is old enough, he or she should be able to take the slip-on off and on without assistance.
If you're going somewhere warm, you should also bring rubber sandals. If you're going somewhere cold and snowy, bring a pair of boots for your child. Again, being prepared for your travel destination is essential.
May these travel costume ideas assist you in deciding what children's outfits to purchase for your next trip with your children.
Best Summer Outfits for Children
There's nothing you can't love about summer (except maybe the blazing hot sun on some days), especially summer clothes.
Summers and summer fashion are two of my favorite things. It's that time of year when you don't need to layer up or carry an umbrella. Summers are also enjoyable for children, thanks to summer vacation.
Summer vacation necessitates summer camps, workshops, and a full day of play… every day! This means you should stock your child's wardrobe with breezy summer outfits that are ideal for playtime.
Playtime Cotton Dress and Sandals
Instead of body-hugging clothing, choose flowy and airy dresses. Cotton dresses with simple frills or layers that float in the breeze are ideal for summer.
These dresses are available with sleeveless, spaghetti straps, or halter necklines. For the ultimate summer look, pair this outfit with a pair of comfortable sandals and a high ponytail.
Sandals – Baggy Top – Denim Shorts
If your child does not enjoy wearing dresses or tight outfits, you can get them a pair of denim shorts or chino shorts. Combine this with a baggy top with summer-inspired prints.
You can pair the shorts with an off-the-shoulder or cold-shoulder top. A simple braid, a cap, and sandals will complete your little toddler's look.
T-shirt – Shorts – Crocs
Simple tees and shorts never go out of style and are a year-round fashion staple. This outfit can be worn in any season (except perhaps winter) with a pair of simple crocs.
Cotton or chino shorts are an excellent alternative to denim shorts. You can keep a few pairs of shorts in your child's closet all year and use them for picnics, outings, and travel.
You can wear the shorts with a roll-up shirt that has cute summer prints. Get your son a pair of cool slip-on to round out his playtime ensemble.
Creating summer playtime outfits for kids entails selecting clothes made of summer-friendly fabric and in light or pastel colors.
Best On-The-Go Outfit Ideas For Kids
Being active is important for adults, but it is even more important for children who are growing and discovering the world.
Children aged six and up require at least one hour of physical activity per day. Apart from time spent in dreamland, children under the age of six should be active for the majority of the day.
One of the best ways to encourage kids who never stop moving is to get them a comfortable activewear wardrobe. Continue reading to find out about some of the best outfits for kids on the go!
Perfect Pajamas
Younger children need to be comfortable while they are active, so pajamas are an excellent way to encourage them to move. They're versatile, allowing your child to run, jump, and play freely.
Pajamas are made of bamboo fabric, which is the softest material on the market. They are gentle on the skin and will not scratch or itch, no matter how active your active child is.
Plus, when they're done running around, they can catch some Z's without having to change their clothes.
Bamboo knit pajamas are available in a variety of styles for both boys and girls. Two-piece pajama sets are ideal for any child who prefers to run around in a simple outfit.
On the other hand, you might want to get your active kids some space, airplane, or princess jammies so they can express themselves while playing!
Amazing Footies
Footies are a type of pajama that is made up of a single piece that covers the entire body of a child. The soft socks that come attached to the end of the ankles give them the name "footies." These keep your baby warm and their feet safe when they are playing outside.
Neutral footies for both boys and girls, such as this white pinwheel option, are ideal for children who enjoy playing both indoors and outside. Styles with narwhal print, koalas, hedgehogs, and crocus flowers are also available.
Footies, like all of our outfits for active kids, come in a variety of sizes. This option is designed for newborn babies up to a year old, when they can graduate to big-kid PJs and daytime outfits.
Beautiful Dresses
Speaking of daytime outfits for bigger babies, once your daughter outgrows her footies, you can get her some lovel dresses. Your little girl will also appreciate dresses with floral or polka-dot patterns.
Because children are still figuring out who they are, take your daughter to the computer and let her choose her new favorite dress on her own!
Dresses are ideal for children who need a lot of freedom of movement. Just tuck a pair of shorts underneath the dress, and she'll be free to run, play, and climb without being hampered by fabric.
Dresses prevent children from slipping while crawling (no soft pants on their kneecaps) while also looking sophisticated and adorable.
In addition to classic dresses, there are dresses that resemble massive hoodies. These have pockets as well as a wide range of motion for your child. These soft apparel items, like our other clothes, come in a variety of shapes.
Joggers
Little boys might not be interested in the dresses (though they could be)! Joggers are a fantastic option for active boys and girls who want to cover up and stay warm.
Pockets are ideal for children aged 3 months to 6 years, which is why joggers are great. Your child can carry cool rocks and favorite toys with them as they play pretend and impress their preschool friends.
Joggers are ideal for the colder months because they keep children warm, but they are also ideal for the summer. You should definitely invest in beach joggers with adorable stripes and multiple colors.
Loveable Leggings
Leggings are a great way to keep kids running after they outgrow baby dresses and joggers. Leggings are available in a variety of neutral colors and can be worn with any shirt or blouse up to the age of eight. Leggings in black, white, and grey look great with any top.
Kids dislike jeans in general, which makes sense given that they are still developing sensory skills.
They're tight, scratchy, and itchy, making it difficult for them to be active and play. Dressing active children necessitate considering what will make them feel comfortable and ready to go.
Now that you've learned some great tips for dressing kids on the go, it's time to start shopping for your child's new wardrobe.
Frequently Asked Questions
What are the best fabrics for children?
When purchasing clothing for a child, it is common for parents to prioritize style over functionality. However, the fabric is also crucial.
Most experts agree that children's clothing should have the following features: good ventilation, the ability to absorb moisture, and the ability not to cause allergies. To make this task easier for parents, we've compiled a list of the best fabrics for children's clothing.
Cotton
Cotton has long been regarded as one of the most environmentally friendly fabrics. This fabric is ideal for children's jeans, t-shirts, dresses, and baby rompers at any time of year because it does not cause allergies, is durable and is highly chemical resistant.
Cotton allows air to pass through while also absorbing and retaining moisture. However, it has some drawbacks, including difficult ironing and the ability to change shape during washing. As a result, a small amount of elastane or polyester is permitted in cotton items.
Linen
Linen, like cotton, is a widely used natural fabric. Linen clothing is ideal for the hot summer months. It allows air to pass through and absorbs moisture, but it is difficult to iron.
Natural linen can be rough to the touch, which is not ideal for baby skin. Thin linen clothing, on the other hand, is still a viable option.
Satin
The satin fabric has a shiny surface and appears to be silk. It has good ventilation and is simple to iron. Satin is appropriate for children's clothing.
Satin will keep the child's body temperature stable due to its low thermal conductivity. Satin items almost never wrinkle and are extremely durable — this is one of the best choices for hot summer days.
Faux fur
It is a type of synthetic artificial fabric that is frequently used in the manufacture of children's clothing. Fleece has numerous advantages: it is long-lasting, easy to clean, dries quickly, and does not deform.
Furthermore, fleece does not cause allergies. Because of these benefits, fleece fabric has grown in popularity in sportswear and outerwear, particularly for children.
Wool
This is a natural fabric with many benefits, but it requires special care and attention. Wool is ideal for children's clothing because it retains heat and is almost impervious to dirt.
Nonetheless, some woolen fibers are uncomfortable to wear. As a result, when selecting children's items made of woolen fabric, consider the composition of the wool. For example, acryl will soften the fabric and make it more pleasant to touch.
These are not the only fabrics that can be used to make children's clothing. The final material selection is determined by the item's purpose and the season in which it is sewn. Among all products, children's clothing made from natural fabrics is particularly popular.
Cotton, linen, and wool are the materials with the best breathability, increased hypoallergenic properties, and the most pleasant sensations. So, make an informed decision to keep your child healthy and happy.
How to collaborate with your child to select an outfit they'll like?
Is your child suddenly requesting input on what they wear to school or to the park or mall? Or perhaps you have a child who refuses to wear anything you put on them.
Whatever your child prefers to wear, you can create a school wardrobe for them. You may still need to collaborate with them to come up with outfit ideas that allow them to express themselves while remaining school-appropriate.
So, how do you put together a fantastic set of outfits?
Check The Dress Code
Before you start shopping for clothes, double-check to see if your child's school has a dress code.
Private schools in the United States frequently have more stringent dress codes. They may limit the types of clothes your child can wear, and you will need this information when shopping.
Although public institutions may have dress codes, Title IX limits their ability to control what your child wears.
For example, the school may not impose a dress code that discriminates against students based on their gender or race. It may also not limit your child's self-expression. As a result, their codes have a wide range of parameters.
Examine Your Child's Current Outfits
Is your child enthusiastic about what they wear? Look first at their closet if it is already filled with their preferred style. Examine each of their items and ask them to try them on if they haven't worn them in a while. Check to see if the clothing meets dress code requirements and ask your child what they think of it.
If your child likes a piece and can wear it to school, assist them in selecting matching accessories or items from the rest of their wardrobe. Then, determine what you require and begin your search for new items!
Include Your Child In Shopping
Take your child shopping with you if they care about what they wear. This gives them control over what they wear.
Take them shopping and ask them to pick out some items. If the school has a dress code, inform them of it and allow them to choose clothing within those parameters. The more you allow your child to choose their school clothes, the more excited they will be to wear them to school in the morning.
Wearing clothing that your child enjoys will make them feel more confident throughout the day. It also helps you save money. You will not waste your money on items they will not wear!
If you decide to shop online, ask your child to approve the outfits before purchasing them. Then, try on the clothing while you still have the option to return it.
Allow Your Child To Be Expressive
Don't discourage your child from wearing something to school just because it doesn't suit you. Young adults frequently use their clothing to express their unique personalities. Encourage them to find clothing that complements their personality.
Encouraging your child to express themselves strengthens your relationship with them. It demonstrates that you accept them for who they want to be.
Do Not Pay Too Much Attention To Adult Fashion
Adult fashion frequently differs from styles designed for younger children. Sometimes parents like to buy their children miniature versions of their own outfits. These styles can be cute and can add flair to their wardrobe.
However, if you have younger children, you may want to avoid focusing on adult fashion for the time being.
Instead, experiment with the bright and colorful outfit ideas that can be found on children's clothing websites and in stores. This allows them to look like kids while still looking cute and fashionable.
Prioritize Comfort
You want clothes that your kids will want to wear all day. Smaller children may not want to wear clothing that does not fit them properly.
You'll also need clothes that allow your kids to be active at school. Teachers frequently mix learning and play into school days for younger children, so dress your child accordingly.
Stay Within Your Budget
Set a budget before you start shopping for school clothes. Consider what you can afford for each child, and then stick to your budget.
Staying within your budget is especially important if you have children who are experiencing growth spurts. After all, they may outgrow the outfits you buy and require additional clothing.
Get Outfit Ideas For All Weather Conditions
When looking for new school outfit ideas, make sure to buy clothes for a variety of weather conditions. If you live in a colder climate, purchase at least one winter coat for your child that fits well and matches the majority of their outfits.
Make sure your school outfits include a variety of pants or skirts, as well as long- and short-sleeved shirts. Get your child a raincoat and an umbrella to keep them dry when it rains!
Backpacks Can Be Accessorized
Your child will be carrying around a backpack for the majority of the day, so get them a cute one!
But how do you choose between all of the different designs? Consider their hobbies. Many businesses sell themed backpacks based on children's TV shows or cartoon characters. So get them something they'll want to carry around!