!! DISCLAIMER !! This site may contain Amazon & other affiliate links.
This means if you click on one of the product recommendation links, this site may receive a small commission. This is at no extra cost to you and may include exclusive discounts when possible. This helps support this site and allows us to keep making content like this. Thank you for your support!
Gluten-Free Food Gift Ideas: Delicious Ideas to Surprise Someone Special
Do you have someone in your life who is living a gluten-free lifestyle? Gift giving can be a challenge since you want to make sure the recipient doesn't break their diet.
Giving special gifts shouldn't mean compromising on taste and presentation. We are here to show you that finding great gluten-free food gift ideas not only for the holidays, but all year round isn't as difficult as it sounds!
In this guide, our goal is to provide ideas for delicious, creative, and memorable gluten-free presents that will surprise and delight anyone living with dietary restrictions.
Best Gluten-Free Food Gift Ideas to Spread Love and Joy this Year
Do you have someone in your life that is on a gluten-free diet? Looking for the perfect gift, but don't know what to get? There are plenty of options available.
Finding gluten-free food gifts can be stressful. After all, you want to make sure you choose something that is enjoyed and appreciated, not something they're forced to throw away!
Good news – we can take the stress out of shopping for gluten-free gifts and replace it with love. In this article, we'll provide some great gift ideas that will spread joy and show your appreciation for friends or family following a gluten-free lifestyle.
Delicious Gluten-Free Beers
Spreading love and joy this season has never been easier with a delicious gift of gluten-free beer! A gift of craft beers created especially for gluten sufferers will be sure to bring a smile to their face.
Gluten-free beers are crafted with the same enthusiasm and quality of regular beers but made with alternate ingredients like sorghum, millet, quinoa, or rice, so it's still full of flavor.
Many brands now make delightful gluten-free versions of popular lagers and ales such as red ales and pilsners.
Consider getting creative by gifting a variety pack that includes unique flavor combinations like cherry sour ale or ginger lime pale ale.
There are plenty of online retailers offering delicious selection boxes that you can have delivered directly to your loved one's doorstep.
Gluten-Free Care Package
A delicious and thoughtful way to show someone you care is by sending a gluten-free care package. You can fill it with all sorts of goodies such as flour mixes, bread mixes, granola bars, cookies, chocolates and more that are guaranteed to be gluten-free.
You can even add homemade treats like cakes or muffins to make it extra special. Include a heartfelt note or card to show your recipient they are in your thoughts!
Find products with labels that clearly say "Gluten-Free" or those prepared in certified gluten-free facilities.
Talk to the person receiving the care package for ideas about what kinds of treats they would like included in the package.
Include pantry items that last longer such as nuts, snacks, dried fruits and other food items to provide long lasting enjoyment from your package!
Gluten-Free Fruit Basket
A gluten-free fruit basket is the perfect way to send a delicious yet healthy gift this holiday season. Filled with seasonal fruits, these baskets show you care about their health and nutrition without sacrificing taste.
You can also add some chocolate-covered fruit or other treats as a special surprise for an extra treat.
Not only are these baskets beautiful, but they are a great way to show your love and appreciation to those with specific dietary needs. Plus, everyone loves getting a surprise delivered right to their home!
Gluten-Free Edible Arrangements
For a fun and delicious gluten-free gift, edible arrangements are a great option! Edible arrangements have become a popular gift because they contain all the sweetness of fruit and chocolate with none of the gluten.
They make a tasty and unique present for someone special who has to live their life gluten-free. Look for edible arrangements that are entirely wheat, barley, and rye free.
Choose an arrangement with fruits like strawberries, pineapple, oranges, kiwis, blueberries, apples, or even grapes! For an extra special touch, add pieces of dark or semi sweet chocolate to the mix.
Gluten-Free Cookie Gift Basket
Show your loved ones how much you care by giving them a delicious gluten-free cookie gift basket! Gluten-free cookies are becoming more and more popular as people realize that many foods contain gluten and cause unpleasant symptoms for people with celiac disease or non-celiac gluten sensitivity.
A gluten-free cookie gift basket can be something to look forward to during this holiday season. Look for a diverse selection of tasty, certified gluten free cookies in flavors like chocolate chip, oatmeal raisin, double fudge, and peanut butter.
Put some thought into the packaging so it looks festive and conveys your care and appreciation. You can even include items like dairy free hot chocolate and tea bags for added fun!
Gluten-Free Gourmet Gift Basket
If you want to show your special someone how much you care this year, consider buying them a gluten free gourmet gift basket.
These specialty baskets are packed with amazing snacks and treats that those with gluten allergies can feel good about eating. From vegan-friendly chocolate bars, to artichoke spreads and allergen-free cookies, there's something for everyone in these baskets.
Many gourmet gifts baskets come with both sweet and savory items. They also usually have items that are organic or made from natural ingredients, which are great for health conscious people looking for delicious treats free of preservatives.
The beautiful presentation and thoughtfulness of gifting a curated selection of treats shows just how much you care.
Gingerbread House Kit
For a unique and delicious gluten-free gift, try giving the special someone in your life a gingerbread house kit! Not only will they have a blast putting their creative skills to the test, but they can enjoy these treats knowing that they are made with gluten-free ingredients.
This kits includes all of the essentials – pre-baked cookie pieces, colorful gels and icing mix – to build the perfect holiday house masterpiece. Additionally, they'll love indulging in this delicious treat free from any gluteny worries!
Many pre-made mixes are available so you don't have to worry about measuring out individual ingredients.
You can customize your kit with different kinds of cookies, decorations, or add ons like candy canes or chocolate chips. Show some extra love by writing thoughtful messages inside each piece of the gingerbread house.
Gluten-Free Cookie Jar
A gluten-free cookie jar is the perfect food gift to spread love and joy this year! A homemade cookie jar full of delicious, gluten-free cookies will be sure to delight your friends and family.
You can go for traditional favorites like chocolate chip or create some unique recipes! Just make sure that you label each cookie so everyone knows what is gluten-free.
Look for gluten-free flour mixes or traditional flours like oat, almond, and brown rice flour. Try adding in ingredients that are naturally free from gluten such as nuts, seeds, dried fruits, and even shredded coconut.
Decorate the jar with a festive bow or add a handwritten note telling who it's from and why they're special.
Make Your Own Gluten-free Bread Kit
Making your own gluten-free bread kit is a great gift idea for anyone on your list who is on a gluten-free diet. You can put together a kit with all the ingredients and instructions they need to make their own delicious, fresh-baked bread.
The kit could include ingredients such as gluten-free baking flour, yeast, sugar, and any other ingredients needed. It's always nice to receive homemade gifts and this one will be much appreciated by anyone avoiding gluten!
Include recipes in the kit that show how to make different types of breads, like rye, sourdough, and focaccia. Take things up a notch by including a personalized bread pan or loaf pan!
Don't forget to include an instructional guide on how to store the bread after it's been baked.
Bread Machine Maker
A bread machine maker is one of the best gluten-free food gifts to spread love and joy this year! The bread machine allows you to easily make perfectly fluffy and delicious bread without gluten.
It can also be used to make other gluten-free treats such as waffles, doughnuts, pizza, and more. With a bread machine, your loved ones can enjoy their favorite foods while staying healthy and happy.
Bread machines come in many sizes and prices so that you can find one perfect for your budget. Look for machines with features like multiple settings, timer functions, and website recipes that make baking even easier.
Make sure to research which brands are considered the most reliable so that your gift will last for years to come!
Sprouting Kit
Looking for the perfect gluten-free food gift this year? Consider giving a sprouting kit! Sprouts, such as lentils and chickpeas, are gluten-free and provide excellent sources of protein, fiber, minerals and vitamins.
With a sprouting kit, you can easily grow your own nutritious sprouts at home. The kit includes everything you need to get started: Mason jars for storage, mesh lids for steeping and straining liquid, seeds for planting and germination trays.
Sprouting is an easy way to add freshness nutrition to your meals or snacks. Sprouts are full of antioxidants which can help improve overall health and immune system function.
Sprouting kits make great gifts because they're fun, educational, low cost and encourage healthy eating all year round.
Bee-Based Products
Bee-based products make great gluten-free food gifts this year. Honey, pollen, propolis, royal jelly and beeswax can all be included in gift baskets or given as individual items. Honey is a natural sweetener that is full of antioxidants, vitamins and minerals.
Bee pollen can add a unique flavor to dishes. Propolis has anti-inflammatory and antiseptic properties that help promote the healing of wounds and boost immunity.
Royal jelly contains over 50 nutrients and helps keep skin looking young. Beeswax can be used for lip balms, wax wraps or candles!
Fun New Cookbook
If you are looking for a fun and unique way to show your gluten-free friends and family how much you care, consider buying them a cookbook full of delicious recipes.
There are many different gluten-free cookbooks available, so you can find one that is perfectly tailored to your loved one's taste.
A new cookbook can provide them with creative ideas for their favorite meals and snacks, while also introducing them to new recipes that they may not have come up with on their own.
Look for a cookbook full of recipes that are easy to make and healthy. Try to get a cookbook that has colorful pictures of the various dishes, so your loved one can get inspired.
Make sure the book is tailored specifically to gluten free diets and avoids including any ingredients containing wheat or other sources of gluten.
Delicious Gluten-Free & Dairy Free DIY Food Gifts Anyone Will Love
Do you have that one friend who can't eat gluten or dairy but still wants something special for the holidays? Maybe they're extremely picky, or maybe you just want to make something yummy that everyone else in your family will eat too?
The gift of homemade food is perfect for those hard-to-please foodies. With the right recipes and ingredients, you could create delicious gluten-free, dairy free food gifts that anyone would love.
Here how to make some smart substitutions easily so that you can make some delightful DIY Gluten-Free & Dairy Free food gifts with minimal effort!
Cappuccino Mix
A great DIY food gift for anyone on a gluten-free and dairy-free diet is homemade cappuccino mix. This recipe does not require any baking, just some stirring and powders to make the perfect gourmet coffee treat.
To make this delicious mix combine instant coffee powder, chocolate syrup powder, vanilla powder, and sugar in a bowl or jar. You can also add cinnamon or nutmeg if desired. Decorate the jar with a festive ribbon as an extra touch.
Give away your homemade cappuccino mix as gifts during Christmas or give it out as party favors at special occasions like birthdays!
Vegan Hot Cocoa Mix
Homemade vegan hot cocoa mix is a delicious and thoughtful food gift that anyone will love. This gluten-free & dairy free recipe is easy to make in large batches and can be enjoyed all winter long!
To make it, mix together cocoa powder, cane sugar, dark chocolate chips, mini marshmallows and optional cinnamon for a creamy and cozy cup of cocoa. Package up this mix with jars or bags and include a note describing how to prepare the perfect cup of hot cocoa. Enjoy!
Homemade Peppermint Patties
Homemade gluten-free, dairy-free peppermint patties are the perfect gift for your friends and family! This simple recipe is made with all natural ingredients like coconut oil, cocoa powder, and honey and tastes sweet yet slightly minty.
For even more holiday spirit, add some festive sprinkles and package them up in individual bags or boxes. Mix together melted coconut oil, cocoa powder, and honey until combined.
Roll dough out onto a parchment paper lined baking sheet and use a round cookie cutter to cut into circles.
Place in the refrigerator for one hour or until hardened and then dip half of each circle into melted chocolate and sprinkle with seasonal decorations.
Gluten Free Caramel Apples
For a tasty and delicious DIY food gift this holiday season, gluten-free caramel apples are the perfect choice.
Caramel apples are surprisingly simple to make, only requiring three ingredients: gluten-free caramel sauce, chopped nuts or sprinkles of your choice, and of course – apple! Plus the tart sweetness of the apples perfectly offsets the creamy smoothness of the caramel.
Start by melting 3/4 cup of your favorite gluten-free caramel sauce in a double boiler or in a microwave.
Dip each apple into the melted caramel, making sure it's completely coated. Then roll them in chopped nuts or sprinkles of your choice for some crunchy texture.
Stick popsicle sticks into each apple for easy handling and place them on parchment paper lined baking sheet to cool before serving.
Healthy Almond Butter Cup
A healthy almond butter cup is an easy and delicious gluten-free and dairy-free DIY food gift that anyone will love. This recipe only requires a few ingredients and is surprisingly simple to make.
To make this tasty treat, simply mix together almond butter, honey or maple syrup, vanilla extract, and melted coconut oil.
Add your mixture to mini muffin tins lined with parchment paper and then freeze before creating a chocolate shell using dark chocolate chips and coconut oil. Then refrigerate or freeze until solid before unwrapping and serving!
Vegan Almond Toffee Chocolate Bark
Make your own vegan almond toffee chocolate bark for a delicious and thoughtful gluten-free, dairy-free DIY food gift anyone will love. Start by combining toffee bits, slivered almonds and vegan dark chocolate chips in a medium bowl.
Heat the mixture in the microwave on high in 30 second intervals until the chocolate is just melted. Spread onto non-stick wax paper or parchment paper and top with more almonds if desired. Allow to cool completely before breaking into pieces.
Dark chocolate chips are free of dairy products making it a perfect ingredient for this vegan treat. Be sure to use toffee bits made with vegan ingredients such as coconut oil, brown sugar and sea salt instead of butter or milk products.
Sprinkle on some colorful, edible decorations like sprinkles or crushed peppermints for a festive touch.
Ginger Orange Elderberry Syrup
Give the gift of health with a delicious and all-natural ginger orange elderberry syrup! Made with fresh ginger, oranges, elderberries, and honey, this syrup is full of vitamins and minerals.
Not only is it gluten-free, but it also has anti-inflammatory properties. It's an easy DIY project that anybody will love.
Use fresh or dried organic ingredients to make sure your syrup doesn't contain any pesticides or other contaminants. Boil the water before adding the ingredients in order to get the most out of their nutritional value.
Put your Ginger Orange Elderberry Syrup in mason jars for a cute presentation that can also be re-used later.
Gluten-Free Holiday Chocolate Pretzel Bark
Make a gluten-free holiday chocolate pretzel bark for an easy and delicious DIY food gift that anyone will love! This mouthwatering treat is made with simple ingredients like dark chocolate chips, crushed gluten-free pretzels, and dairy-free peanut butter.
Layer the ingredients in a parchment-lined tin or pan and bake at 350°F till everything melts together. Once cooled, remove from the tin and break into pieces.
You can customize your chocolate pretzel bark by adding other delicious flavors such as nuts, dried fruits, or even peppermint extract. You can also switch out the dark chocolate chips for white or milk chocolate if desired.
Instead of traditional pretzels, use any kind of gluten-free crunchy snack such as rice crackers or puffed quinoa to make different variations of this yummy treat.
DIY Sleep Time Herbal Tea
A delicious and easy DIY gluten-free and dairy free food gift that anyone can enjoy is a sleep time herbal tea.
Using natural ingredients like chamomile, lavender, and valerian root, you can make a calming blend to help your loved ones get a restful night's sleep. Combine these herbs with sweet flavors like cinnamon or honey for an extra special touch.
Start by combining 2 tsp. of chamomile flowers, 1 tsp of dried lavender buds, and ¼ tsp of chopped valerian root in an airtight container.
For the perfect cup, steep one teaspoon of the blend in 8 ounces of hot water for 5 minutes then strain it for use. Add in a bit of honey or lemon if desired for additional flavor.
Homemade Infused Olive Oils
Homemade infused olive oils make delicious and unique gluten-free gifts that anyone will love.
Creating your own oil blends allows you to control all of the ingredients, so you can create flavors that are both flavorful and healthy. To make homemade flavored olive oils, start by collecting herbs and flavorings such as garlic, rosemary, sage or lemon.
Then place them on a clean glass jar with a lid. You then need to fill the jar with good quality olive oil and seal it tightly before storing it in a cool, dark place for four weeks or longer. Once infused, strain out the herbs and seasonings before packaging your oil for gifting!
Overnight Oats Mason Jar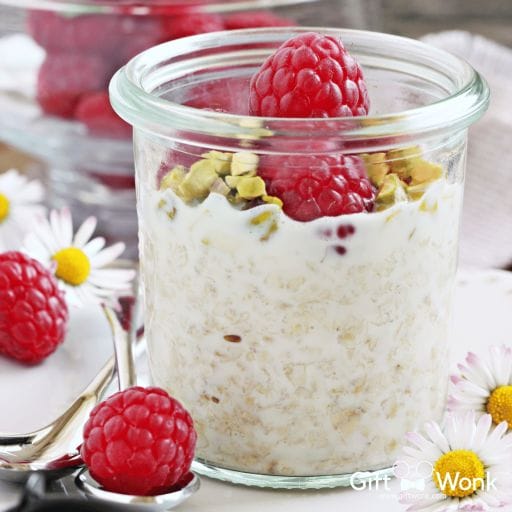 To make a delicious and healthy DIY food gift, try an overnight oats mason jar. This gluten-free and dairy-free gift is so simple to put together and it tastes amazing!
Start by adding some rolled oats into a mason jar, then top with your favorite combination of fruits like blueberries or banana slices.
Finally, pour over almond milk or any other dairy-free milk alternative and refrigerate overnight. In the morning you'll have a delicious oatmeal breakfast that's ready to go.
You can customize each mason jar with different combinations of nuts, seeds, dried fruits, fresh berries, and sweeteners.
Use nut butter or coconut cream instead of plain almond milk to make it extra creamy. Make sure to place the lid on tightly before refrigerating – it'll stay good for up to five days!
Salted Chocolate Honeycomb
Salted Chocolate Honeycomb is a delicious gluten-free and dairy-free DIY food gift that's sure to be a hit with anyone who tries it.
This homemade treat is easy to make and can be dressed up with any decorations of your choice. You will need vegan chocolate chips, honey, cider vinegar, salt, and some parchment paper.
To begin; melt the vegan chocolate chips in a double boiler or microwave. In a separate bowl mix together the honey, cider vinegar, and salt until everything is well combined.
Pour the melted chocolate into your parchment paper then sprinkle the honey mixture over top.
Once everything has been combined you can decorate the top of your salted chocolate honeycomb with any decorations of your choice!
Amaretto Cherries
Amaretto Cherries are a delicious and easy gluten-free DIY food gift that anyone will love! All you need is pitted fresh cherries, amaretto, sugar, and a few hours of your time. These sweet treats are the perfect addition to any gift basket or as a stand-alone treat.
To make them, combine sugar, frozen cherries and amaretto in a medium saucepan over low heat until the mixture starts to thicken and become syrupy. Once done, pour the syrup over cherry halves in an airtight container and let cool before giving away as gifts!
Burger Seasoning
Make a delicious and healthy burger seasoning mix as a gluten-free DIY food gift. You can make it with the usual burgers seasonings like paprika, black pepper, onion powder, and garlic powder.
You can also get creative and add other spices to your blend such as chili powder or cumin. This easy-to-make seasoning blend is sure to be appreciated by any food lover!
Include instructions for mixing up the burger seasoning mix as well as tips for how to use it on burgers or other dishes.
Package the ingredients in a mason jar with a colorful ribbon to give it an extra special touch. Include recipes using the mix, so whoever receives it knows what to do with it!
Dukkah with Almonds
Dukkah with Almonds is a delicious and healthy gluten-free and dairy-free DIY food gift. It's easy to make and perfect to give as a healthy homemade treat. All you need are some nuts, spices, herbs, and oil of your choice.
Toast the almonds in simmering oil until they're lightly browned before adding your favorite seasonings. The end result is a savory snack packed with protein and flavor that anyone can enjoy.
You can customize this recipe by using any type of nut you have on hand, such as walnuts, pistachios, or cashews.
Add flavorful ingredients like sea salt, pepper, cumin, coriander seed powder, garlic powder, dried onion flakes for extra flavor.
Package up this delicious allergen-free snack into pretty jars for gifting or keep it for yourself as an anytime snack!
Italian Seasoning
Italian seasoning is a great addition to any delicious gluten-free food gift! This spice mix is an easy way to add flavor without using wheat or dairy products.
Try adding it to roasted vegetables, sauces, pizzas, or salads. You can also give it as a gift by putting it in a decorative jar with instructions on how to use it.
Italian seasonings typically contain oregano, basil, thyme, parsley, rosemary and garlic. To make the flavors more intense, toast the spices in a dry skillet for 2-3 minutes before adding them to the food.
Italian seasoning pairs well with other spices like red pepper flakes or black pepper for added flavor and kick.
Blackened Seasoning
Add a kick to any dish with blackened seasoning! This versatile ingredient is 100% gluten-free making it perfect for food gifts.
To make your own blackened seasoning at home, all you need is paprika, cayenne pepper, oregano, garlic powder, onion powder, thyme, and sea salt. Simply mix the ingredients together in a bowl and store the mixture in an airtight container.
Use this flavorful blend to give chicken or fish an extra delicious twist. Sprinkle some of the seasoning on roasted vegetables for a tasty meal rich in nutrients. Add depth of flavor to soups and stews by adding just a pinch of the blackened seasoning.
Final Thoughts
Now that you've read through our gluten-free gift guide, it's time for some final thoughts. No matter what you choose to buy as a gift, be sure to make it personal and special for the recipient.
If gluten-free foods fit in his or her lifestyle, then consider surprising them with something unique that reflects their preferences and needs.
Some great ideas we've listed include cakes, cookies, snacks, chocolates, teas and coffees – all which can provide yummy treats. With the right present, you can make someone feel special regardless of dietary restrictions!
Frequently Asked Questions
What are some typical ingredients found in gluten-free products?
Gluten-free products typically contain ingredients such as rice flour, potato starch, tapioca starch, cornstarch, buckwheat flour, almond meal/flour, coconut flour, and quinoa flour.
These ingredients are often used to replace wheat-based flour in recipes. Additionally, many gluten-free products also contain xanthan gum or guar gum to help bind the ingredients together.
Are there any gluten-free food gifts that are suitable for vegans?
Yes, there are plenty of vegan-friendly, gluten-free food gifts available. Some great ideas include vegan chocolates, nut butter, energy bars, and even vegan baking mixes. Additionally, many companies offer gluten-free and vegan snacks such as chips and crackers.
Are there any gluten-free food gifts that are suitable for people with allergies?
Yes, there are plenty of allergy-friendly gluten-free food gifts available. Some great ideas include nut-free energy bars, dairy-free chocolates and cookies, and even grain-free baking mixes.
Additionally, many companies offer gluten-free snacks such as chips and crackers that are free from common allergens like peanuts, tree nuts, dairy, and eggs. Typically, gluten-free products are made with rice flour, potato starch, buckwheat, cornstarch, and nuts.
Where should I go to purchase gluten-free gifts?
Your local grocery store should have a wide variety of items suitable for those with Celiac Disease or those avoiding gluten. You might also want to check out specialty stores that specialize in preparing and packaging food specifically for this population.
Are there any recipes available for making homemade gluten-free treats?
Yes! There are plenty of recipes online that will help you create delicious snacks without all the added preservatives, additives and other ingredients that might contain unwanted gluten.