!! DISCLAIMER !! This site may contain Amazon & other affiliate links.
This means if you click on one of the product recommendation links, this site may receive a small commission. This is at no extra cost to you and may include exclusive discounts when possible. This helps support this site and allows us to keep making content like this. Thank you for your support!
When Are Halloween Decorations Up
At Disney World or Disneyland?
From September 2 until October 31, 2022, Disney has announced that Halloween Time at Disneyland and California Adventure will return with exhilarating adventures. We'll go over the specifics of the announcement—everything from what won't be there and what to expect.
The good news is that after last year's hiatus while the parks were closed, most of the significant draws of the spook season are back to Disneyland.
Both Haunted Mansion Holiday and Guardians of the Galaxy – Monsters After Dark will return, as will meet-and-greets with friendly characters and villains, iconic seasonal décor such as the vast Mickey Mouse jack-o'-lantern on Main Street, and delectable fall goodies.
The most notable addition is the return of Disney California Adventure's Oogie Boogie Bash Halloween Party.
Disney World Crowds During the Halloween Season
The crowd levels at Walt Disney Land & Disney World during Halloween vary greatly, which is expected given that it is a three-month event. From August to October, the busiest periods to visit Disney are weekends and school breaks.
This covers the first half of August, which is still considered summer vacation in most parts of the US. For more information on the best and worst times to visit in August 2022, see our Crowd Calendar.
September is traditionally the least busy month at Walt Disney World, giving any day of the month an excellent time to visit.
There are a couple of exceptions around the beginning and end of the month, though. See our September 2022 Crowd Calendar for more information.
In October, when Walt Disney World's 50th Anniversary celebrations begin, all bets are off.
While we predict insane crowds for the entire month, a recent wave of cancellations may help bring attendance levels down to "just" bonkers. For further information, see our Crowd Calendar for October 2022.
This year, here's what to expect from each theme park.
Disney World's After-Hours Boo Bash
The Halloween party at Magic Kingdom in August, September, and October 2022 is called Disney After Hours Boo Bash. 
This information guide includes dates, hours, ticket prices and discounts, and entertainment for Walt Disney World's new fall event. In addition, there are parallels to Mickey's Not So Scary Halloween Party and Villains After Hours.
Snacks at Disney World
The fee of the event includes some appetizers, such as ice cream novelty items and popcorn, as well as some sodas and other beverages.
A range of specialized food and drinks, including an Apple Ginger Dale frozen drink and a Foolish Mortal Funnel Cake, will also be available for purchase.
Disney PhotoPass
Disney PhotoPass is a service that allows you to take photos. Throughout the night, Disney PhotoPass will be available to capture your wonderful and eerie moments.
You can also take special Magic Shots, which add characters to your Disney PhotoPass images after they've been taken, and your photos will be embellished with Halloween special effects. The fee of the event does not include PhotoPass.
Dress Up In Costumes
For Disney After Hours Boo Bash, all guests are encouraged to dress up in costume, and trick-or-treat around the park to grab your fill of Halloween candy.
Adults are not permitted to wear costume masks; only children under the age of 14 are permitted to do so. Please keep in mind that the face mask laws at Walt Disney World apply to Disney After Hours Boo Bash.
Boo Bash At Disney After Hours Tickets
All visitors can now purchase tickets for Disney After Hours Boo Bash, which can be purchased online or by calling 407-939-4240. It's worth noting that practically every date is now sold out on the website.
Magic Kingdom, on the other hand, offers same-day ticket sales. This is due to the increasing number of cancellations. (We anticipate that day-of tickets will be available on a first-come, first-served basis for most–if not all–Boo Bash nights.)
For August and September 2022 party nights, tickets start at $129 to $139 plus tax, and for October 2022 party nights, tickets start at $159 to $169 plus tax. 
It will cost you $199 + tax to attend on Halloween night! In August and September, Annual Passholders and Disney Vacation Club Members can get a $10 discount on Boo Bash.
Boo Bash Attractions At Disney After Hours
Disney After Hours Boo Bash visitors will spend less time in line for over 20 of Magic Kingdom's most popular attractions after the park closes to day customers, including the following:
Astro Orbiter is a spacecraft that orbits Earth.
The Big Thunder Mountain Railroad
Space Ranger Spin by Buzz Lightyear
Bear Jamboree in the Country
Dumbo the Flying Elephant
Haunted House
"It's a small world"
Cruise Through the Jungle
Tea Party insanity
The Adventures of Peter Pan
Pirates of the Caribbean (Pirates of the Caribbean)
Carrousel Royal Prince Charming
Mine Train of the Seven Dwarfs
Mountain of Space
Splash Mountain
Treehouse for a Swiss Family
Barnstormer by Goofy
The Aladdin's Magic Carpets
Winnie the Pooh's Many Adventures
Tomorrowland Speedway
PeopleMover is a service provided by the Tomorrowland Transit Authority
The Little Mermaid's Undersea Adventure
Boo Bash Entertainment At Disney After Hours
Mickey's Happy Halloween Cavalcade (9:55 pm, 11:25 pm): In this musical procession, Mickey Mouse, Minnie Mouse, Pluto, and their friends dress up in hauntingly boo-tiful Halloween costumes and parade through the park.
Halloween Cavalcade of Disney Villains (10:30 pm, 11:45 pm): A legion of villains has been released to celebrate this gloomy season. Keep an eye out for fiends like Dr. Facilier, Queen of Hearts, and Jafar as they revel in the joys of being wicked.
Jack's Nightmare Cavalcade (10:40 pm, 11:55 pm): Expect a procession fit for the Pumpkin King! From Tim Burton's The Nightmare Before Christmas, Jack Skellington, Sally, and Oogie Boogie walk the streets to share thrilling, scary tricks and treats!
Maleficent's Fiery Prowl (10:50 pm, 12:05 am): Maleficent will reappear as a fire-breathing dragon!
The Cadaver Dans sing haunting music from beyond the grave in Frontierland (9:40 pm, 10:20 pm, 11:05 pm, 12:10 am).
Tomorrowland DJ Dance Party (9:30 pm – 12:30 am): Get down on the Rockettower Plaza Stage and dance the night away.
On the subject of atmospheric entertainment, you can listen to Miss Carlotta, who will be greeting people outside Haunted Mansion throughout the night.
In addition, favorite character buddies, including Goofy and Chip 'n Dale in their Halloween costumes, will make appearances around Magic Kingdom. Other unexpected characters will appear throughout the park.
Decorations For Halloween At Disney World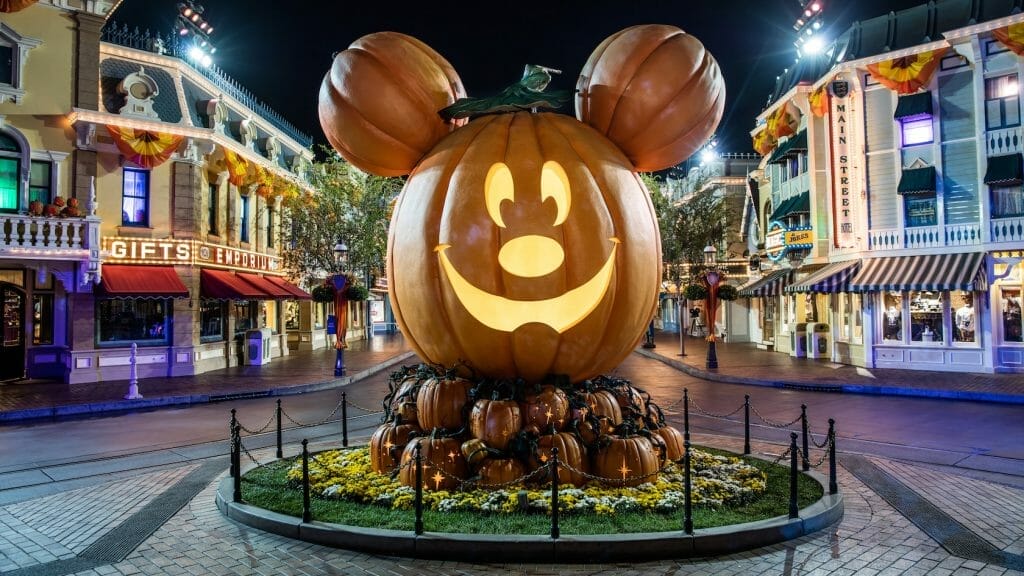 So, we've already discussed the magic that can occur at Walt Disney World during the Autumn season. And every fall, everyone looks forward to seeing the Mickey Pumpkin Wreath.
Fall garlands, wreaths, decorations, and more may be found around the Disney Parks. Even when it's 90 degrees in Florida, we want to savor the flavors of autumn.
If you're searching for something a little eerier, go to Haunted Mansion, where there are extra cobwebs on everything and occasionally even more ghouls than usual!
Halloween Time in Disneyland 2022
It goes without saying that 2022 is a year to rejoice! Halloween Time at Disneyland is open from September 1st until October 31st. Here's what's going on at Disneyland this year.
But first, have a look at these creative ideas to get ready for Halloween and create frightening, amazing memories wherever!
Disneyland's Crowd Calendar
Although September and October are traditionally the best months to visit Disneyland, Halloween Time attracts a large number of people, especially on weekends.
If possible, go early in September and on a weekday. The lighter the crowds appear to be the earlier in the season you go.
Early October through Columbus Day, as well as Halloween weekend, will be the busiest. However, because Gay Days falls in mid-September this year (September 17-19, 2022), it may be busier than usual. 
It was rescheduled from early October to help spread out the attendees. So, what should you expect around Halloween?
Disneyland Halloween Decorations
Disneyland is decked out for Halloween, with yellow and orange fall colors abundant and pumpkins everywhere, especially on Main Street. Hundreds of hand-carved pumpkins are lit at night and may be seen as you walk down Main Street.
In their Halloween costumes, Mickey, Minnie, Donald, Daisy, Goofy, Pluto, and Chip 'n' Dale greet visitors. The baddies may be lurking in Main Street, United States of America and Fantasyland.
The Halloween Tree in Frontierland features a traditional Dia de los Muertos skeleton exhibit as well as a tribute to Disney fan and author Ray Bradbury.
The tree, which is located near the Golden Horseshoe Saloon and includes orange flickering lights and jack-o-lanterns dangling from its branches, was inspired by Ray Bradbury's novel "The Halloween Tree." It's particularly lovely at night!
In Frontierland, adorned skeletons for Dia de los Muertos may be found in front of the Rancho del Zocalo Mexican restaurant.
Before continuing on to the Haunted Mansion Holiday, a ride overlay that runs throughout both Halloween and the holiday season, you can frequently see Jack Skellington and Sally as you approach New Orleans Square.
Disneyland Halloween Snacks
You'll be drooling like a ghoul over the tempting Disneyland Halloween Time snacks and culinary accessories offered during Disneyland Halloween Time.
Festive caramel apples, Mickey mummy macarons, unique churros, and themed cookies, cupcakes, and cake pops are available.
Premium popcorn buckets, poison apple steins, and glow cubes will let you transport your food in style. Restaurant menus also include unique savory nibbles.
Is anyone else's mouth watering at this point? Pick up a food guide in the park to help you find all of the delicious foods.
Halloween Screams
The Halloween Screams fireworks and projection show is open to all Disneyland guests. On special nights, fireworks are used to enhance the performance (mostly Fridays, Saturdays and Sundays with a few exceptions, so check the calendar to find out if fireworks are included). During Halloween, the eerie projections and spectacular effects extravaganza takes place every night!
Halloween At Disney California Adventure Park
Disney California Adventure has its own collection of ghouls and ghosts. Oogie Boogie's colossal shadow looms over Disney California Adventure's main entryway.
On Buena Vista Street, look for the Headless Horseman statue. Purple lights twinkle, and the faint clip-clop sounds of the horse or Oogie Boogie himself can be heard. The Disney characters proudly display their Halloween outfits.
Last year, Vampirina, a Disney Junior character, greeted guests in Hollywood Land at Disney California Adventure during Halloween Time. We're hoping she'll return – she won't bite, we promise!
Before you schedule your travels to Disney California Adventure Park this season, double-check the dates of the Oogie Boogie Bash.
On party nights, the park closes to daytime visitors at 6 p.m. (Sundays, Tuesdays and Thursdays, but also two Saturdays this year).
Beginning at 3 p.m., party guests blend in, making the park more congested in the afternoons and unavailable to those without a party ticket after 6 p.m. Visit this park on other nights to see it all lit up for Halloween.
Radiator Screams
Expect festive decor, music, and characters dressed in amusing "car-tumes" as Cars Land gets into the Halloween spirit. Luigi's Rollickin' Roadsters and Mater's Junkyard Jamboree put a new spin on Halloween Time, so keep your screams to a minimum.
Make a nighttime visit to "Radiator Screams" to soak in the "gourd-geous" Halloween scenery, spectacular lighting, and backdrop of hills painted in seductive Halloween hues. It's a real delight!
Coco's Da de los Muertos
Are there any "Coco" aficionados among us? You won't want to miss a visit to Paradise Gardens Park's Plaza de la Familia. Last year, you had the opportunity to meet puppet Miguel!
Participate in activities such as free crafts, such as mask coloring or documenting a family memory.
Trying out the special colorful wing photo walls and Tree of Life photo spots are other fun things to do.
Learn about Da de los Muertos, listen to mariachi music, eat Mexican food, or see "A Musical Celebration of Coco" – Miguel will be performing with his guitar. Until November 2nd, the Plaza de la Familia is available to the public.
At Guardians of the Galaxy — Monsters After Dark
At Guardians of the Galaxy — Monsters After Dark, be ready to #SaveGroot.
During Halloween Time at the Disneyland Resort, the Guardians of the Galaxy — Mission: BREAKOUT! attraction gets into the Halloween spirit.
Each nightfall, the attraction morphs into a fresh experience that continues the daytime ride's tale, but riders must now assist Rocket Raccoon in saving Groot.
It's a lot scarier than the daytime ride with the heavy metal soundtrack, so if you have tadpoles who are barely tall enough to ride the daytime version, this is something to think about.
Monsters After Dark might be too much for them.
This is an extremely popular ride, so expect long lines! In normal years, at least. We have yet to see how long the lines will be in the fall of 2022. The hours can be found on the Disneyland website. 
In 2022, Monsters After Dark will premiere at 3 p.m. daily. The regular version of the attraction closes at 2 p.m. every afternoon (party or not) and reopens at 3 p.m. for Monsters After Dark. 
If you're coming from Disneyland and want to ride the original Guardians of the Galaxy, arrive at 1 p.m. and proceed straight to Guardians before 2 p.m.
Then come back later for the Monsters After Dark edition, but make sure you get there before 6 p.m. If you don't have a ticket and want to ride on a party night, you'll have from 3 p.m. until 6 p.m. to do so.
You'll have all night to ride Monsters After Dark if you have a party ticket, but you won't be able to ride the regular version. Have you gotten all of that?
Here's the schedule:
Guardians of the Galaxy — Mission: BREAKOUT! — 8 a.m. to 2 p.m.
Closed from 2 p.m. to 3 p.m. for a switchover
3 p.m. to get a good spot in the parking lot — Guardians of the Galaxy — Monsters After Dark (on select nights the park closes at 6 p.m. for the Oogie Boogie Bash)
Halloween Characters at Disneyland
In both parks, you can meet Mickey, Minnie, Goofy, Pluto, Chip, Dale, and other Disney characters dressing up for Halloween.
Jack and Sally may be located near the Royal Street Veranda in New Orleans Square. Arrive early in the morning, before they begin greeting at 9 a.m. Keep in mind that in 2022, character interactions may seem a little different. 
Your froggy companions will be hopping by September 3rd for opening day, so check back here for updates and new images!
Jack is incredibly entertaining and has a wonderful personality. If you can time it correctly, seeing Jack and Sally at New Orleans Square is a must-do!
Even if they don't appear on the Disneyland app, you can discover them in the morning and early afternoon. Look for them near the Port Royal Curios and Curiosities in New Orleans Square.
Some spirits may manifest in that same meeting area later in the evening. Constance Hatchaway (the bride with the hatchet in the Haunted Mansion attic) and Sally Slater, the tightrope walker from the stretching chamber, are among the temporarily displaced travelling ghosts from the Haunted Mansion.
Don't worry, the alligator won't chase her down. Did you know that all of the paintings in the stretching room are ghosts that find the Haunted Mansion to be wonderfully unlivable? The portraits depict how they came to their, uh, foreclosed conclusions.
Halloween Disney Villains
As Halloween approaches, the characters tend to appear more frequently.
Cruella de Vil, Queen of Hearts, Jafar, and other characters occasionally stomp around around the park's entrance and Main Street. Frollo, Governor Ratcliffe, and others have been spotted. You never know who will come as a villain during the Halloween season!
Maleficent, who used to only appear at Halloween celebrations, is now frequenting the area surrounding Sleeping Beauty Castle. In the vicinity, the Queen and Lady Tremaine are also lurking.
Visit Disney California Adventure's new Halloween celebration, the Oogie Boogie Bash, for the most unexpected villain appearances.
Dance Party for Disney Villains
A new Disney Villains Dance Party debuted in Tomorrowland in 2019, running from 7 p.m. to 11 p.m. on select nights (usually Fridays through Sundays).
This was a fantastic way to have some fun with the bad guys. When the villains joined the audience on the dance floor, we picked up some weird new dance skills as well. Captain Hook and Mr. Smee and I did the Time Warp! This has yet to be confirmed as a return for 2022.
Disneyland Halloween Time Rides
During Disney Halloween Time, certain rides undergo special modifications. At Disney California Adventure, we've already mentioned Guardians of the Galaxy — Monsters After Dark.
The Haunted Mansion, which has been transformed into Tim Burton's "The Nightmare Before Christmas," is one of the most popular attractions.
Haunted Mansion Holiday
Because Haunted Mansion Holiday wait times are substantially longer than during other times of the year, we recommend that you visit before 10 a.m.
On the table in the ballroom is always a giant gingerbread home (with yummy gingerbread smells wafting up). In fact, Haunted Mansion Holiday will be celebrating its 20th anniversary in 2022.
To commemorate the occasion, the gingerbread house includes one element from each year's gingerbread home from 2001 to 2019. The end effect will be a visually jumbled mess!
Space Mountain's Ghost Galaxy
Most years, Tad is particularly enthralled by Space Mountain's Ghost Galaxy. Ghost Galaxy did not return in 2019, but we're keeping our fingers crossed for a return in 2022. There hasn't been anything announced yet…
Luigi's Rollickin' Roadsters
Luigi's Rollickin' Roadsters are dressed up as Luigi's Honkin' Haul-O-Ween in "Radiator Screams." Mater's Junkyard Jamboree has now become Mater's Graveyard JamBOOree.
Throughout the Halloween season, both rides offer many Halloween-themed tunes and décor.
Final Thoughts
Even though it's only August, Disney has already teased further surprises and announcements, so hopefully, we'll get more information as Halloween approaches.
So keep an eye out. We'll make sure to keep you updated, and this guide will be updated as well!
Frequently Asked Questions
1. What time of year does Disney put out their Halloween decorations?
Disney is fantastic at making its seasonal decorations magical. You may be in Magic Kingdom one day with no decorations and the following day, find the entire Disney World complex decked out for Halloween! In general, the Disney World Halloween decorations will begin to appear in August.
2. When does Halloween at Disney World come to an end?
The Walt Disney World Halloween decorations come down as quickly as they put up! They may show up for a few days after October 31, but don't expect to see them until November.
3. Is there a Halloween party at Disney World this year?
The new Magic Kingdom ticketed event in 2022 is the Boo Bash After Hours party. Tickets are still available and may be purchased online! In 2022, Mickey's Not So Scary Halloween Party will not be held. It's unclear whether this change will last.
4. Which Disney park is the greatest for Halloween?
Quite simply, the Magic Kingdom park is the finest park to visit around Halloween at Disney World. The leading cause is the Boo Bash Halloween after-hours event in 2022. 
In general, the Halloween decorations and themes at Magic Kingdom are the best of all the Disney World theme parks.
5. When will Disney World's Halloween celebrations begin in 2022?
From August 10 to October 31, from 9 p.m. to 12 a.m.