!! DISCLAIMER !! This site may contain Amazon & other affiliate links.
This means if you click on one of the product recommendation links, this site may receive a small commission. This is at no extra cost to you and may include exclusive discounts when possible. This helps support this site and allows us to keep making content like this. Thank you for your support!
The Best Car Seats for Safely Transporting Your Child
The best car seats for your child are one of the most necessary purchases you'll make as a new parent. Some infant car seats are convertible, which can grow with your child. Your decision is primarily based on personal preference. Still, what you need is determined by your child's size, age, and where they fit within the American Academy of Pediatrics car seat criteria.
Safety features like a five-point harness, solid construction, and simple installation are the most crucial aspects to consider while looking for a car seat.
You should also consider the height and weight guidelines to ensure that you get a car seat that will fit your child both now and in the future. When reviewing items, we carefully analyzed these aspects: design, material, ease of washing, comfort, and value.
Types of Car Seats
Car seats are classified into three types:
Car seats for infants
Convertible
Booster seat
Car Seats for Infants
A car seat designed primarily for infants and younger babies is known as an infant car seat. In the car, an infant seat is always rear-facing and can be used from birth until your baby exceeds the seat's maximum height or weight restrictions, which usually occur around one year of age.
Infant car seats are secured to a base. The base remains in your vehicle while the seat clicks in and out, making it easier to get your infant in and out.
Convertible
A convertible car seat may be used with children of various sizes and converts from rear-facing to forward-facing. A convertible seat for newborns and toddlers begins rear-facing and converts to forward-facing after your kid has reached the device's maximum rear-facing height or weight restrictions. A convertible car seat may follow you from infancy through preschool and beyond.
Convertible car seats are more heavy and bulky than infant car seats. Convertible seats, rather than being attached to a base, are installed directly into your vehicle using your seat belt or LATCH system. (LATCH is an acronym for Lower Anchors and Tethers for Children.)
It is a system of built-in straps and hooks on a car seat and anchor gear in your vehicle that is intended to make car seat installation safer and more accessible.)
Convertible car seats do not attach to strollers and are not intended to be transferred between vehicles regularly due to their size and weight.
Booster Seat
A booster seat accomplishes precisely what its name implies: it raises your child's seat in your car. This guarantees that the conventional lap and shoulder belts in your automobile pass over your child's body in the proper positions to contain them securely. Booster seats are intended for children above the age of four and weigh at least 40 pounds.
Booster seats are classified into two types: high-back and backless. High-back boosters, like car seats, are smaller-sized seats having a bottom and a back.
They give a tutorial for threading your vehicle's shoulder belt to fit your child properly. A seat is the only component of a backless booster. They're intended to provide the extra height required for your child to be safely strapped in.
Car Seats by Age
Consider your child's age, weight, and height while selecting a car seat.
Evidence indicates that rear-facing car seats are safer than forward-facing car seats for infants and youngsters. Therefore, buy a convertible seat with a high rear-facing weight restriction if possible so that you can rear-face for as long as possible.
Should You Get a Convertible or an Infant Car Seat?
While many convertible car seats are suitable for your child from birth, most parents prefer to begin with an infant car seat.
There are numerous advantages to starting with an infant seat rather than a convertible.
Babies under six months of age cannot sit up on their own, and not all strollers fully allow you to recline the seat. If you wish to take a stroll with your newborn, you will almost always need to attach an infant car seat.
Although baby car seats click into bases, they may also be installed with simply a seat belt, making them more convenient to use in friends' cars, cabs, and rideshares.
Removing your infant seat from your car and carrying it or hooking it directly into your stroller eliminates the need to wake your sleeping kid.
During extremely hot or cold weather, you may store your infant seat indoors so that it is always at a comfortable temperature and is never exposed to the elements in your car.
Some parents choose to forego an infant car seat in favor of a convertible from the start. Here are some of the reasons why you might make that decision.
You intend to carry your baby in a carrier rather than carrying a car seat or strolling them.
You want to save money by not purchasing an infant seat.
You want to reduce the number of things you buy, either for the sake of minimalism or to save money.
Safety
When selecting a car seat, safety is a significant factor. Therefore, you should look into the seat's safety features, such as side impact protection and harness fit, and how the seat fits in your car.
Which Car Seat Is The Most Secure?
This is perhaps one of the most common—and essential—questions parents have when deciding on a car seat.
All car seats in the United States must pass the same minimal standard testing. While some more costly car seats may offer features that go above and beyond what is required, it all comes down to fit and installation when it comes to car seats + safety. The safest car seat is one that: – Correctly fits your child. Fits your vehicle – It can be placed correctly by you every time.
Safety Features
When selecting a car seat, consider the following safety characteristics.
A five-point harness is made up of two shoulder straps, two waist straps, and a strap between the legs that all meet in the middle buckle. Five-point harnesses are more secure than three-point harnesses because they distribute a collision's force across a larger body region. They also keep your baby in place and keep them from squirming into a dangerous position.
Easy harness adjustment: A harness can't perform its job unless it's properly fitted, and if it's easy to adjust, you'll have a lot higher chance of getting it right. If possible, look for a no-rethread harness; this means you'll be able to adjust the seat's shoulder straps without manually rerouting them.
Higher rear-facing weight limit: As previously stated, riding rear-facing is safer for your child than forward-facing. For extended use, select a seat with a high rear-facing weight restriction.
Side-impact protection: Your automobile is hit from the side rather than the front in around a quarter of all collisions. Because side impact protection is currently uncontrolled, the National Highway Safety Administration (NHSA) is investigating how to test it and what legislation should be enacted.
You want something that boasts side-impact protection, but be careful of claims that one brand has "more" than another because there is no objective testing standard in place yet.
Are you tempted to save money by purchasing a used car seat? It is not something we recommend. Used car seats may be damaged and fail to satisfy current safety standards.
If you decide to buy used, make sure you buy from someone you trust to learn about the seat's past. Look up the expiration date of the seat and see if that particular model has ever been recalled. Also, make sure to follow the manufacturer's cleaning instructions.
Safest Part In Your Car
Not all car seats are compatible with all vehicles. We recommend shopping at a store that accepts returns or allows you to test-drive the car seat you want before making a purchase.
Choose a seat with a tiny base if you have a little car. When in doubt, measure the rear seat of your vehicle and compare it to the measurements of the car seat's base.
Aside from ensuring that the seat physically fits in your rear seat, the angle of your seat and the location of your seat belts can also influence whether a car seat is a good match for your vehicle.
The middle of the rear seat is usually the safest position in most automobiles; However, if you're dealing with two car seats at once, there might not be enough room in the center. In addition, some vehicles may only offer LATCH on the outside seats, forcing you to pick between a LATCH installation and a center seat.
For any particular instructions, consult your vehicle's owner's manual. And don't be afraid to ask a Child Passenger Safety Technician (also known as a professional car seat specialist) to double-check your work.
Car Seat Safety Suggestions
When installing and using your car seat, keep these safety recommendations in mind.
Check that your car seat is securely fastened. The seat should not shift more than one inch from side to side or front to back.
Use the appropriate harness slots. Harness straps for a rear-facing seat should be placed at or below your baby's shoulders, and harness straps for a forward-facing seat should be placed at or above your child's shoulders. They should also pass the pinch test. If the harness is too tight, your fingers will slip off; however, you can pinch the webbing between your fingers if it is too loose.
Determine the proper recline. Your baby's car seat should be reclined to a safe angle so that their head does not slip forward. (There are rules and modifications in car seats to ensure you get the proper slope based on your weight, height, and age.)
Winter clothing and car seats do not mix. When your infant or toddler is wearing a winter coat or other heavy layers, never buckle them into their car seat. (You won't be able to tighten the harness straps enough, and your child will be unsafe in the event of an accident.) Instead, put your child in a few light garments and cover the car seat straps with a blanket.
Easy To Use Car Seats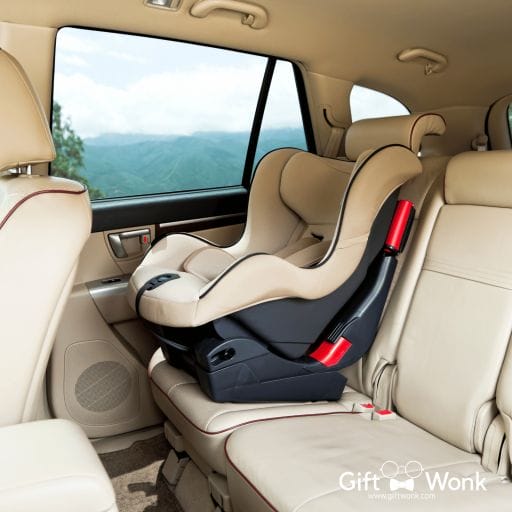 There is no single characteristic that makes one car seat simpler to use than another; nevertheless, there are some qualities to look for when selecting a car seat that can make some aspects of both installation and use of your seat a little bit easier.
Easy Installation
Infant car seats can be placed with or without a base and with or without your vehicle's seat belts or LATCH system; thus, the answer to the question, "What's the easiest way to install a car seat?" depends on how you'll be installing it frequently.
Several baby car seats have excellent NHTSA easy-install ratings if you're planning to use the LATCH method to install your car seat.
Two characteristics to look for in any brand are an easy-to-reach LATCH tightener and bubble-level indicators to see if your seat is level. (If the seat lacks a bubble level indication, it will have a line on the base side that you must use to determine if it is level with the ground.) As you can expect, the bubble level indication is far more convenient and accurate.)
If you are mainly using your seat in cabs, rideshares, and friends' cars, seek a taxi-safe belt path and a built-in lock-off device that clamps the seat belt in place so it doesn't loosen.
Ease Of Use And Adjustability
Ensuring the harness fits your baby's body perfectly for each ride is vital for car seat safety. This entails adjusting the harness settings as your child grows.
Although all safety seat straps can be changed, make sure the adjustments are easy to access and use. Many parents prefer no-rethread harnesses to manual alternatives.
When it comes to the harness button and buckles, you want something that is too stiff for a baby or toddler to undo on their own but not so stiff that you have to struggle every time you need to get your child in and out of the seat. It's probably about right if the button is a touch unpleasant on your thumbs but still doable.
Easy To Cleaning
Seats made of smooth and/or water-resistant textiles are easier to clean than seats made of textured or absorbent fabrics. It's wonderful to have a removable, machine-washable cover for big messes, but bear in mind that getting a removable cover off might be difficult at times.
Just make sure to follow your seat's specific cleaning instructions to avoid compromising the safety of the car seat.
Car Seat Costs
You may buy a car seat for as little as $50 or as much as $1,000—but investing more does not always imply your baby will be any safer than choosing a lower-priced seat.
Higher-end or eco-friendly textiles, luxurious cushioning, and more costly car seats typically include:
A no-rethread harness.
Wider recline angles.
Safety features like extra shock absorption or a stable leg enhance support in an accident.
But there are still many mid-to lower-priced car seat models that perform just as well or better than some of the more expensive options; it's just a matter of determining your budget and matching it with what works best in your specific vehicle.
Compatibility of Car Seats and Strollers
You've probably come across the term "travel system" while researching car seats. A travel system combines an infant car seat and a stroller.
It addresses two common issues: transporting a sleeping baby from the car seat to the stroller without waking them up. All you need to do is just get your infant seat out of its base in your car and immediately but carefully transfer it into your stroller, and you're on your way.
It also allows you to stroll with your newborn in a stroller intended for babies six months and older (simply clip the car seat right in).
Most brands promote travel systems as a package deal, selling both the car seat and the stroller. What if you've fallen in love with a different brand's car seat and stroller?
If you want a stroller and car seat that isn't supplied as a set, you can usually put together your own travel system. However, you must first ensure that the car seat and stroller you select are suitable, and then you must purchase separate adapters to complete the task.
Accessories for Car Seats
Car seat accessories aren't required, but many parents believe they make life easier when they're in the car with their infant or using their car seat on the move. As a result, these are some of the most popular car seat accessories.
Second Car Seat Base
If you have a second car, buy an extra car seat base instead of purchasing a second infant car seat so you can transport your infant seat back and forth between cars.
Canopy
Every infant car seat has a canopy, but some are superior to others.
Here are a few things to consider: How much shade and sun protection does this canopy offer? Is there a peekaboo window? (This is an optional accessory, although it can be helpful for checking on the baby when strolling.) Is the canopy strong enough to withstand the tugging of tiny hands and feet?
Cover
Car seat coverings can be helpful in providing a calm, cocooned atmosphere for babies to sleep in or for keeping them warm in the winter. New multi-purpose car seat coverings can also be used as nursing covers or supermarket cart covers.
Infant Insert
Most baby car seats include an infant insert that makes the seat safe and comfortable for small babies. (Babies begin at a very small size!) In addition, some brands sell ultra-luxurious add-on inserts.
Only use inserts created by the manufacturer of your car seat (for example, a Chicco insert for a Chicco car seat); otherwise, there is no guarantee of safety because they haven't been crash-tested.
Back Seat Mirror
Back seat mirrors allow you to keep an eye on your child without taking your eyes off the road.
Popular Brands of Car Seats
Now that you've covered the fundamentals, it's time to look for seats. Here's a quick rundown of the most common car seat brands and what you can expect from them.
Graco manufactures a wide variety of safe, reasonably priced infant and convertible car seats. The SnugRide series is a popular, affordably priced baby seat that is also lightweight. Parents adore Graco's convertible car seats, particularly the Extend2Fit and 4Ever.
Car seats from Britax. Because of its excellent side-impact protection, the B-Safe Infant Car Seat is worth considering. (However, due to the high edges, getting your infant in and out of it can be challenging.) The One4Life convertible car seat is a popular all-in-one convertible car seat that may be used from infancy through elementary school.
NUNA automobile seat NUNA, a Dutch baby gear manufacturer, creates innovative, safe seats that are among the most lightweight and most beautiful on the market. Check out the NUNA Pipa and NUNA Pipa Lite and the Rava, the brand's most popular convertible car seat.
The Chicco KeyFit is a popular car seat from this well-known brand, with good safety features and a simple LATCH installation. In addition, Chicco seats have a plethora of stroller adapters available because of their popularity.
UppaBaby is most known for its strollers, the Vista and the Cruz, but their infant car seat, the Mesa, is an excellent, simple-to-install option. One of the most significant advantages is that it is compatible with UppaBaby strollers without the use of an adapter.
Top 5 Car Seats
[wptb id="9080" not found ]
Final Thoughts
A car seat is one of the most necessary purchases you'll make for your child, so take your time in selecting the best one for you.
Frequently Asked Questions
When do car seats have to be replaced?
A car seat typically has a shelf life of six to ten years after it was built. Look for a little sticker on the side or bottom of the seat to see when yours expires. Furthermore, after a car accident, it is strongly advised that you dispose of the seat that was involved in the collision.
Even if your child was not in the seat at the time of the accident and the damage is not apparent, your car seat should be replaced. Crashes can wreak havoc on the infrastructure of the seats, jeopardizing their overall safety.
When can a baby face forward in a car seat?
The American Academy of Pediatrics recommends that children remain back-facing until they are two years old but should continue back-facing until they hit the seat's height/weight limit.
They also point out that back-facing only seats have lower height and weight limits, so investing in a seat that can be put backward and converted to front-facing is preferable.